January 23, 2020 • travel
Peter Weber Trades in the Mansion for the Midwest as 'The Bachelor' Heads to Cleveland
Attention, passengers: We've finally reached the highly anticipated travel portion of the season! Peter Weber and the remaining 15 women will trade in Bachelor Mansion for the Midwest as they fly to Cleveland, Ohio, for the next stop on their journey to find love.
David Gilbert, the President and CEO of Destination Cleveland, the city's marketing and management organization, expressed his gratitude about the show filming in Cleveland.
"Welcoming 'The Bachelor' puts the spotlight on Cleveland for two hours of one of the top-rated shows on prime-time television, reaching millions of people across the country and the world," he said in a statement.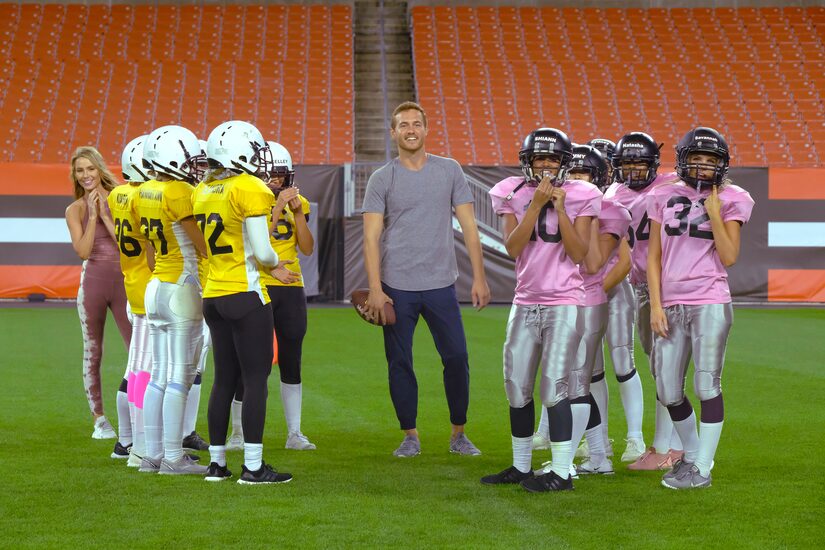 Warner Bros.
"The show offers us a unique opportunity to showcase Cleveland as an all-around great city to key influencers and generate awareness of what the region has to offer in the minds of potential leisure and business travelers."
From the looks of it, "The Bachelor's" time in Cleveland will be filled with touchdowns and tears. Peter kicks it off with a one-on-one date with Victoria F., where they fly over the city and head to what Peter calls "rollercoaster heaven" — Cedar Point amusement park. His romantic gesture of a "surprise Chase Rice concert" for Victoria F., however, doesn't go as planned.
Kelsey (of Champagnegate fame) gets picked for the second one-on-one date, which includes a soap box derby race and kisses under a firework-filled sky.
Later, Victoria P.'s statement about a "fresh start" outside the mansion proves otherwise as Alayah dramatically returns after getting sent home last week. Alayah asserts to Peter, "I'm here to set the record straight about what was said about me."
Hannah Ann hints that tensions would be running high at the group date party, saying at one point, "There are 13 of us, so I'll be tackling girls to get time with Peter."
Tammy chimes in, "Drama has risen from the dead."
Will Peter give Alayah a second chance? How will Cleveland pave the way for the rest of their jet-setting journey of romance? Find out tonight when "The Bachelor" airs at 8 p.m. on ABC.