February 12, 2020 • travel
Experience Richmond, Virginia, Like Becca Kufrin on 'The Bachelorette'
Steeped in tradition, Richmond, Virginia, is an ideal getaway spot for history buffs, architecture enthusiasts, and foodies seeking delectably fresh seafood and craft beers. Becca Kufrin traveled to this vibrant state capital on Season 14 of "The Bachelorette," and now you can follow in her footsteps by exploring the area just like the Bachelorette.
Downtown Richmond is the ultimate spot to begin your trip, whether you're traveling with your plus-one or a bigger group. To be just like Becca, you can check into your modern room at the Quirk Hotel, set down your bags, and hit the town, because it'll be nothing but rosy in Richmond. If nostalgia for those college days align more with your style, there's always The Graduate, where the guys slept.
There's absolutely no time to waste when you're visiting Richmond. If all that travel left you hungry, you can start your day like the Bachelorette at Triple Crossing Brewery. Stroll hand-in-hand down those historic streets and let the dates begin!
One-on-one date: Tell a tale of your heart
If you're trying to mix sightseeing and romance, there's no better date than walking around and seeing what Richmond has to offer. Feel like talking about presidents and books with your partner? You can do all of the above at stops such as the Edgar Allan Poe Museum and Hollywood Cemetery, where Presidents James Monroe and John Tyler are buried. For the rest of the day, you two can tell tales about your past romances and how you see your own relationship progressing.
When dinner hour strikes, you can scope out the options at Main Street Station, Richmond's main travel hub where Becca and her date had dinner at this restored city landmark. You can look over the transportation lines and talk about how your relationship will only move forward from here.
By now, Richmond should already be giving off a great first impression, so make your night even more romantic by offering a rose to your date.
Group date: Looking for Love with a "Capitol" L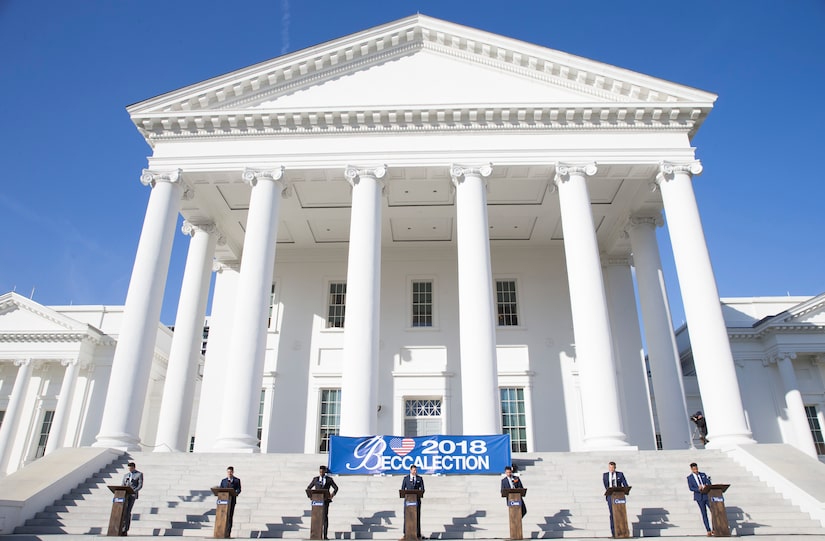 Warner Bros.
Now that you've had some one-on-one time in the city, expand the group and head out on the town. Richmond teems with history, so why not soak it in at one of the most famous buildings of them all — the Virginia State Capitol.
Becca and her group date guys spent the day here arguing why they were the best man for her, and they even did it standing at a podium. You can try some reenacting on your own and have everyone in your group spill their hearts out to you. Let them sing your praises, recite you poetry, and speak love into existence. Who receives your vote? There might even be a runoff!
One-on-one date: And the oyster goes to...
Virginia's location on the Eastern Seaboard gives the state the upper hand when it comes to seafood. Seize the mid-Atlantic location and get in the mood by dining on the ultimate aphrodisiac: Oysters. Whether you join a local oyster aficionado on his boat to catch them or revel in the delicacy at a specialty restaurant like Merroir Oyster Farm, sea-to-table cuisine has never tasted so fresh. Don't let anyone tell you slurping oysters isn't sexy!
Becca and her date ended their evening with a private concert by Morgan Evans at the elegant Dover Hall. If you feel like emulating Becca, whip out your Bluetooth speakers and slow dance your heart out before handing your love a red rose.
Did Virginia bring out the lover in you?