Becca Kufrin Shares Garrett Yrigoyen's Sweetest Gesture from 'The Bachelorette'
You don't get a second chance at making a first impression, and that adage is especially true on "The Bachelor" and "The Bachelorette." It's important to stand out, and some men on "The Bachelorette" do so in positive ways, while others… not so much.
Becca Kufrin and Rachel Lindsay chatted on Instagram Live Wednesday afternoon for a virtual "Bachelor Happy Hour" happy hour. Since there was no new episode this week, the podcast co-hosts answered fan questions and commented on a wide range of topics. (Catch up on previous "Bachelor Happy Hour" episodes here!).
Rachel sipped white wine from Rioja, the region where she and Bryan got engaged; her wine glass even had a picture of her dog Copper painted on it. Becca said she and Garrett have been on "margarita binges" as of late, so that was her cocktail of choice.
One fan asked, "What was the cutest or sweetest thing someone did on your season?" Becca and Rachel said several examples came to mind, but one specific moment stood out to Becca the most.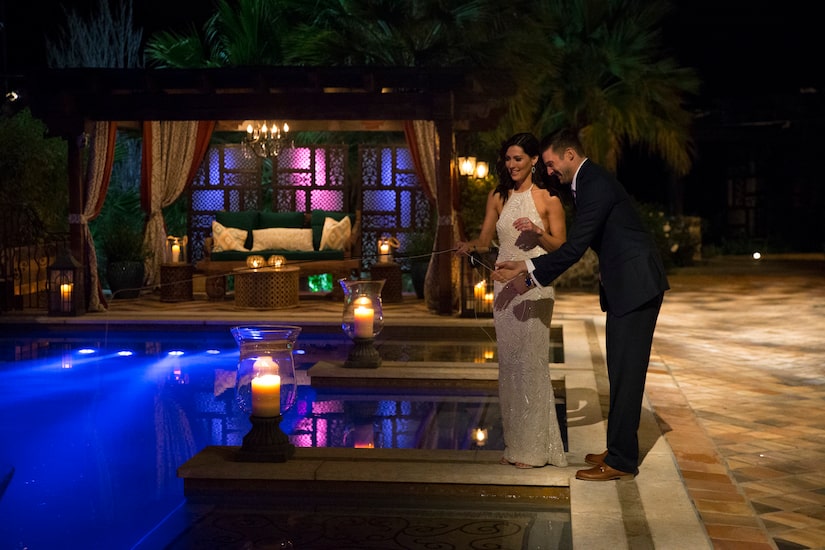 Warner Bros.
"There are so many with Garrett," she explained. As if him driving up to Bachelor Mansion in a minivan wasn't enough of a heartwarming move, there's more!
Becca shared, "The first night I met Garrett, he taught me how to fly-fish in the pool. A few weeks later, I planted a message in a bottle and threw it across the pool and made him fly-fish it out." She called it a "really special moment away from the cameras" and it never made it on-screen, which she didn't mind.
These initial moments and interactions with Garrett clearly worked on Becca because he received her First Impression Rose, as well as her final rose!
In December, before officially becoming the new "Bachelor Happy Hour" co-host, Becca spoke with Rachel about how her relationship with Garrett has evolved since the show ended. She called their time together "a whirlwind," because they moved to San Diego, adopted an adorable corgi named Minno, and then she became the co-host for "The Bachelor Live On Stage" — not to mention all of their other business ventures.
"All these adult things I talked about in life are happening with him," Becca said on the podcast.
Waiting for your permission to load the Instagram Media.
She went on, "I have to give him the credit for us staying true to who we are, because he is so salt of the earth. He grew up in a small town and his family raised him so well to work hard. He keeps me grounded."
As for when they'll walk down the aisle, Becca said on Instagram Live that she and Garrett "don't have any plans right now." In the meantime, they're enjoying life together in San Diego and hanging out with their dog, drinking margaritas.
"Bachelor Happy Hour" as well as Becca and Rachel's Instagram Live will return next week, on March 31 and April 1, respectively. Be sure to subscribe on Apple Podcasts, Spotify, or wherever you listen to podcasts.