Look Back at DeAnna Pappas' Journey on Brad Womack's Season of 'The Bachelor'
Brad Womack brought double the trouble, tears, drama, and, well, just about everything (not to mention his twin brother's cameo) as the Bachelor on Seasons 11 and 15.
His initial go-around as the leading man made history when he became the first Bachelor not to choose either of his final two. Brad left DeAnna Pappas, a 25-year-old from Atlanta, and 27-year-old Phoenix Suns cheerleader Jenni Croft heartbroken after saying goodbye to both of them.
In honor of Brad's upcoming episode of "The Bachelor: The Greatest Seasons — Ever!" we're revisiting some of the biggest players during his two seasons.
DeAnna Pappas wowed Brad the moment she stepped out of the limo Night 1 wearing a strapless black and white striped dress. She first introduced herself in Greek, saying, "Hello, my name is DeAnna Marie Pappas."
Aside from her bilingual introduction, her Southern accent and country charm put the Bachelor at ease and made him feel right at home. He told her during a one-on-one chat the first night, "You know I love that accent, for what it's worth."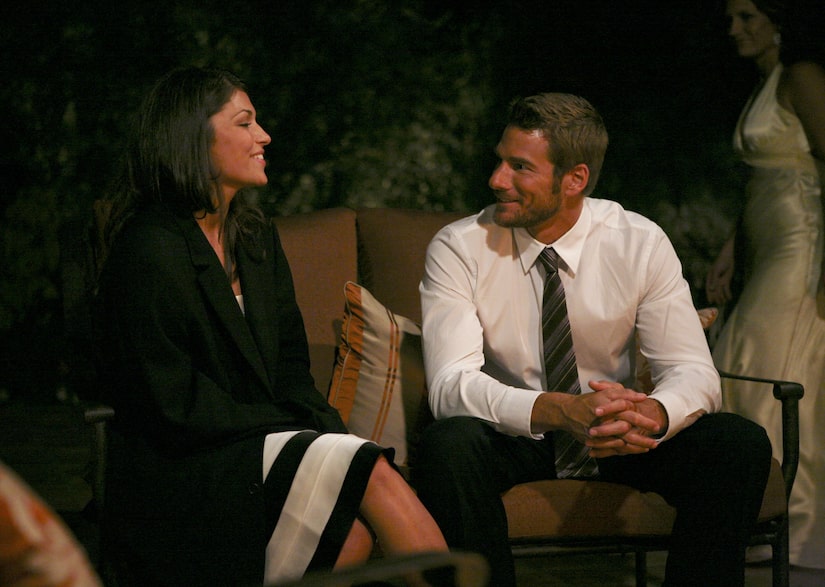 Warner Bros.
She responded, "I'll be trying to straighten it out. I feel like the countryiest person in this place."
Plus, the fact that she bartended and he owns bars earned her an extra point in his book.
From that moment on, DeAnna won Brad over with her down-to-earth approach to the entire process. She even earned the first rose on the first group date!
As the season and their relationship progressed, viewers could see Brad had a soft spot for DeAnna in his heart. However, it just wasn't enough for a proposal.
On the last day, Brad sent Jenni home, giving fans hope he would get on one knee for DeAnna. When she met him for the final Rose Ceremony, Brad spoke about their relationship and how it grew over the course of their time together.
"I've never met anyone like you in my entire life. You're strong, you're independent, and the very first night I saw you, I told someone I was done," he said. "I think about the night that I first kissed you and how it felt, and I've got to say that it's been a long, long time — if ever — that I felt like that just by kissing anybody."
He continued, "Remember when you told me marriage for you is one time and one time only? I feel the exact same way. I just said goodbye to Jenni."
After that, he paused and told her to "hold on just a second."
Once he regained his composure, Brad admitted, "We always promised ourselves we'd be completely honest no matter how it could hurt. I look at you and see so many things I could never have in my entire life. I'm trying to tell you that I have so, so many feelings for you and I want so badly to be so confident to pick you up and twirl you around and give you a diamond ring and spend my life with you."
He continued, "I can't look you in your eye and tell you that I love you. I can't. I can't give you any promise that I can't keep. I refuse to do that. I have to tell you goodbye."
DeAnna asked, "I just don't understand how you can say goodbye to me. I guess that's because my feelings are different. I mean, do you look at me like I'm a friend?"
Brad asserted, "No. That word 'love' means so much to me. I refuse to give you any false promise because I do care about you so much."
He asked if she knew how much he cared about her, and she responded, "No, I don't. I thought I did, up until I got here today. I thought I had it all figured out."
Though DeAnna got her heartbroken on "The Bachelor," she would eventually go on to become the Season 4 Bachelorette and have her own turn at handing out the roses.
Be sure to tune in to "The Bachelor: The Greatest Seasons — Ever!" Monday at 8 p.m. on ABC to get a full look back at both of Brad's unforgettable seasons.