Clare Crawley Finds Her 'Bachelorette' Happy Ending with Dale Moss
Clare Crawley seemed to have predicted her own future.
Clare wasn't wrong when she said, "I definitely feel like I just met my husband" after seeing Dale Moss for the first time. The Season 16 Bachelorette had her eyes and heart set on the South Dakota native, whose calm demeanor and unwavering strength made her fall head over heels in love on the spot.
Dale received Clare's First Impression Rose, and from that moment, their love story hit the ground running.
On Thursday's episode of "The Bachelorette," Clare finally received her storybook ending. After appearances on "The Bachelor," "Bachelor in Paradise," and "The Bachelor Winter Games," as well as a hiatus due to COVID-19, true love came knocking at La Quinta Resort & Club.
Clare said in the episode, "I'm so falling in love with Dale. We have this connection where it feels like I've known him forever. It's that intangible chemistry that you just can't make up and you can't replace. It's something that is just so rare to feel so connected to somebody when you've only known them for such a short period of time."
She and Dale enjoyed a romantic dinner under the stars, and she told him, "For me, it's been years and years and years of praying for a man that had those qualities that my dad had that I knew is out there. Somebody who is really strong but really compassionate. Everybody always told me, 'You're wanting too much, you're expecting too much from a guy.' Literally, the second you walked into my life, you have been nothing but that."
The Sacramento native professed her feelings to Dale, who easily reciprocated them. They shared stories about their parents and learned that each of their fathers hitchhiked to go see their future wives because they couldn't afford tickets otherwise.
Dale also got vulnerable when opening up about losing his mother and the emotions that he suppressed in order to appear strong for his father and his sisters.
ABC
Clare said, "I'm literally trying to convince myself to be open-minded and be present in every conversation, but every time I wake up, I think about you. When I go to bed at night, I think about you. I can't even put it into words how you make me feel. It's insane to me. All I know is that I'm so falling in love with you."
Dale responded, "When we met, I felt love. That's what I came here for. I'm falling in love with you through this process, and I'm not afraid to say that at all."
The next day, Chris Harrison called Neil Lane on FaceTime and the jeweler miraculously delivered a ring in time for Dale's proposal to Clare.
Clare shared as she got ready for her big day, "Always in my past, once you pour your heart out to a guy, once you fully commit to a guy, he runs away. He finds an excuse to leave. I've never had a guy stick around. I've never had a guy want to stick around. Dale is the man of my dreams and I've never felt like this before. I've been falling in love with Dale this entire time."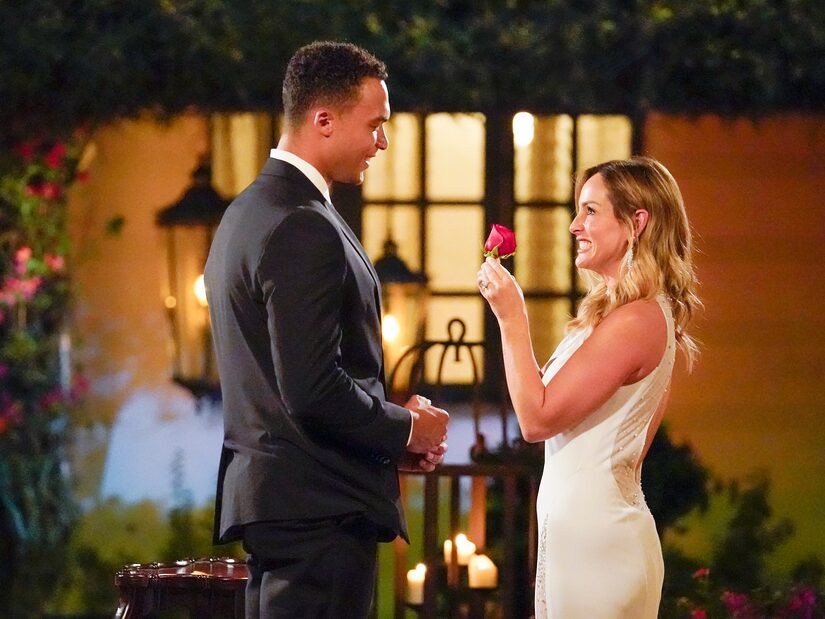 ABC
When Dale arrived at the location for their final Rose Ceremony, Clare told him he exhibited so much of what she admired about her father, James.
She said, "You embody everything that I want in a man. Everything just like my dad had. You're strong, you're kind, you're compassionate, and I'm so in love with the man that you are. You made me feel like everything that I've ever been through, all the ups and downs in the relationships, it was all worth it because I've got you right now."
Clare continued, "Most importantly, you've shown me that you will never run away and never leave me. I've never, ever had a man that would stay. You continue to show up for me. I promise I want to show up for you each and every day. You make me so happy."
Dale expressed, "From the moment I stepped out of the limo, this was special. I know you and I, we both felt it immediately, and there was absolutely no denying it. You made it so clear and apparent at every phase of this that you believed in this, that you believed in you and I. I know without a shadow of a doubt that you would go to the end of the world for me."
ABC
He added, "I want to be here for you. I want to be strong. I want you to feel protected, and I want nothing more than to be here for you each and every day. I thought a lot about my mother and what she would think about you, and she would absolutely love you. All she's ever wanted for me is someone who loves me unconditionally and who would be there for me no matter what. I know that I have that. I love you."
With that, he got down on one knee and proposed marriage to Clare, and she happily accepted.
Congratulations, Clare and Dale! We can't wait to see where your love story goes from here.
Be sure to tune in to the rest of this season of "The Bachelorette" Tuesdays at 8 p.m. on ABC.