Meet the Women Appearing on Matt James' Season of 'The Bachelor'!
ABC/Craig Sjodin
We're less than a month away from the premiere of Matt James' historic 25th season of "The Bachelor" — and if the trailers are any indication, things are about to get very dra-Matt-ic.
Preview clips show Matt's group of women doing their best to impress him with grand entrances at Farmington, Pennsylvania's Nemacolin Woodlands Resort — including one who wears nothing but lingerie and a silk robe; and another who arrives on a Cleopatra-inspired litter, sporting a tiara and wielding a scepter.
Although he may enjoy their over-the-top displays, this season's lead is serious when it comes to finding his right match. "Getting down on one knee, I only want to do that one time for one woman," he has said.
Matt's journey as the Bachelor begins Monday, January 4, and now it's time to finally meet the 32 women vying for his heart.
From a professional ballerina to a runway model to a self-proclaimed "Queen," get to know the ladies below!
ABC/Craig Sjodin
Hometown: Beaverton, Oregon
Occupation: Client Financial Manager
Abigail is a beautiful soul from the Pacific Northwest who says that nothing makes her happier than enjoying a cold local microbrew on a beautiful Oregon day. Having a hearing impairment never stopped Abigail from living her life to the fullest. She loves being outdoors, and when she's not working, she loves to spend time with family whom she says bring out the best side of her. Abigail is easygoing, laid-back, always down to have fun and ready to find the man of her of her dreams. She says she is looking for a man who will lift her up and make her feel like it's just the two of them in the whole wide world. Good looks are definitely a plus, but Abigail says that getting to know someone on a deeper level is far more important in a successful relationship. Abigail says she doesn't believe in love at first sight, but we'll see if that holds up after she meets Matt!
ABC/Craig Sjodin
Hometown: Ontario, Canada
Alana has always taken the road less traveled. Instead of taking the traditional college path after high school, Alana leaned into her desire for adventure and moved to Europe where she enrolled in different programs throughout Europe. She calls this decision her greatest accomplishment yet because it took her on a journey of self-discovery and exploration that really shaped her into the independent woman she is today. Adventure is definitely a key component to Alana's life — her latest one being a move to Toronto completely on a whim. When Alana isn't off exploring the world, she loves spending her free time sipping bubbles at local wineries, painting or cooking, and is here with hopes of finding a man to share in the everyday pleasures of life. Will this journey be the greatest adventure of her life? We can't wait to find out!
ABC/Craig Sjodin
Hometown: New York, New York
Occupation: Professional Ballerina
Alicia is a hard-working and incredibly driven woman. When she was only 13, she began pursuing her career as a professional ballerina. Through years of dedication and commitment to her craft, she is now proudly living her dream, dancing for the prestigious Dance Theater of Harlem. While it took a ton of hard work to get where she is, Alicia wouldn't change a thing. After years of being unlucky in love, Alicia is ready to find a man who will absolutely desire her. Her ultimate date consists of a day on the boat drinking champagne and eating from a thoughtfully curated charcuterie board followed by shopping and a romantic dinner at one of New York's best rooftop bars. She describes herself as very confident but not sappy. She's not looking for anyone who relies on cheesy pickup lines and would prefer a man who gets straight to the point. For Alicia, it's all about finding a handsome, intelligent and respectful man who is not afraid to put in the hard work to make their love go the distance.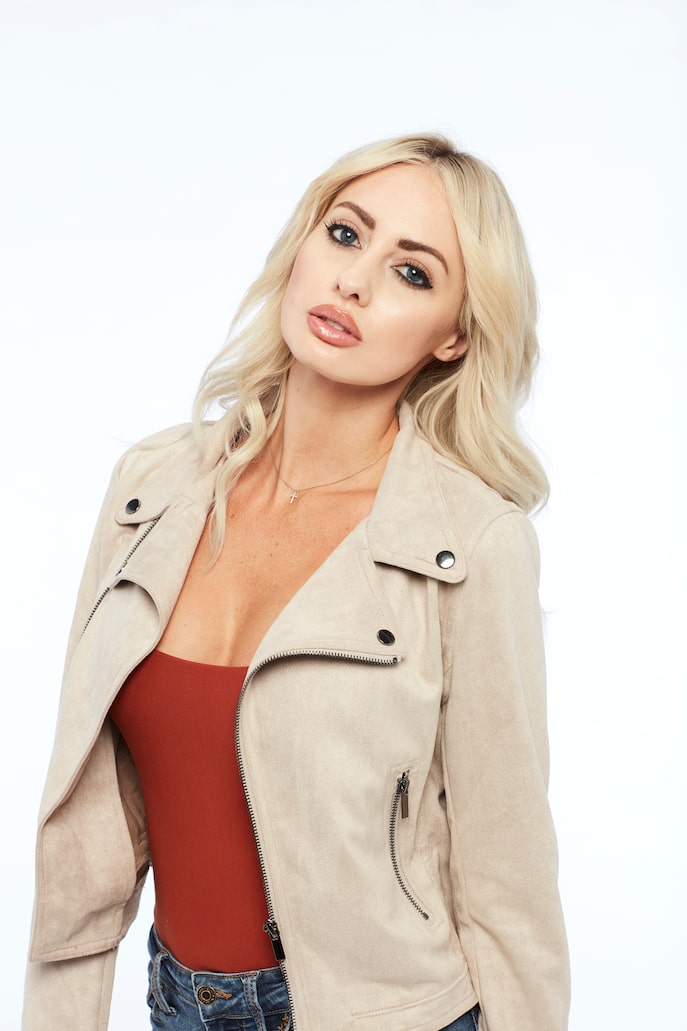 ABC/Craig Sjodin
Hometown: Costa Mesa, California
Occupation: Nursing Student
Amber is a vivacious single mother whose world revolves around her 13-year-old son. Currently, her typical Saturday night consists of dinner and board games with her son or soaking in the Jacuzzi with close friends. Amber finds it hard to date as a single mom, but now she is ready to focus on herself for the first time in a long time. When asked what her physical type is, Amber enthusiastically says "MATT JAMES!" She is looking for a man with whom to travel the world and eventually have more kids. She is caring, trustworthy and open-minded, but admittedly is also stubborn and a bit impatient. She says she is terrified of being on the edge of cliffs, but she is ready to take the leap head first into this once-in-a-lifetime adventure and hopefully return home with the man of her dreams by her side.
ABC/Craig Sjodin
Hometown: Chicago, Illinois
Anna is a small-town girl, living the big city life. She was born and raised in a tiny town in Minnesota, and at an early age, her parents nicknamed her Hollywood, thanks to her affinity for chic scarves and oversized sunglasses. As much as she loved her childhood filled with Friday nights at the local bowling alley and family dinners at Applebee's, this high school cheerleading captain knew she was meant for something bigger. Now, she lives in Chicago and says she is living the life she always envisioned for herself. She is looking for a man who will take her as the open book that she is — the good, the bad and the ugly. She wants a man who wants to have a family just as much as she does, and who will have no problem being open and honest in communication. Due to her Gemini vibes, she needs someone who is a match for her intellect but will also always want to keep life fun. Oh...and her dream guy must enjoy doing puzzles with her!
ABC/Craig Sjodin
Hometown: San Francisco, California
Occupation: Communications Manager
Bri is really something special. She was raised by her mother and grandmother who made countless sacrifices to give her a fighting shot at having a successful life. For this reason, Bri has always outworked everyone around her because she learned early on that everything in life was earned not promised. Bri now works for a high-profile social media company and is very proud of her achievements, as she should be. With her professional life intact, she is ready to focus on her personal life and find the man of her dreams. Bri describes herself as very laid-back and someone who is not embarrassed easily. She says that she is always the alpha in the relationship but would love to find someone who can challenge her and keep life interesting and exciting. It's very rare that she spends a weekend indoors and not outside hiking or hanging at the park and nearby beaches. One day, Bri hopes to have two or three kids of her own.
ABC/Craig Sjodin
Hometown: Los Angeles, California
Though she is fiercely independent, Carolyn is a serial monogamist who says she has always been the caretaker in her relationships. Now, she is looking for a man who will want to take care of her but will also appreciate her for the self-sufficient woman she is. Carolyn wants a bold man who won't be afraid to challenge her and call her out if she needs it. She needs someone who will appreciate her intensity and bring an equal amount of passion to the relationship. The ultimate date for Carolyn is something spontaneous that involves traveling because she says, "jumping into unfamiliar territory together is a great way to bond and get to know each other on a deeper level." Carolyn's ultimate turnoff is a man who spends all their time together name-dropping or bragging about his money, and instead hopes to find someone with a warm heart who is passionate about philanthropy. Carolyn admits that when she feels that spark, she falls hard and fast, and she can't wait to see what happens when she meets Matt that first night.
ABC/Craig Sjodin
Hometown: Newport Beach, California
Occupation: Social Worker
Casandra always told herself she would finish college and then settle down. Now that she has her master's degree in social work, it's time to find LOVE! Casandra says coming on "The Bachelor" is the biggest risk she's ever taken for love, but she believes she and Matt have a lot in common. As a partner, she is loyal, compassionate and caring. She is ready to find a man who she has a genuine connection with, and while she is a city girl at heart, she says she is truly at her best stargazing and eating s'mores in her sweatpants with no makeup on. She is confident, laid-back and says that guys like the fact that they can take her anywhere and don't have to worry about entertaining her. She has found it hard to find the one, but she says Matt is definitely her type and she is willing to take a chance if it means finding forever love.
ABC/Craig Sjodin
Hometown: Brooklyn, New York
After graduating college and getting a full-time job in corporate America, Chelsea did one of the most outrageous things she's ever done in her life...she quit her job, strutted her way into the world of modeling and never looked back! Chelsea's dating life was pretty nonexistent until she was in college, and her only relationship ended a year and a half ago when, after five years of being together, she felt she had outgrown him. Now that she has spent some time playing the field, she says she has a clearer idea of what she wants out of a relationship. Chelsea loves a man who will go the extra mile to show how they really feel and really appreciates it when someone can be vulnerable and an open communicator. Her dream man will join her as she wines and dines throughout the city; and while she doesn't need it, a man who loves to spoil her from time to time is always a plus. Chelsea can't wait to find a husband and she's hoping to find that with Matt.
ABC/Craig Sjodin
Hometown: Pomfret, Connecticut
Occupation: Marketing Manager
Happy with her life in Connecticut, Corrinne is ready to find someone that would be a great addition to her already-wonderful world. Corrinne comes from a big, loving family and does marketing for the family business — a high-end Italian restaurant! She strives to surround herself with positivity and says that she is at her very happiest sitting at the beach with the sun shining down on her face. Corrinne is looking for a man who will prioritize settling down over having a busy nightlife and partying. She wants someone who is serious about creating a life with her and who will match her unwavering loyalty. Her dream man will support her in both her personal and professional endeavors, and will let her do the same for him saying that she "always wants to water him so that he is constantly growing as a human, son, friend, etc." Corrinne wants someone who is loyal through the ups and downs, and promises that as a wife, her partner will never have to question that she is always on their team.
ABC/Craig Sjodin
Hometown: Albuquerque, New Mexico
Emani is the first to admit that she isn't an outwardly "lovey-dovey" kind of person, but that doesn't mean that her desire for love doesn't run deep. She describes herself as goofy, selfless and sensitive, and while she hasn't had much luck finding love thus far, she is here hoping that meeting Matt can change that. Emani is looking for someone caring, driven and to be her best friend. She's the kind of woman who would rather go to a sophisticated jazz bar over a baseball game and whose dream date consists of sharing a bottle of fine red wine and spending the night immersed in meaningful conversation. She loves to cook and says that her favorite way to show her man how she feels is through an old-fashioned, home-cooked meal. Emani says her turnoffs are emotional instability, physical instability and financial instability...really, instability of any kind. One thing that is very important to Emani is that the man she brings home is willing to love her family as much as she does. If the family says it is a no-go, then unfortunately that is where the journey ends.
ABC/Craig Sjodin
Occupation: Health Food Developer
Illeana is a perfect mix of beauty and brains. She is an entrepreneur who recently co-developed her own nutritional snack called "Funky Monkey Energy" and has big dreams of making a name for herself in the health food world. After ending her last relationship of four and a half years and living her best life in Manhattan, Ill eana says she is ready to settle down and find her missing puzzle piece. She has done the work to know exactly what she wants out of her partner and says that first and foremost, she needs someone whose values align with hers. Illeana is the type of woman who would rather cuddle up on the couch with a glass of wine and spend quality time together pondering life's unsolvable mysteries than hit the town and go barhopping. She is looking to find her best friend and to create the kind of love that makes you glow from the inside out. She says she loves love more than anything and knows she's found it when she and her man feel invincible to the world.
ABC/Craig Sjodin
Hometown: San Antonio, Texas
Occupation: Social Media Marketer
Jessenia is the total package of brains, beauty and an infectious personality. She was born and raised in San Antonio, Texas, and is a former pageant queen, even receiving the title of Miss El Paso in 2016. After recently ending her most recent relationship, Jessenia is hoping to find her true counterpart in Matt. Jessenia loves a man who takes initiative, is adventurous, and who will keep life exciting and unpredictable. Her soul mate also must love dogs because Jessenia currently has three of them! One thing Jessenia cannot stand is a man who will not get off their phone, especially if it's during date night. Jessenia wants someone with whom she can travel the world, but who will also indulge in a fabulous staycation. She is a true romantic and says she daydreams about what it will be like when she finally meets the man of her dreams.
ABC/Craig Sjodin
Hometown: Chicago, Illinois
Kaili says she doesn't like to take herself too seriously, but that doesn't mean she isn't serious about finding love! Kaili is witty, charismatic, not afraid to laugh at herself, and is hoping to find those same qualities in her future husband. She loves to show affection through spending quality time with her partner, performing acts of service and making sure that her man knows their voice is being heard. When she is in love, she says that there is no one you would rather have in your corner because her loyalty is unwavering. The man of her dreams is introspective, empathetic and can join her on her daily sunset runs on the beach followed by a romantic picnic. She says she's never dated anyone that her family has truly been excited about and she's hoping to change that when Matt comes into the picture!
ABC/Craig Sjodin
Hometown: Renton, Washington
Occupation: Bank Marketing Manager
Katie knows exactly what she wants in a man and is done wasting her time on boys who won't live up to her expectations. She is a witty storyteller who says when she finds someone worth committing to, she is the most loving and committed partner anyone could ask for. Katie is daring and adventurous. While Katie is serious about finding her person, she needs a man who can laugh along with her but is okay with him laughing at her too when the moment calls for it. Katie is looking for a mature man who has ambitions to succeed in everything he does, both personally and professionally. Her dream man will be passionate about building a long-term life with her and will treat Katie as his equal in the relationship. Nothing turns her off more than someone who sits around playing video games all day or a man who tries to kiss her at the inopportune moment...it's all about creating the right vibe with Katie! Will Matt be able to live up to Katie's standards?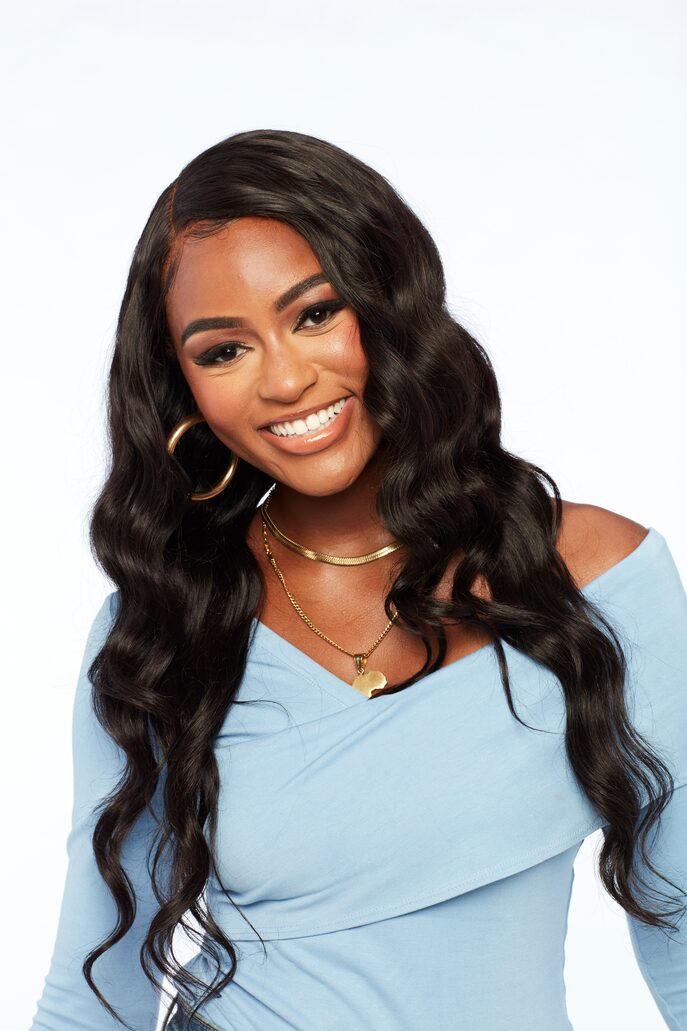 ABC/Craig Sjodin
Hometown: Durham, North Carolina
Occupation: Healthcare Advocate
Khaylah is a unique soul that is driven and passionate about the health work she does in her community. While she loves that her work means a lot to the people of Durham, it means so much more to her because life is all about giving back. Khaylah has been overly committed to her job, but she doesn't look at that negatively. However, she's now able to focus on herself and put herself first. Khaylah says she is a hopeless romantic and that she is looking for a man to truly sweep her off her feet! She says she can be shy at first, but once she feels that spark, it's on! Nothing turns Khaylah on more than a respectful man with emotional intelligence and a desire to give back. A life full of love and service is one that Khaylah is dedicated to, and we think that together, she and Matt can make the world a better place.
ABC/Craig Sjodin
Hometown: Seattle, Washington
Occupation: Airline Recruiter
Kimberly is the kind of woman who radiates joy and happiness everywhere she goes. She is a carefree soul who would have no problem picking up her life and moving to a new town on a whim. Kimberly describes herself as funny, loyal and trustworthy, and will be the voice of reason and shoulder to cry on if need be. She values a healthy lifestyle and wants to find a man whose enthusiasm for staying fit aligns with hers. She also loves picnics, good snacks and when the weather permits, going on the hunt for Seattle's best sunset viewpoints. When it comes to relationships, Kimberly always tries to keep it real and is not afraid to step away if her expectations aren't being met. She's looking for a grown man who will be passionate about his career while also supporting Kimberly in hers. The one thing Kimberly cannot make work under any circumstance...NO CATS!
ABC/Craig Sjodin
Hometown: New York, New York
Occupation: Fashion Entrepreneur
Kit is a true born-and-raised New Yorker. She currently lives at home with her parents in the heart of the West Village while finishing her last year of undergrad at NYU. Kit hasn't had a serious relationship since her first love in high school, but that's only because she hasn't found a man who can measure up to the level of emotional intelligence she needs. She's found that most guys she meets don't match her maturity level, and although she is only 21, she is very ready for a serious commitment. Kit is looking for a man who is genuine, open and honest. She is a straight shooter who has no interest in anyone who is fake or indirect. This badass woman wants to find someone who can keep up with her witty banter and hold their own in the New York social scene. Kit knows that she has high standards, but she has no doubt that Matt will be able to live up to the hype.
ABC/Craig Sjodin
Hometown: Virginia Beach, VA
Kristin is a very smart and successful attorney who says that while she dreams of finding her perfect match, her busy career and professional ambitions haven't left her with too much spare time to date. Kristin is truly wifey material — not only is she beautiful, but she is fiercely loyal, intelligent and credits her unmatched work ethic to her incredible mother who raised her. Kristin says she is definitely the party starter and needs a man who won't be intimidated by her natural magnetism. She also needs someone who isn't afraid of being openly affectionate because with Kristin, personal space goes out the window. Kristin wants a man who will let her be their biggest cheerleader and who will in turn be the same for her. If you want to get an edge with Kristin, she says pink roses are the way to her heart, but maybe a red rose from Matt may suffice in this case.
ABC/Craig Sjodin
Occupation: Corporate Attorney
Lauren is a Florida girl through and through! She is a successful corporate lawyer who recently had her law reviews published. In Lauren's free time, she enjoys fashion, going to the beach, working out and spending time with her girlfriends in their book club. Lauren has everything going for her, but now she wants someone to share in her many successes! She is looking for someone who is genuine and authentic. She needs to feel that the man she is with truly has her back in any situation thrown their way. Lauren is hoping for a family of her own one day, so she needs a mature family man that is on the same page. Not wanting to have kids is a major deal breaker for Lauren. She says that none of the guys she has dated in the past have truly been her best friend, and she's hoping to change that here with Matt.
ABC/Craig Sjodin
Magi is a beautiful, kindhearted woman whose striking looks are only a small part of her story. She grew up in small village in Ethiopia, and while she says moving to the U.S. was the scariest thing she has ever done, she doesn't regret it one bit. Magi was only able to move here after she literally won the Diversity Visa Lotto. She is so grateful for all the opportunities she's been given in life and knows firsthand to never take anything for granted. People often describe her as being too nice, but she sees her kindness as her biggest strength and knows there is power and resilience behind it. She is loyal, honest and has a very positive outlook on the world. Magi is looking for a partner in life — someone she can share everything with and who has a love and compassion for culture like she does. When she's not working or studying to further her career, she loves to explore her town's historical buildings, drink wine at her favorite local restaurants and spend nights in with her girlfriends watching movies. Meeting Matt will be a very new and exciting experience for Magi — she grew up in a place where arranged marriages were very common, so she is excited to be here to show the women back home that everyone deserves to choose who they love!
ABC/Craig Sjodin
Hometown: Odenton, Maryland
Occupation: Marketing Director
Mari is a former beauty queen living the American dream. After moving to Maryland from Puerto Rico as a teenager, Mari enrolled in college and competed in pageants — most recently winning Miss Maryland USA in 2019 and placing Top 10 at Miss USA. Now, she is a career-focused woman on the go who is ready to find the love of her life and settle down. She says that as a partner, she is very nurturing and thoughtful, and hopes to find a man who values her and gives her the same. She describes herself as a romantic, thoughtful, "all-in" partner, and loves to make her significant other happy by cooking for them, planning small surprises and giving massages. Mari loves her job and says it's very important that she have her own thing going for her. She also loves that she can work completely remote because she can't wait to have kids and wants to be a working mom that shows young women they truly can have it all!
ABC/Craig Sjodin
Hometown: Studio City, California
Occupation: Event Coordinator
Marylynn needs a man who is ready to commit and not afraid to wear his heart on his sleeves. She wants a stable man who will love her unconditionally, someone who is loyal to the core and who would be a rock for her when life throws the inevitable curve ball their way. In five years, Marylynn hopes to be married with two or more rescue dogs, and living a productive, inspirational, healthy life with the support of her man by her side. She hopes to start several companies focused around promoting environmental welfare and healthy lifestyle choices, and will need her soul mate to share her goals of making the world a better place. She doesn't see herself with anyone who is lazy, introverted or someone who doesn't prioritize their heath and hygiene. She says that finding her life partner has always been a top priority and that experiencing true and undeniable love is the ultimate goal because it is something so special and unique. Will Matt be Marylynn's person, or will her search for the perfect love story continue on?
ABC/Craig Sjodin
MJ is a beauty expert who sees the beauty of life in all that she does. MJ grew up on a small island in Lake Erie where she loved being outdoors and on the water. She is passionate about making people feel better about themselves and says that her calling in life is to make the world a more beautiful place. MJ wants a man who will be just as giving as she is and will shower her with the reciprocated love she deserves. She dreams of settling down with someone reliable, decisive and family oriented, and says that she needs a man who will be as fiercely loyal to her as she is to them. MJ is very social and wants to find a man who will let her maintain her independence and won't add unnecessary drama to her life. She loves a man with a plan but has no interest in someone with an inflated ego or unrealistic expectations. She also cannot deal with someone who is never on time. MJ is charming and memorable and once she enters "The Bachelor" bubble, we don't think Matt will have any trouble keeping her on his mind.
ABC/Craig Sjodin
Hometown: Happy Valley, Oregon
Occupation: Graduate Student
Don't discount Pieper as just a pretty face because there is way more to this stunner than meets the eye. She's truly the total package! Pieper has a dynamite personality, a creative mind, a master's degree in marketing and a wonderful family who has supported all her endeavors. The only thing missing for Pieper? A man to enjoy life by her side! Pieper is caring, giving, and loves to learn what brings her partner joy so she can foster that happiness. She loves to spend quality time with her significant other, but also very much values independence and having parts of her life that remain her own. Pieper needs someone with confidence and someone who knows what they want in life because forethought is so important to her. It's easy to see what makes Pieper a total catch and we think Matt will have no problem seeing it too.
ABC/Craig Sjodin
Hometown: Cumming, Georgia
Occupation: Graphic Designer
With beautiful eyes and personality to match, Rachael is a southern sweetheart with a close-knit family. Though Rachael says she is a hopeless romantic to her core, she has never been in love and believes that Matt may just be the guy to change that. Rachael is hoping that her love story will be something huge and life altering. She wants to look back on her life when she's old and feel like she has made the absolute most out of every single day. Nothing makes her happier than a good movie, good wine and charcuterie boards. Rachael needs a man who will make every day with her something to tell their future children about and says, "At the end of the day, love is what makes your life more special than others. Life can be hard and really difficult and dark at times, but if you have someone by your side that loves you more than they love themselves, that makes it all worth it in the end."
ABC/Craig Sjodin
Hometown: Denver, Colorado
Occupation: IT Consultant
Beautiful Saneh has a contagious zest for life! From swimming with sharks in South Africa to being inducted into the University of Florida Hall of Fame for outstanding leadership, service and academic achievement, nothing is out of reach for her. This energetic Florida native has a thousand-watt smile and is here to find a man she can proudly bring home to meet her family in Florida. After learning a lot from her last serious relationship, Saneh has a refreshed outlook on life and feels that Matt could be that perfect addition she has been looking for. She describes her perfect man as selfless, ambitious, considerate and empathetic. She loves any activity that puts her in the great outdoors — from hiking and kayaking to sunrise yoga at Red Rocks Amphitheater — and hopes to find a partner who will always be up for an adventure with her. Saneh wants nothing more than to go on the adventure of a lifetime with the hopes of finding a love that will be life-changing. We hope so too!
ABC/Craig Sjodin
Hometown: San Diego, California
Occupation: Broadcast Journalist
Sarah has always dreamed of finding her fairytale ending. She comes from an incredibly close-knit family and says that her parents are the true example of the loving and loyal relationship that she wants for herself one day. Sarah has been in two serious relationships, but unfortunately neither turned out to be her Prince Charming. Sarah enjoys traveling, trying new foods, going to concerts, tennis, hiking and biking. She is hoping to find a man who prioritizes fitness and a healthy lifestyle just as much as she does and wants someone who will turn every day into an adventure better than the last. One thing that is very important to Sarah is finding a man whose commitment to faith is as strong as hers. She hopes to one day be in a power couple that when they're not spending time with their kids, they are doing work for the community and giving back to children in need. Sarah is truly a hopeless romantic. Will Sarah get the fairytale ending that she has always wanted with Matt? Only time will tell.
ABC/Craig Sjodin
Hometown: San Francisco, California
Occupation: Flight Attendant
Serena C. is a free spirit who loves adventure and is always up for a good time. After spending time in quarantine, she has taken the time to really think about what qualities she wants in a partner and she is here because she thinks that Matt James may be her perfect match! She is looking for a man with charisma, good character and someone with whom she can have a strong physical connection. Serena C.'s idea of a perfect date is getting all dressed up for a fancy night out, taking in the sunset over good champagne and a thought-provoking conversation. She needs a man who wants to be professionally successful, but is also a free spirit like her with dreams of traveling the world. Serena C. says that it really takes a special kind of man to lock her down, and we think Matt may just be the man she's been waiting for!
ABC/Craig Sjodin
Hometown: Toronto, Ontario, Canada
For as long as she can remember, Serena P. has been a believer that no matter what your age is, when you know, you know. Serena P. has always led a disciplined lifestyle and says she has never really taken the time to pursue true love, but now, this typically logical thinker is throwing her rulebook out the window and is ready to meet the man of her dreams. Serena P. is looking to find a man who will enjoy spending quality time with her — whether they are having beers at a low-key bar or sitting courtside at a Toronto Raptors' game. For her, it's all about having fun and growing in life together. Serena P. needs a man with ambition who will be her teammate in life. He also HAS to be willing to share his food with her saying, "If they don't let me taste their food, I don't know if the relationship could survive." Serena P. knows true love is real but is waiting to find it, and she is hoping to experience that the second she meets our bachelor.
ABC/Craig Sjodin
Hometown: Nashville, Tennessee
Occupation: Marketing Specialist
Sydney is a strong, opinionated woman who knows what she wants and isn't afraid to vocalize it. If her family could use one word to describe Sydney, it would be "opinionated"…and Sydney wholeheartedly agrees saying her role in life is to give facts over being a shoulder to cry on. Sydney may come off as tough, but just because she's blunt doesn't mean she isn't also a romantic at heart. Though Sydney says she is not your typical southern belle, she says she is a traditional romantic and hopes to find a man who will put effort into wooing her. She has always believed that opposites attract and dreams of finding a man with a mellow demeanor to balance out her outgoing personality. She hates awkward dinner conversation and says a man with big goals for the future is her biggest turn-on. Sydney wants someone who will bring what she does to a relationship — love, loyalty, motivation and support — and says that she's not looking to settle for any average Joe Schmoe. Nothing bothers Sydney more than people who beat around the bush, so let's hope Matt is ready to get straight to the point with Sydney!
ABC/Craig Sjodin
Hometown: Los Angeles, California
Victoria, or Queen Victoria as she likes to refer to herself, has outgrown her "once upon a time" jetsetter lifestyle but not her sense of grandeur. Victoria has shifted focus towards entrepreneurship and has launched a few businesses in the health and beauty space. Victoria knows she has a big personality and needs a strong man who can keep up but who won't be controlling in any way, shape or form. The top things Victoria's needs in a relationship are loyalty, honesty and independence. Meditation and spirituality play a huge role in Victoria's life and to find someone who also is would be a huge plus for her. Victoria loves romance, and with her love language being physical touch, she hopes to find someone who appreciates that side of her. Victoria truly has no filter, which she loves about herself, and plans to be very forward in her pursuit of Matt. This girl knows what she wants, and good luck to anyone who tries to stop her!
Season 25 of "The Bachelor" premieres Monday, January 4, at 8 p.m. on ABC.