Everything You Should Know About Mike Johnson & Bryan Abasolo's New 'Talking It Out' Podcast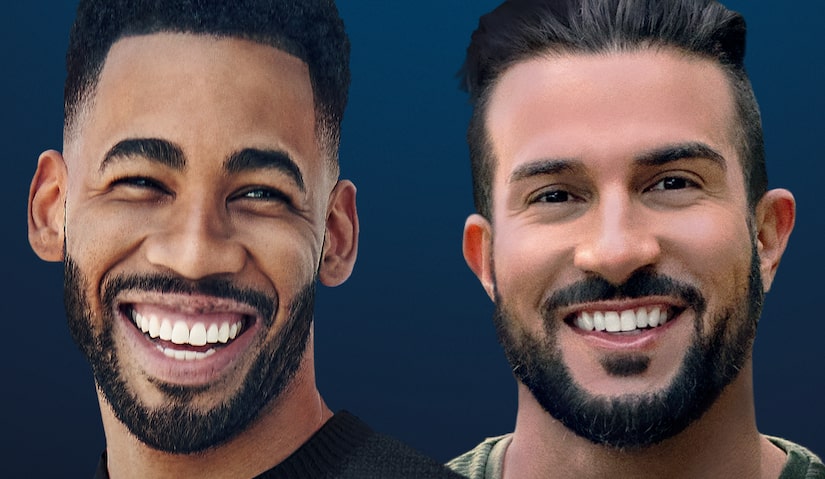 Warner Bros.
A dynamic duo! Mike Johnson and Bryan Abasolo are joining forces to co-host the latest Bachelor Nation podcast, "Talking It Out." Here is everything you should know about the "Bachelorette" alums' exciting joint project.
The podcast launches January 11 and will air every Monday after that.
"Talking It Out with Mike & Bryan" is presented by Wondery and will be available to stream on Apple Podcasts, Spotify, SiriusXM, the Wondery App, or wherever you listen to podcasts.
Where to Follow on Social Media
Waiting for your permission to load the Instagram Media.
Mike and Bryan are two of the most beloved Bachelor Nation stars in the franchise's history.
Mike — known for his infectious smile, charming personality, and an uncanny ability to connect with just about anyone — competed for Hannah Brown's heart on Season 15 of "The Bachelorette" before appearing on Season 6 of "Bachelor in Paradise."
He recently authored the best-selling book "Making the Love You Want," which teaches readers how to overcome self-limiting beliefs. With his primary focus on self-love through intimacy, Mike is soon to become a certified Intimacy Coach.
Mike — who is based in Austin, Texas — is an avid traveler and military veteran who has developed a deep understanding of different cultures. Having faced countless challenges in his life and career, his greatest takeaway from it all is a beautiful perspective on life — one that he's ready to share with the podcast community.
Bryan — who appeared on Rachel Lindsay's Season 13 of "The Bachelorette" — is a licensed doctor of chiropractic in Florida and California, as well as a certified nutrition specialist and personal trainer. Some of his clients know him as "Dr. Abs" (and if you've seen his chiseled six-pack, you'll understand why).
As fans are well aware, Bryan — who is based in Miami, Florida — eventually won Rachel's final rose on "The Bachelorette." They later wed in a gorgeous October 2019 ceremony in Mexico. Together, they're not only a power couple — Rachel co-hosts her own Bachelor Nation podcast, "Bachelor Happy Hour" — but they're also proud parents to their rescue dog Copper Ash.
Additionally, Bryan is the founder and owner of the Miami Disc & Laser Therapy Center, where he helps people with debilitating neck and back pain improve their overall quality of life with non-surgical and drug-free treatments. With a passion for a healthy lifestyle, Bryan focuses on five key principles to maximize his life as well as the lives of others, using natural health solutions, fitness, nutrition, supplementation, motivation, and positive mindset. In his spare time, Bryan enjoys spending time with family and friends, watching sports and — if you hadn't already guessed — working out.
Mike and Bryan's podcast will be unlike anything Bachelor Nation has heard before. The pair will dive deep into uncomfortable topics while sharing unconventional viewpoints that will prompt thought-provoking conversations about life, love, relationships, family, and everything in between.
Mike and Bryan will also explore the male psyche as they get advice, give advice, and — most importantly — push themselves and their listeners outside of their comfort zones. Each episode will feature a special guest who will help the co-hosts learn, reflect, and talk through the topic at hand.
As two people of color — Mike is Black and Bryan is of Colombian descent — the co-hosts are thrilled to offer their distinctive points of view on "Talking It Out."
"I think it will definitely set us apart — both of us being minorities in this country, coming from different backgrounds, cultures, upbringings," Bryan recently told "E! News."
He added, "We both have a lot of experience when it comes to love and relationships. I'm in a marriage. I have a lot of experience in the dating space in my past. Mike, he's going to be an intimacy coach. I think we're both going to bring our own unique perspective to the table. And, of course, we have the common bond of going through this amazing social experiment between men and women being part of the franchise."
Mike and Bryan are also excited to discuss their differing outlooks with listeners, as they are both in different stages of life. "We're two different men at two different points in our lives," Mike explained to "E! News." "I'm a single, young 30-year-old guy. Bryan is the much more handsome 40-year-old that's married. We bring completely different perspectives to the table."
A sneak peek of "Talking It Out with Mike & Bryan" dropped January 5. In it, the guys dish on what to expect when the first episode debuts January 11.
"So, let me tell you a little bit about our podcast," Mike says in the preview. "We're going to be talking about anything and everything with relationships."
Adds Bryan, "We're going to be getting into all sorts of topics that have to do with relationships, whether it's our relationships with others, lovers, family, career — or our relationships with ourselves: mind, body, and spirit."
"Here on this podcast, we want to bring people together to learn something special," Mike continues, while Bryan elaborates, "We're bringing on a diverse range of guests, from celebrities to athletes to experts to authors — anyone you can think of — to help give advice, get advice, and, most importantly, push ourselves to think outside the box."
Listen to the trailer below.