Tayshia Adams & Zac Clark Reunite with Dr. Joe Park for Charity Run in NYC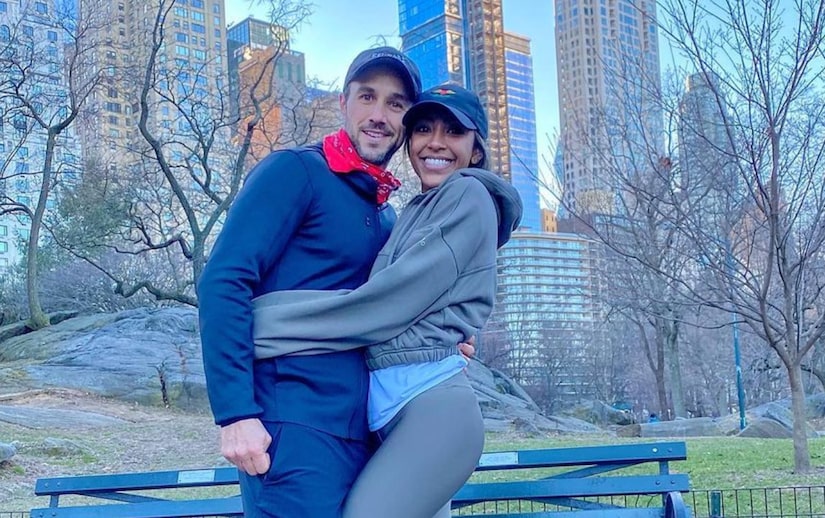 Instagram
Running on romance! On Sunday, Tayshia Adams and her fiancé, Zac Clark, participated in New York Road Runner's Virtual Resolution Run 5K in Central Park.
Tayshia — who accepted a proposal from Zac during last month's "Bachelorette" Season 16 finale — crossed the finish line as the handsome addiction specialist documented the exciting moment via social media.
"I can't feel my face when I'm with you…but for real it's too cold pls send help!!" Tayshia joked on Instagram following the race.
"Had so much fun doing the @nyrr charity resolution run today with such great people. Guess it's officially time to get back into running! First run in the city in the books!" she continued.
Waiting for your permission to load the Instagram Media.
The couple ran in hopes of raising awareness for Zac's nonprofit, Release Recovery, a 17-bed transitional living facility in Westchester County, New York, that helps people with addictions find their best routes to recovery.
During the event, Tayshia and Zac ran into fellow Bachelor Nation star Dr. Joe Park, whom Tayshia sent home early on in her tenure as the Bachelorette.
"I'm so excited! Here's our little group. We're about to get it on! Happy Sunday," Tayshia said in an Instagram Story video, before panning to Joe. "Guess who's here!"
Over on his own Story, the New York City-based anesthesiologist expressed his enthusiasm at reuniting with Tayshia and Zac. "I don't normally get starstruck, but there is somebody here who I recognize that's really awesome," he said in a video. "Zac Clark from 'The Bachelorette'! I'm such a huge fan."
Joe then facetiously asked Tayshia to take a photo of him and Zac. "Excuse me, miss? Would you mind taking a picture of us?" he requested with a laugh.
Next, the trio posed for a series of seflies and group pics — and gave it their all in several running videos — on Joe's Story, set to the tune of Post Malone's hit song "Circles."
Tayshia and Zac's active day at NYRR's virtual race — which can take place anywhere now through January 17 — comes just weeks after the pair moved in together in the Big Apple. The Orange County, California, native recently updated Bachelor Nation about how she is acclimating to city life with her future hubby.
"I have just been so excited just to live life and not go a hundred miles an hour [and] live a double life and be in secret," she said in a December 29 Instagram Story video, expressing relief over the fact that she no longer has to keep her relationship with Zac under wraps. "I've been so distracted just being in the same house as Zac, which is so bizarre to me."
Tayshia added, "For the longest time, we would do FaceTime for hours on end. The time difference and our schedules were just so off that as soon as it hit 6 o'clock over there [in California] and 9 o'clock here [in New York], we'd just be on the phone for three or four hours. That was when we had to catch up. It's so surreal that we can just be out in the open."