This Week in Bachelor Nation History: Trista Sutter Sends Future Bachelor Bob Guiney Home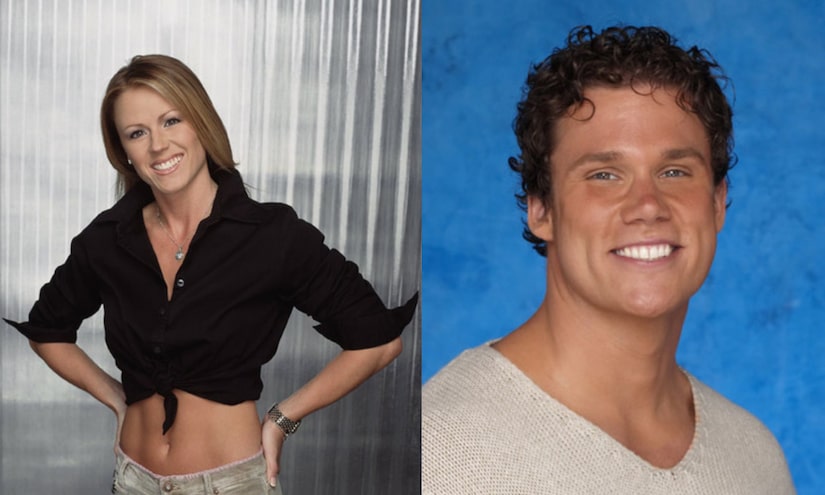 ABC
He almost made it. This week marks 18 years since Trista Sutter bid farewell to Bob Guiney on Season 1 of "The Bachelorette," preventing him from introducing her to his family during a Hometown Date.
As viewers may recall, Week 3 of the series' inaugural season saw Trista figuring out which men were worthy of making her final four. After taking Charlie Maher, Russell Woods, and her eventual winner, Ryan Sutter, on intimate one-on-one dates, the Bachelorette continued to narrow down her group of contestants on a group date.
Bob was one of the men who participated in a day of go-karting followed by a nighttime clambake at the beach. "There are still four roses up for grabs," the handsome mortgage broker and singer told the camera. "I certainly think I still have as good of a chance as anybody else to get one and, in some cases, maybe even better."
Next to the warm glow of a bonfire, Trista and Bob spoke about their potential future together.
"I came here to find out if I liked you and if you liked me. That's why I'm here. And, ultimately, so far, I feel like you and I have made a significant connection. But the only thing I ever worry about is that you maybe just think I'm a joker 24/7," said Bob, whose charming sense of humor made him an immediate fan favorite.
"No, I know you've got a very sensitive, serious side," Trista assured him.
"Trista's making her decision based on what she sees. I know she's seen the joking-around side of me, but I'm pretty confident she's seen the serious side of me too," Bob later said in a confessional. "And I've gotten to know her pretty well enough to know that I do want to stick around if given that opportunity."
Elsewhere in their group date chat, Trista — who originally hails from Indiana but had plans to move to Los Angeles at the time — asked Bob to share his thoughts on relocating from his home state of Michigan.
"I had planned on staying there, absolutely. I used to say I would never move. I really did, I never thought I would — primarily because that's where my family's from," he explained. "I have a nephew and I definitely want to be a part of his life. I have a godson and I want to be a part of his life, too."
Bob added, "But at the same time, you can't sacrifice your own happiness for the needs of everybody else. And if you can still be involved in their lives and do the right things in that regard, then you can make a pretty big impact. I really believe that."
Afterward, Trista opened up to a group of girlfriends — including fellow "Bachelor" Season 1 alum Shannon Oliver — about the tough choice she would have to make regarding Bob at the next Rose Ceremony. "Bob, he's a great guy. He's got all the stuff to offer. He's serious, he's hilarious, and he really is here for the right reasons," she said. "But I don't know that he wants to move out of Michigan."
That night, during a cocktail party, Bob urged Trista to consider giving him a rose.
"To be honest with you, up until this point, I never thought I'd ever be here. But the more and more I get to know you, the more I'm invested in you. You know, a big deal for me too, though — which we talked about the other night — is the whole idea of relocation," he said.
"It's playing in my heart and in my decision with everybody," Trista said, to which Bob implored, "I would like to say this: Don't make a decision based off geography alone because you could really shortchange yourself as to what your options could be."
Before Trista handed out her roses, the men were able to make their final pleas to the stunning lead in video messages. "Hey Trista, thanks very much for our date. I had a great time with you and I'm looking forward to receiving a rose this evening. I would like to take you to meet my family. Believe it or not, I'm actually the quiet one," Bob quipped in his clip. "I think it'll be enjoyable for us and good comic relief."
Ultimately, Bob didn't receive a rose — but Trista made sure to let him know how much he meant to her as they said goodbye to each other. "I'm really not going to say this to anybody else tonight, but if I had five [roses] to give, you hands-down would have been my fifth," she said, grabbing his hands. "And this was a really hard decision for me."
Bob went on to describe how disappointed he was to see his relationship with Trista come to an end, while Charlie, Russell, Ryan, and Greg Todtman advanced in their pursuit of her final rose.
"When it boils down to it, I felt a connection with her. I did. I would love to maintain my pride and say I didn't, but that would be a lie. I felt it and it's not the first time I've had my heart broken either," he told the camera. "I really believed tonight that I was going to be the guy that was going to be moving on to my Hometown Date."
ABC
Though Trista's rejection shattered Bob's heart, his love life was soon resuscitated as he got the call to lead Season 4 of "The Bachelor" in 2003. While his journey didn't conclude with a proposal, he chose finalist Estella Gardinier. However, they split shortly after the finale aired. Bob married "All My Children" actress Rebecca Budig in 2004 but divorced her in 2010. Bob tied the knot again in 2016 with Jessica Canyon. The couple — who live in Seattle, Washington — welcomed their first child, a son named Grayson, in December 2018.
These days, Bob serves as a part-time correspondent for "The Today Show" and still flexes his musical chops as a member of the charity cover band Band from TV, which he formed with "Alias" star Greg Grunberg and "Desperate Housewives" actor James Denton, among other celebrities. (As a solo artist, Bob has released two albums: 2003's "3 Sides" and 2008's "Hoggin' All the Covers.")
"Life is going very well," Bob told Us Weekly in 2020, expressing gratitude for his time within Bachelor Nation. "Thanks to the show, I've had such amazing opportunities come my way."