Kit Keenan Shares Adorable Childhood Modeling Pic: 'Been Serving Since 1999'
ABC
You better work! Kit Keenan headed over to her Instagram Story on Wednesday to share an adorable throwback photo from her childhood days as a model.
In the sweet snapshot, a pint-sized Kit poses on a runway while rocking a shimmering teal and gold lamé dress with a matching coat made in baroque fabric. Her look is accessorized by a glittering tiara and a super sassy facial expression.
"Been serving since 1999," the "Bachelor" Season 25 star wrote alongside the image.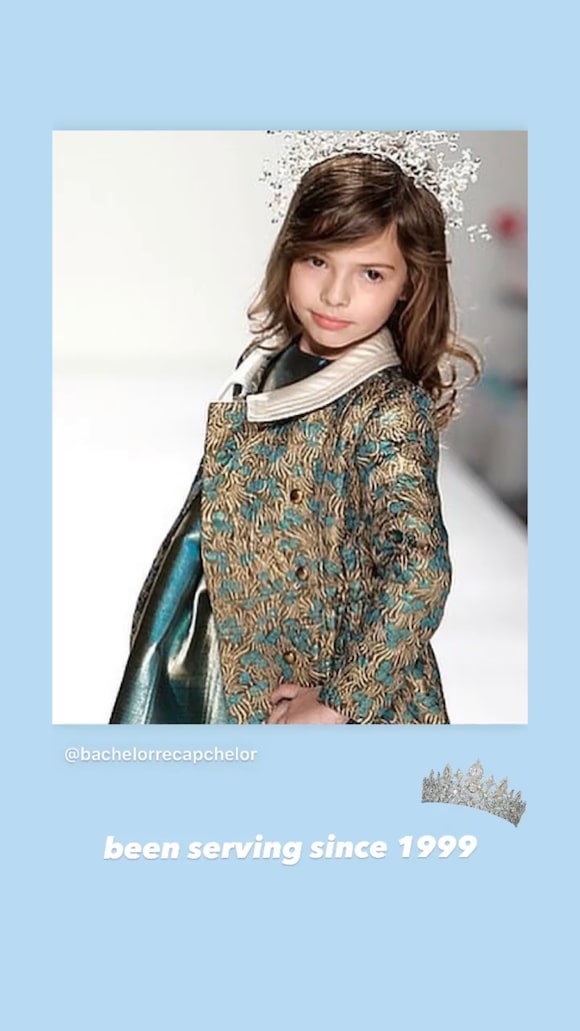 Instagram
It makes sense that Kit was immersed in the fashion industry at a young age. After all, her mother is renowned designer Cynthia Rowley. The style scion — who is currently in her senior year at New York University, where she studies fashion and business — followed in her famous mom's footsteps when she launched her own clothing line, appropriately called KIT, at 19 years old.
The entrepreneur, now 22, recently opened up about her glamorous upbringing — and insisted she is more down-to-earth than Bachelor Nation may think — on this week's episode of "Bachelor Happy Hour."
"People think that my life is like 'Gossip Girl.' I've gotten the Blair Waldorf thing and I've kind of played into it a little bit. But it's not like I'm going to fashion shows every day. That's part of my life. The glamorous things, yes, I've been able to experience a lot of that. But that doesn't mean that I'm not down to cook dinner at home," Kit told co-hosts Rachel Lindsay and Becca Kufrin.
"I'm very much an introvert. If I'm not out to events or whatever, I love being at home," she added. "I love hanging out in my sweatpants. It's something that you would only see if you're one of my friends or someone I'm dating."