March 09, 2021 • travel
Experience Dublin, Ireland, Like Kaitlyn Bristowe on 'The Bachelorette'
ABC
Dublin, Ireland — the country's largest city — is beyond magical. Situated on a beautiful bay on the east coast and bordered on the south by a series of gorgeous mountains, the picturesque city is the perfect place to begin a fairy-tale romance.
The Irish capital is full of alluring gems for you and your beloved to enjoy. Fall in love as you explore architectural landmarks, illustrious literary heritage, fascinating historical stories, striking street art, and stunning landscapes.
Kaitlyn Bristowe traveled to Dublin on Season 11 of "The Bachelorette," and here's how you can experience the Fair City just like her.
Dublin is packed with luxurious hotels in its many unique districts and suburbs such as Dalkey, Grafton Street, Portobello, Ranelagh, and Rathmines. Why not settle in at the Radisson Blu St. Helen's Hotel? The opulent establishment is conveniently located near Dublin's bustling City Centre neighborhood, an enchanting area marked by winding narrow streets, low buildings, and an electrifying energy.
Unpack your bags at the Radisson Blu, where you can bask in the contemporary grandeur of this Irish National Monument. With its elegant décor and well-preserved architecture, the hotel is part of a historic estate built in 1750.
After touring nearby attractions — including St. Patrick's Cathedral and Dublin Castle — kick your feet up inside your sumptuous suite. Sink into your cloudlike bed outfitted with Egyptian cotton sheets as you look out onto a breathtaking view of Dublin Bay.
One-on-One Date: A Heavenly Time
Begin your day by grabbing a bite to eat at Dublin's iconic McDaid's Pub. Of course, the restaurant-bar is full of classic Irish pub fare — including cod fries, corned beef, and Guinness-braised pot roast — but its unexpected origin will make your dining experience one of a kind. In its prior life, McDaid's was the city morgue! As you and bae dig into your food and sip pints of beer, take a peek at the ceilings: They were made particularly high so that caskets could be abundantly stacked.
In the evening, head over to Christ Church Cathedral. Dubliners and tourists alike have been coming to this religious sanctuary for nearly 1,000 years. Founded in 1028, the cathedral is Dublin's oldest working structure, and is considered the spiritual heart of the city. Step inside and you will discover its beautiful interior, a magnificent nave, a fascinating medieval crypt, and many other treasures. Reflect on the religious and political history of Ireland by taking a self-guided or fully guided tour of the space with your sweetheart. End your time at Christ Church Cathedral by lighting a candle in honor of your loved ones — and maybe even give thanks for such a heavenly time with your boo.
Group Date: Drunk on Love
Toast to your romance at Dublin's The Liquor Rooms, a cutting-edge cocktail bar. The drinking establishment's eclectic menu is full of award-winning potations aimed to please your senses with gastronomic thrills. Steam up your date by trying The Liquor Rooms' "Bubble," a sweet and spicy signature cocktail comprising tequila, yellow Chartreuse, pineapple, jalapeño, lime — and, yes, even a little bit of smoke.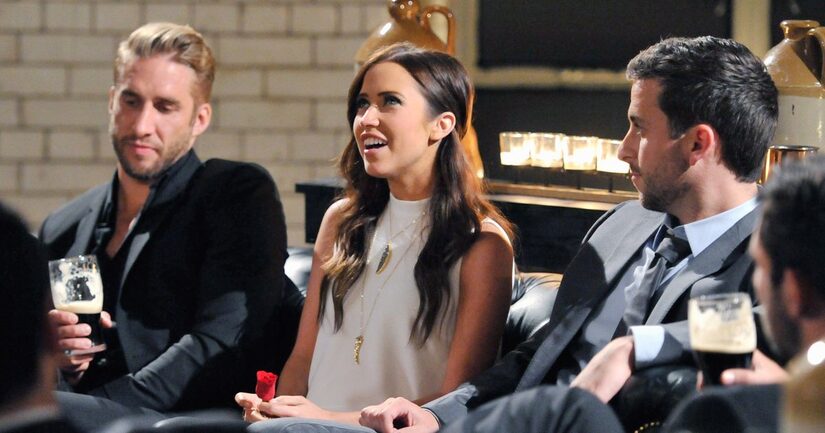 ABC
Afterward, take a trip to the Guinness Storehouse, where you can absorb the history of Ireland's most iconic beer. Discover the story of Guinness before taking in spectacular views of Dublin from the expansive compound's Gravity Bar, where you can bond with your partner over a perfectly poured chilled pint of Guinness.
Two-on-One Date: Ride to Romance
To add a little out-of-town exploration to your stay, hop on the DART — otherwise known as the Dublin Area Rapid Transit — and take a ride to nearby Howth. Once you arrive in the gorgeous seaside village, take a romantic boat out of Howth Harbour to Ireland's Eye, a small uninhabited island in the Irish Sea. Once you're there, indulge in the unimaginable beauty of your surroundings and sit down for a picnic.
At night, head back to the city and spend time at one of Dublin's historic Georgian townhouses in the Temple Bar quarter. After walking the neighborhood's cobbled streets — where you can sample the city's nightlife and fine dining — retreat back to your hotel for a cozy night in with your significant other.
Rose Ceremony: Happily Ever After
End your Dublin fairy tale at the charming Luttrellstown Castle, situated on 567 acres of lush private parkland. Lose yourself in the scenic escapism of the castle, which offers novelty outdoor activities such as golfing, falconry, fishing, archery, air rifle shooting, horseback riding, cycling, cycling, and woodland tours.
After having an adventure on the castle's premises, dine in one of its fine restaurants that most likely has a view of the land's championship golf course. Or head up to your palatial suite, where you and your partner can enjoy decadent room service options. Later, dream about your fun-filled day as you and your love fall back into a perfectly plush bed.
No matter how you spend your time in Dublin, the city will captivate your spirit and leave you feeling lucky in love.