March 11, 2021 • travel
Experience San Antonio, Texas, Like Kaitlyn Bristowe on 'The Bachelorette'
ABC
They say everything's bigger in Texas, so this is the perfect opportunity to see just how much your love can grow!
San Antonio is a cultural, culinary, artistic, and athletic hub of Texas. The city includes so much more than just the Alamo; cowboys and rodeos got their start here, the San Antonio Spurs are an NBA powerhouse, and the River Walk allows for an escape into nature. San Antonio mixes Texas pride with history and influence from all over the world, and when you visit, you'll fall in love with the city's vibrant scene, its multicultural atmosphere, and your date.
Kaitlyn Bristowe traveled to San Antonio with her guys on Season 11 of "The Bachelorette," and here's how you can enjoy the city just like her.
San Antonio has several enticing neighborhoods, but if you want to stay central, downtown San Antonio is the place for you. Kaitlyn and her suitors booked rooms at St. Anthony Hotel, located in the heart of the city. The hotel's European décor gives it a vacation-within-a-vacation feel. You're steps away from a park and downtown, and also have access to the hotel's rooftop infinity pool. Hot tub date, anyone?
With its central location and timeless atmosphere, it's a great place to call home base on your romantic trip to San Antonio.
One-on-One Date: Time to Move It
Texans take dance very seriously, especially when the dance itself is named after the state! If you really want to immerse yourself in the Lone Star State's dance history, grab a date and take some lessons to learn the Texas two-step. Use this as a time to test your choreography chemistry with your partner.
A relationship is just like a two-step: it requires teamwork, concentration, and communication. How do you and your date fare after this?
ABC
Later, make your way to the Majestic Theatre and have yourselves a romantic evening looking out at the San Antonio sunset. After a date like this, how can your love interest not take a one-two-step right into your heart?
Group Date: Sing Your Heart Out
Some people express their love through the written word, others verbally. Put a Texas twist on the latter and check out some of the city's best mariachi bands.
Kaitlyn and her guys spent the day with Sebastian De La Cruz, a world-famous mariachi superstar, who prompted the guys to write a song for her. While you may or may not get to spend the day with De La Cruz, have your dates put on their best creative hats and see what love songs they can compose for you. Then, have them perform the tunes in front of you! Whoever has the most heartfelt lyrics wins extra time with you.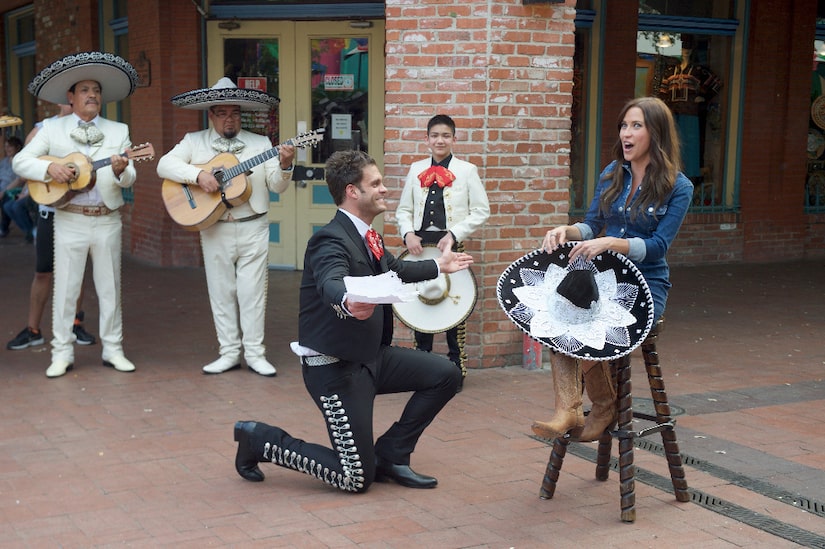 ABC
Love can make you want to shout from the rooftops, and now you'll have a song to go with it!
One-on-One Date: Let Love Flow
The River Walk is one of San Antonio's brightest gems. It stretches for 15 miles around the city and allows for visitors and locals alike to escape to nature in the midst of an urban center.
Grab your date and spend the day kayaking on the River Walk. It's the perfect way to see the city while increasing those teambuilding skills and staying active. Just like your relationship, there's no capsizing allowed!
When you're done kayaking, make your way to the San Antonio Botanical Garden and stroll amid the different gardens and trails it has to offer. You can even make your date come full circle and hand them a rose (not from the Botanical Garden, though!). Breathe in the fragrant air and share a kiss next to your favorite florals.
San Antonio, a city filled to the brim with culture and history, welcomes visitors with open arms. A trip here will undoubtedly deepen your romantic connection and have you dancing your way into a new chapter in your relationship.