She's Here! Krystal Nielson Welcomes 'Angel' Daughter with Boyfriend Miles Bowles
Waiting for your permission to load the Instagram Media.
Welcome to motherhood, Krystal Nielson!
The beloved Bachelor Nation star welcomed her first child, a baby girl, with boyfriend Miles Bowles on Wednesday, March 31, in La Jolla, California, at 10:17 p.m. PT. According to People, the infant — whom Krystal affectionately calls her "Glitter Baby" — weighed 6 lbs., 3.5 oz., and was 18 inches long.
"She is a happy and calm baby and everything we dreamt she would be," the couple told the publication in a joint statement. "We are still in awe of our little angel."
Over on her Instagram Story, Krystal shared sweet video footage of herself and her photographer beau spending alone time with their daughter.
"Hi guys! Well, we had a baby last night. Wanna see her?" the gorgeous fitness coach said in a video clip before panning the camera to her little one. "She's right here. She's beautiful and perfect."
Elsewhere, Krystal revealed that she was in labor for about an hour. "I was only pushing every three contractions," she said.
Instagram
In another section of her Story, the new mom explained how her bundle of joy has been keeping her and Miles busy. "We are just nursing and we're ready to eat dinner," she said.
"Maybe we'll be able to get a little bit a sleep tonight," Miles added.
"Yeah, we are staying here [at the hospital] one more night. So, hopefully we can actually get some sleep because we haven't slept in, like, two days," Krystal agreed. "Tired. So tired."
Despite their lack of shut-eye, both Krystal and Miles said that the hard work that goes into parenthood is "so worth it."
Later, Krystal explained why her baby girl has yet to be named. "Everyone keeps asking what her name is," she said, while filming her daughter nuzzled up against Miles' chest. "We don't know her name yet. We're just getting to know her and see what she wants us to call her."
Krystal — who split from husband and fellow "Bachelor in Paradise" alum Chris Randone in February 2020 after eight months of marriage — announced in November that she was pregnant. She and Miles began dating in the spring of 2020 after meeting through a mutual friend.
Congrats to Krystal and Miles! Check out more adorable pics of their daughter below.
Instagram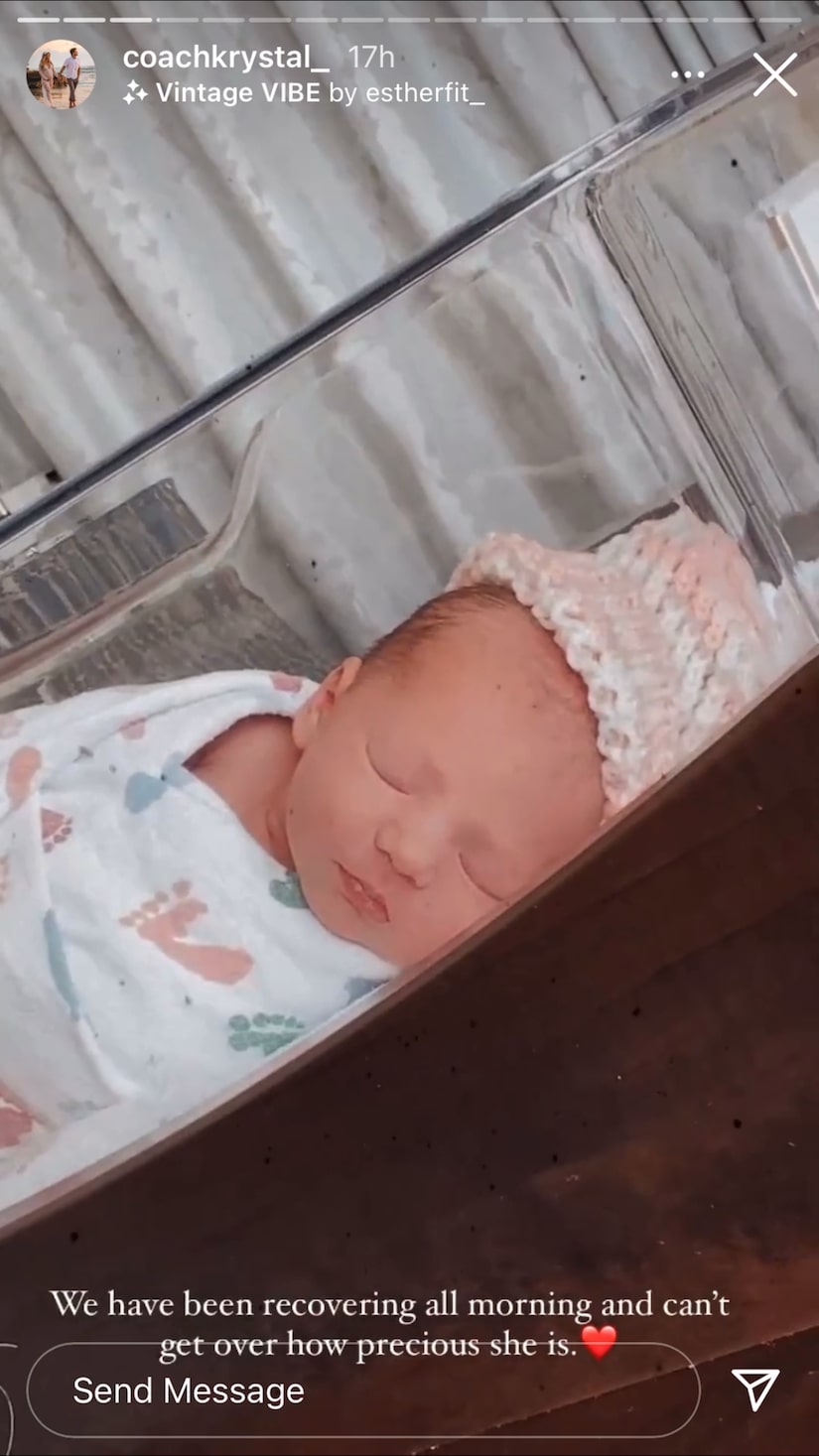 Instagram
Instagram
Instagram
Instagram