Sarah Herron, Kendall Long & Caroline Lunny Support Each Other During Egg Retrievals: 'A Bachelor Family that Ultrasounds Together, Stays Together'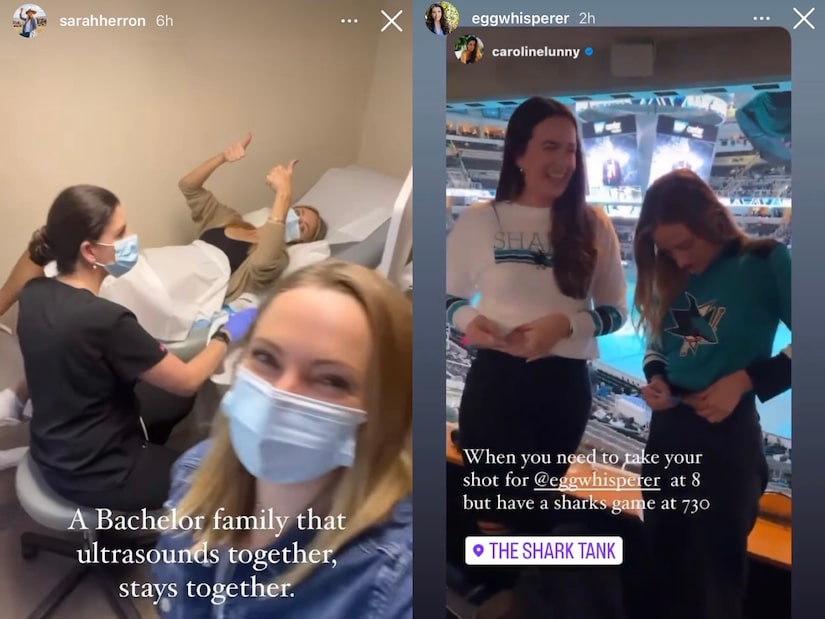 Instagram
Bachelor Nation stars Sarah Herron, Kendall Long, and Caroline Lunny have all been open about sharing their fertility journeys with their hundreds of thousands of fans on social media.
They have all been candid and honest about the highs and lows of everything from IVF to egg freezing and more.
Now, the three Bachelor Nation stars actually met up in San Francisco to visit their doctor, Dr. Aimee Eyvazzadeh, aka the Egg Whisperer.
While all three of the women are in different places on their fertility journeys, they were there for each other and even attended appointments together.
Sarah Herron took to her IG Stories and shared a photo of Kendall getting an ultrasound, writing, "A Bachelor family that ultrasounds together, stays together. Kendall in the hot seat with Dr. Aimee and Caroline on support!"
Waiting for your permission to load the Instagram Media.
In the video, Kendall gave a thumbs up to the camera!
Sarah has been extremely open with Bachelor Nation fans throughout her fertility journey, sharing both the disappointing and exciting updates.
And from this trip, Caroline also shared a video of herself and Kendall preparing themselves for their hormone shots while at a hockey game.
Caroline noted that they were even filming a segment with CNN and that they were all "excited to keep talking about fertility to encourage more women to be more proactive with their fertility health!"
Waiting for your permission to load the Instagram Media.
All three women have been keeping their followers up to date with the results of their fertility procedures, both good and bad.
Caroline wrote, "I'm so grateful I get to do this with Dr Aimee and that I still have hope when it comes to having my own biological kiddos one day."
We know that these Bachelor Nation stars sharing their experiences will only help others going through something similar, and hopefully they can encourage more people to be proactive with their fertility health.