Raven Gates Gottschalk Reveals Plans for Baby #2 and Her Thoughts on Possibly Having Another C-Section
Instagram
Raven Gates Gottschalk and Adam Gottschalk found love on Season 4 of "Bachelor in Paradise" in 2017.
Since their time on the show, they moved in together, got engaged, got married, and welcomed their son Gates into their lives.
Now, Raven is answering some fan questions about their plans to continue to grow their family and what parenting has been like so far.
Gates is only 5 months old, but Raven has already been getting questions about baby number two.
She answered a fan, saying, "I got this question a lot! We're hoping next January to start trying again. My OB recommended waiting a full year since I had a C-Section. I haven't had my six month follow up with her yet to know more, but so far that's the plan!"
As Bachelor Nation fans recall, Raven ended up having an emergency C-section while delivering Gates. At the time, Raven wrote, "In a wild turn of events from pushing to an emergency C-Section - Gates Zev Gottschalk was born on January 18th at 3:33am."
Waiting for your permission to load the Instagram Media.
Another fan asked Raven if she plans on having another C-section the next time she gives birth after having the emergency procedure with Gates.
She got candid with her answer, saying, "I would love to have a vaginal delivery, but I'm not going to stress about it. I will be honest, after having Gates via emergency C-Section, it really messed with me! I felt kind of like a failure. Gates' cord was wrapped around his neck three times."
The Bachelor Nation star went on, saying, "But after talking to other C-Section moms, this was such a common feeling among a lot of us. The best thing a friend ever told me was – it doesn't matter how he got here, he's here, end of story. And that's truly what helped me heal emotionally. I never thought I would feel so defeated about having a C-Section, but now I see it as a blessing! My baby is here!"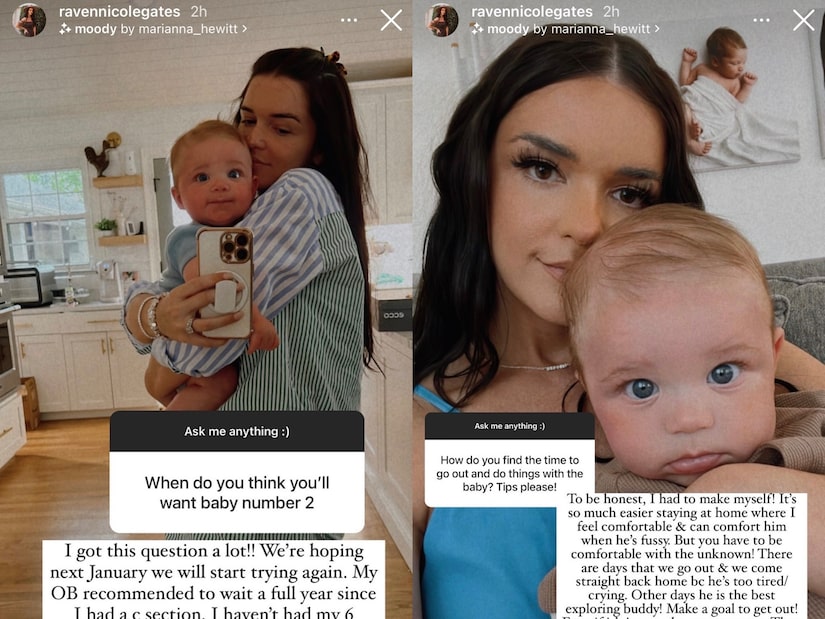 Instagram
And Raven also opened up about how she's finding time to go out and about with a baby, and she shared some advice for fellow parents.
She said, "To be honest, I had to make myself! It's so much easier staying at home where I feel comfortable and can comfort him when he's fussy. But you have to be comfortable with the unknown! There are days when we go out and come straight back home because he's too tired/crying. But there are other days where he's the best exploring buddy!"
Raven added, "Make it a goal to get out! Even if it's just to the grocery store. Then you'll feel so much more comfortable and it's good for your mental health too."
That's some great advice! We love all the adorable photos of Gates and couldn't be happier for Raven and Adam on their growing family!