Joe, Natasha & Tia React to Michelle & Nayte and Katie & John's Bachelor Nation Breakups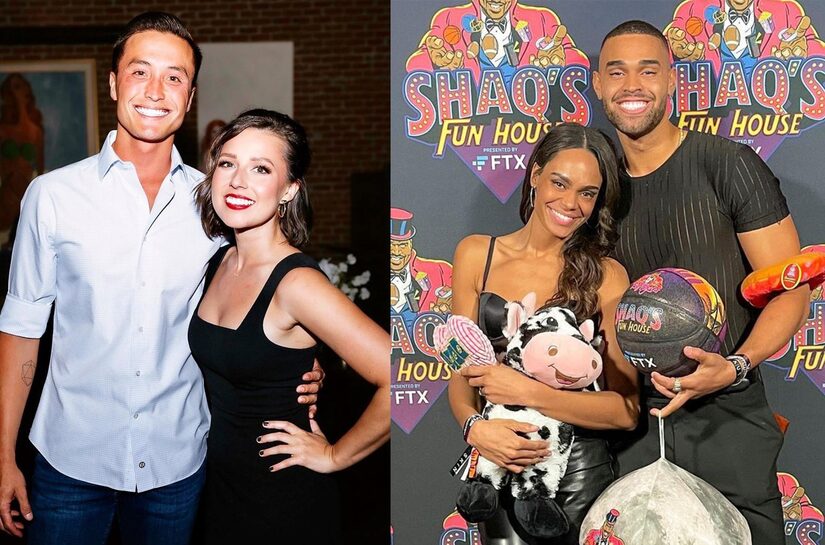 Instagram
As fans know, two Bachelor Nation couples announced their breakups over the past week.
Michelle Young and Nayte Olukoya, who found love and got engaged on Season 18 of "The Bachelorette," first shared that they were going their separate ways in heartfelt statements.
Then days later, Season 17 Bachelorette Katie Thurston revealed that she and John Hersey from her season have also split.
Now, "Click Bait with Bachelor Nation" co-hosts Joe Amabile, Tia Booth, and Natasha Parker are reacting to the heartbreaking splits.
Tia kicked off the conversation by saying, "We had a few Bachelor Nation breakups over the past week. Michelle Young and Nayte Olukoya and Katie Thurston and John Hersey announced their breakups. I saw Michelle and Nayte's statements. They were beautifully worded statements and I totally felt for both of them."
She continued, "For Katie's, she just nonchalantly on her Story said, 'Statement: We're not together.' That was kind of weird, but we definitely feel for both couples."
Instagram
Joe chimed in and said, "Let's talk about Katie's statement because people are talking about it a lot. I don't really have an issue with it. The only thing with Katie is she did do that 12 days of messy. So there was a big reveal that she was dating John, so the breakup was…"
He went on, "Listen, how you want to announce your breakup is your business. I don't think people even have to do a statement, but it's her business and she can do what she wants to do. I think people were expecting more of a statement, though, because the 12 days of messy was a big thing. They seemed happy, but you never know. I know John put out a longer statement, so they are broken up."
The co-hosts also talked about Michelle and Nayte's split and the speculation surrounding their relationship status over the past few weeks.
Joe said, "We also have Michelle and Nayte. Michelle was the Bachelorette right after Katie and she was with Nayte, who proposed to her on the show. We talked about the speculation of them breaking up a few weeks ago. I will say this, usually when there is a decent amount of speculation of a Bachelor Nation couple breakup, it tends to be right."
Instagram
And Tia agreed, sharing, "I said that on the podcast a few weeks ago when we were talking about Michelle and Nayte, not knowing that it was actually right. Normally, when it's speculation from multiple sources, even though it can be creepy and violating for them to be videoing them, a lot of times it ends up being right. It sucks."
Joe shared some insight from his past public relationship with Kendall Long before meeting his fiancée Serena Pitt in "Paradise."
He said, "Having been in relationships from this show and I'm engaged now, when you do get off the show, it did seem like Michelle and Nayte were not in the same place a lot. They were always in different states and it is hard at the beginning, so the more time that you spend with the person you're with, the better.
"I think that's so crucial at the beginning after a reality TV relationship because there's so much pressure from the outside. You still need to get to know that person in the real world as much as you do fall in love with them on the show. You need that real life experience."
Natasha agreed and also shared some words of wisdom for the four Bachelor Nation stars going through these difficult breakups.
She said, "That's a good point, Joe. For Katie and Blake Moynes, when they were together, it also seemed like they were apart a lot. I will say that I'm sad. I was so sad when I saw the news about Michelle and Nayte because I think like everybody else, we just really wanted them to work. I always go back and forth with exes, so maybe there was some trouble in the waters which could've been what we saw a few weeks ago. So I always find it interesting in public relationships, when they really decide to come out and break up, do they know that they're not going to try again? Is that why they put the statement out because they've tried everything?"
She continued on, saying, "I'm not a big fan of going back even though I've done it before. It never works. But I always wonder about that. I was reading this book though and it discusses how we meet everyone in our life for a reason. And watching Nayte and Michelle's story, there was something about Nayte that Michelle really needed in order to grow into the person she is now and the same thing for him.
"For him to have come this far and not say 'I love you' to anyone else, he's going to need to take how he's grown into his next relationship. I'm sure the same thing applies to Katie and John that they learned that will blossom them into the people they need to be for the person they are supposed to be with."
Joe agreed, saying that there is a learning experience from every relationship and added that he thinks it's better to be sad about a breakup than to be unhappy in your relationship.
Natasha chimed back in, saying, "I know for you, Joe, things that happened in your past public relationship have made you really appreciate your current relationship because you didn't have that in your last relationship. You wouldn't have known to appreciate it if you didn't go through it. I'm thinking about it that way. There is the heartbreak, and I'm sure all of them are going through their healing process. But through that healing, you have to find some hope and be happy you went down this road."
All three of the co-hosts sent Michelle, Nayte, Katie, and John their love as they navigate this next chapter of their lives.
To hear more of the conversation on the "Click Bait with Bachelor Nation" podcast, check out the full episode below.