Casey Reveals What Happened to His Ankle When He Fainted and Whether He Regrets Stirring Up Drama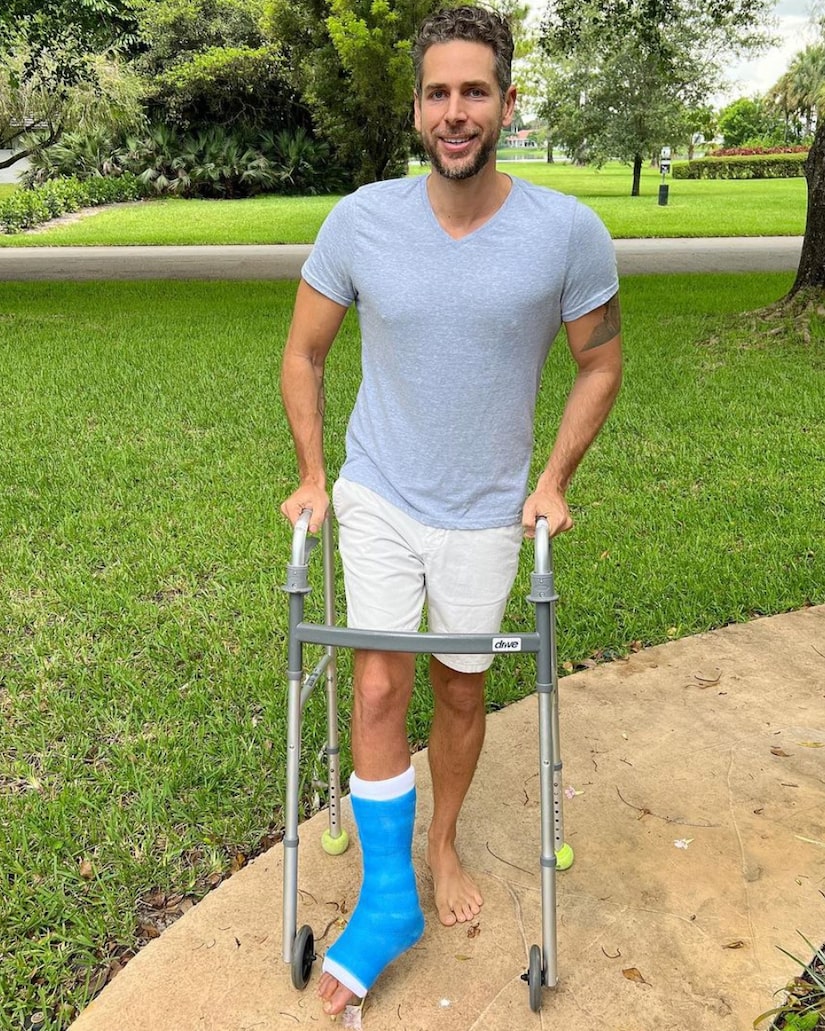 Instagram
Fans first met Bachelor Nation star Casey Woods on Season 18 of "The Bachelorette," and he went on to look for love on Season 8 of "Bachelor in Paradise."
Now, Casey is stopping by the "Bachelor Happy Hour" podcast to discuss his dramatic "Paradise" exit and share an update on how his broken ankle is doing since leaving the beach.
Fans saw Casey faint on this week's episode of "Paradise" as tensions rose with Peter and Brittany after Casey informed Brittany that Peter had been talking badly about her behind her back.
Casey opened up to co-hosts Michelle Young and Becca Kufrin about the incident and looked back on that scary moment.
Waiting for your permission to load the Instagram Media.
He said, "I fainted, and when I opened my eyes, I didn't realize that my ankle was just destroyed. I actually tried to get up, and that's when I saw my ankle. It looked like I had wedged a football into my ankle. They quickly put me in the ambulance, which I didn't fit in. I'm 6-foot-3 and a third of my body was hanging out. We had 30 minutes on unpaved roads and my ankle was just bobbing up and down. It was so painful."
Casey explained that he was taken to a nearby hospital while they tried to get his ankle as stable as possible for him to travel home.
He said, "I get to the hospital in Mexico and they have to put me under and do a reduction on my ankle, which is basically putting it back in place. They wrapped it up and put me on an airplane and I got home, where the doctors were able to do a CT scan. I have three different broken bones. Your ankle is made of three bones and I broke all three."
Casey went on, saying, "It was an insane and unexpectedly bad break. I had three weeks before I could even get surgery because the swelling was so bad they wouldn't be able to put it back in place, so they waited for the swelling to come down. I spent a little over a month spending all day, every day in bed with my leg up."
Casey was able to get his first surgery and stayed with his parents during his recovery.
Unfortunately, though, the road to recovery is going to be a long one for the Bachelor Nation star.
Instagram
He told Michelle and Becca, "About a week and a half ago, I was expecting to get the news that I'd be able to start walking at least with a cane again, but they did X-rays and one of my bones shifted a little bit. So to be 100% in the long run, I need another surgery. I am still in a cast. This has been since June, so it's been over four months of this now. I'm still not even walking without a scooter."
And while his injury was extremely unfortunate, Casey is grateful that he didn't hit his head while fainting because his injuries could've been way worse.
Becca asked if he has any regrets about telling Brittany what Peter said and Casey still stands by his decision.
He said, "I 100% stand by the choice to let Brittany know that someone was slandering her. I heard Brittany's story first-hand and she's been slandered before and deserved a right to defend herself. She had the full right to not confront him if she felt like he was going home anyway."
Casey went on, adding, "I also knew that I wasn't going to get a rose from Brittany, I just heard that from Peter and went to tell her. She was making out with Andrew, so I knew my rose wasn't coming from her before I said anything."
To hear more of Casey's conversation with Becca and Michelle, check out the full episode of "Bachelor Happy Hour" below.