Becca Tilley Shares Details About Meeting Taylor Swift with Girlfriend Hayley Kiyoko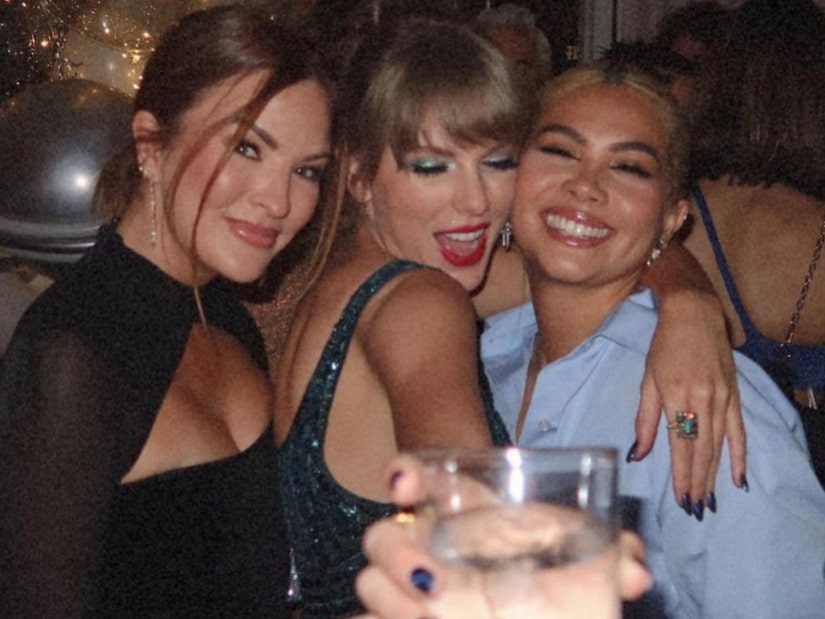 Instagram
Too excited to shake it off!
Bachelor Nation star Becca Tilley has been dating singer Hayley Kiyoko for around five years and the two couldn't be cuter.
Last week, Hayley took Becca as her date to a Grammys after-party hosted by none other than Hayley's friend Taylor Swift.
Hayley has previously made surprise appearances on Taylor Swift's tour and even appeared in one of her music videos, so the two go way back.
But Becca, being a longtime Swiftie, was shocked over how warm and present Taylor was at her Grammys after-party.
Waiting for your permission to load the Instagram Media.
Becca told her co-host Tanya what walking into the event was like and who they saw first.
The Bachelor Nation star said, "When I go to these things, like industry events, with Hayley, I'm very comfortable being a plus one. I'm very good at mingling with the people around me, but I let her do her thing. I try not to interject myself too much. So when we first walked into Taylor's after-party, the first person we saw was Hayley's old assistant. That was really nice to see a familiar face right when we walked in."
Becca went on, saying they first met Taylor's publicist before meeting Taylor, sharing, "Then, Tree Paine walks up to us and she's the warmest, kindest person ever. Tree is Taylor's publicist and she's stunning and majestic. She came over and asked how we are, and Hayley introduced me to her. She asked if we wanted a drink and if Taylor had seen us yet. She facilitated whatever we needed and she was so warm and kind."
And shortly after that, Taylor came over to say hello to Becca and her girlfriend.
Becca said, "That's when Taylor come over and said hi and I just have to say, I will be a Taylor Swift fan forever and ever regardless, even if I didn't meet her or know her. But to be at that level of celebrity that she's at and be able to interact with her and have a conversation where she makes you feel like you're the only person in the room is a really unique quality to keep once you're at that level."
Tanya chimed in, saying, "I've heard she's very present. A friend of mine said when you're with her, she's very present in that conversation."
And Becca agreed, adding, "That's a great description, actually. That's exactly what it is. She is very focused on who she's talking to and what she's talking to them about. She won for best director for her best video and Hayley directs all her music videos, so they were just chit-chatting. I asked how the show was and she said it was so fun. She's just cool, she's just so weirdly normal."
Becca also shared who else she and Hayley talked to at the event, saying, "Then we walked around and we talked to Muna. They were there and they are opening for Taylor on tour. We also saw Gayle, Sabrina Carpenter, Camila Cabello, Fletcher, and Kelsea Ballerini. It was star-studded!"
How exciting! We love seeing our Bachelor Nation stars thrive and live out all of our dreams!
Listen to more of Becca's conversation about meeting Taylor here.