Jill Chin Shares the 'Bizarre and Hilarious' Way She Met Her New Boyfriend
Instagram
Bachelor Nation got to know and love Jill Chin on Season 26 of "The Bachelor" and Season 8 of "Bachelor in Paradise."
Since her time on the shows, she's found love off-screen and now she's opening up about her new relationship on the "Click Bait with Bachelor Nation" podcast.
Host Joe Amabile asked Jill about her new relationship and said he couldn't be happier for her.
She opened up about her relationship with boyfriend Ellis Kalaidjian, saying, "I have a boyfriend, it's crazy. We've all been waiting for this. I finally found someone that I think is worthy of being my boyfriend."
Jill went on, adding, "We haven't been dating for long yet. People are gonna be like, 'OMG, you hard launched so fast,' but I feel like when you know, you know. It's been since December, so almost three months. We had just started dating around Christmas, so we got each other a little something."
Waiting for your permission to load the Instagram Media.
Joe asked Jill how she and Ellis met and Jill shared the funny story.
She said, "The way we met is a little bizarre slash hilarious. My mom actually set us up, which is crazy. Her assistant's boyfriend's son is my boyfriend now. He lived in Newport and she knew that I was moving to Newport. So she set up a family dinner. She showed me his picture and I thought he was cute, so I told her to give him my number, but instead she set up a family dinner for me to meet this guy at."
Jill continued on, explaining, "I didn't want to walk into family dinner and try and chat this guy up! There was no way. It was his family dinner. Like, I'd be walking by myself into his family's dinner and try to talk to him. There's no way he would even call me after that. That got canceled, thank goodness. Then I just slid into his DMs. I found him on Instagram and it took me a long time to find him, green flag. Then we went out and we have been together ever since!"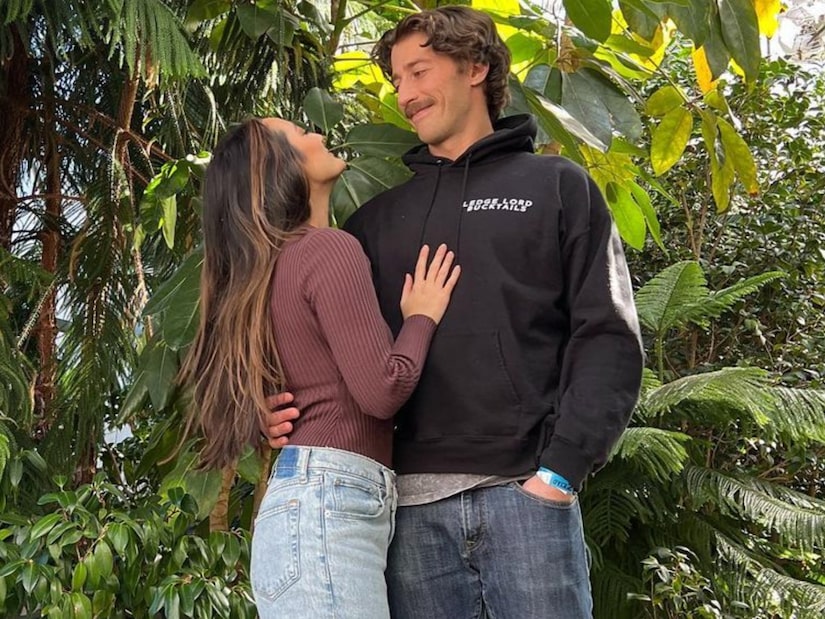 Instagram
Jill said that now her mom takes all the credit for setting them up, though she asked her why she didn't set them up sooner!
Joe asked if Jill and Ellis did anything special for Valentine's Day and Jill said they spent the day together.
She said, "We spent our first Valentine's Day together. We were a little late to the train and didn't get any reservations because they fill up so quick. So we just hung at my place and made dinner and went to the arcade after. We played some games and went in the photo booth. It was so cute! Then the next day we went out to dinner with all the other people who were too late to get a reservation."
So sweet! We're so happy for Jill and can't wait to see more of her new relationship!
To hear more from Jill and Joe, check out the full episode of "Click Bait" below!