Anna Redman & Chris Bukowski Reveal Exactly How Joe Amabile & Serena Pitt Set Them Up
Instagram
Bachelor Nation stars Anna Redman and Chris Bukowski announced their relationship on social media last year.
Fans first met Anna on Season 25 of "The Bachelor," and she later appeared on Season 7 of "Bachelor in Paradise." And Chris appeared on Season 8 of "The Bachelorette," Season 3 of "Bachelor Pad," and Seasons 1, 2, and 6 of "Bachelor in Paradise."
While these two have both been on multiple Bachelor Nation shows, they actually found love off-screen and currently live together in Chicago, Illinois.
Now, the couple is stopping by the "Click Bait with Bachelor Nation" podcast and opening up about how Joe Amabile and Serena Pitt set them up.
"Click Bait" host Joe started off the story by saying, "Serena was feeling a little under the weather, so I went out to meet some friends and Chris Bukowski happened to be one of them. Do you remember what bar we were at, Chris? It's one of the most popular bars in Chicago. It was Butch McGuire's! Anna is laughing because that's where all the old guys hang out."
Instagram
Chris chimed in, adding, "It was me, you, and your buddies. Clay was with us too. We walked over to the bar across the street because it was so packed at Butch McGuire's and we were watching some game and then we started talking."
Joe shared it was when they went to that next bar that they started talking about Chris' relationship status.
Joe said, "You mentioned that you were single, and I said it was funny you said that because Serena was just on the phone with Anna before I left and she was complaining about being single, and I was like, 'This could kind of be perfect.' So I texted Serena and she said she would ask Anna, and I said to Chris that I think she was into you and that you should hit her up."
That's when Chris took action and decided to strike while the iron was hot.
He said, "So then I slid into the DMs and shot her a message. I have to look back to see what it says, but I'm sure it was great. She responded and Joe was like, 'You have to hang out with her tonight because if not, you're going to blow it!' So I was like, 'Okay, I'll hang out with her tonight!' I had nothing else going on anyway. I hit up Anna and of course she was in Minnesota."
Anna shared her side of the story and said she was being flooded with compliments about Chris from both Joe and Serena.
The Bachelor Nation star said, "Joe, I also remember that you DMed me with his Instagram handle saying, '@chrisbukowski thinks you're hot and he's single, successful, and chill, you guys should date!' So a lot of people were talking you up, Chris! I had to give it a shot! I responded right away."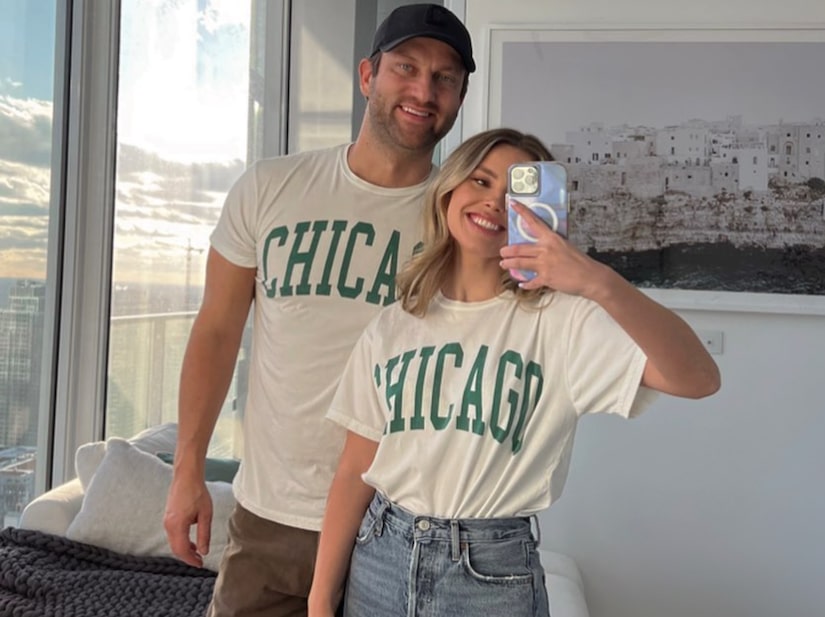 Instagram
Anna went on, saying, "I was sitting on the couch with my family back home in Minnesota and we were watching Hallmark movies. All of the sudden I was like, 'Mom, guess what? Chris Bukowski thinks I'm hot.' Remember back in the day when everyone was looking over your phone trying to help you figure out what to respond? That was me with my mom and my sister responding to Chris."
And Chris said while he and Anna didn't meet on a Bachelor Nation show, they still have the show to thank for their relationship.
He said, "It all comes back to the show, though. I would have never met Anna if it wasn't for the Bachelor Nation shows and if it wasn't for knowing you. It gives you that openness of wanting to connect with other people within the franchise. It is obviously such a great story."
We love it! We're here for all the Bachelor Nation love, no matter how they find it.
Check out Chris and Anna's full conversation with Joe on the "Click Bait" podcast below.