Caila Quinn Burrello Gets Candid About 'Horrible' Adult Acne Journey
Instagram
Bachelor Nation fan favorite Caila Quinn Burrello became a mom on March 30 when she and her husband Nick Burrello welcomed their daughter Teddi into their lives.
Now, the new mom is getting candid about her adult acne during pregnancy, postpartum, and beyond.
Caila started off by saying that she's been "pretty happy" with her skin during pregnancy and postpartum and didn't deal with any major breakouts.
The Bachelor Nation star wrote, "I used to have horrible adult acne and I'm just surprised it didn't come back with the pregnancy hormone changes. As a heads up, I did go on Accutane four years ago and that's why I say come back."
Caila shared her skin care routine during pregnancy and revealed that she used CeraVe, Cetaphil, Aquaphor, and other gentle products.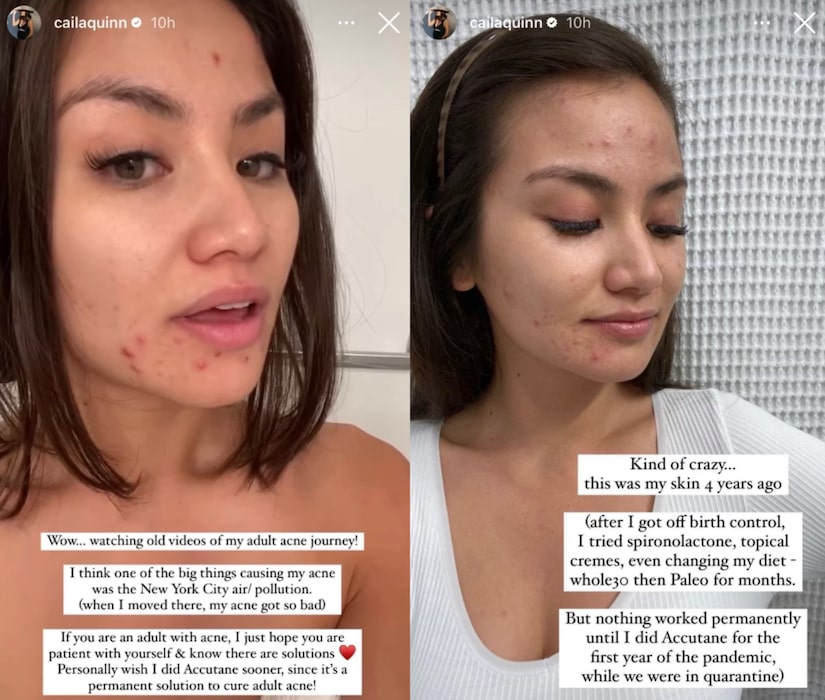 Instagram
She then went on to share photos of her skin from when she was struggling with adult acne, saying, "Kind of crazy… This was my skin four years ago. After I got off birth control, I tried spironolactone, topical creams, even changing my diet to Whole30 and paleo for months."
Caila shared that nothing worked for her until she went on Accutane for the first year of the pandemic while in quarantine.
The Bachelor Nation star looked back on old photo and videos of her skin and wrote, "I think one of the big things causing my acne was the New York City air/pollution because when I moved there my acne got so bad."
She concluded her post with some words of wisdom, saying, "If you are an adult with acne, I just hope you are patient with yourself and know that there are solutions. Personally, I wish I did Accutane sooner since it can be a permanent solution to cure adult acne."
We love how candid and honest Caila has been about her skin care journey, we know it will continue to help others with similar struggles.