Serena & Joe Discuss If Warwick's 1-on-1 Date Was the Most Awkward Date in Bachelor Nation History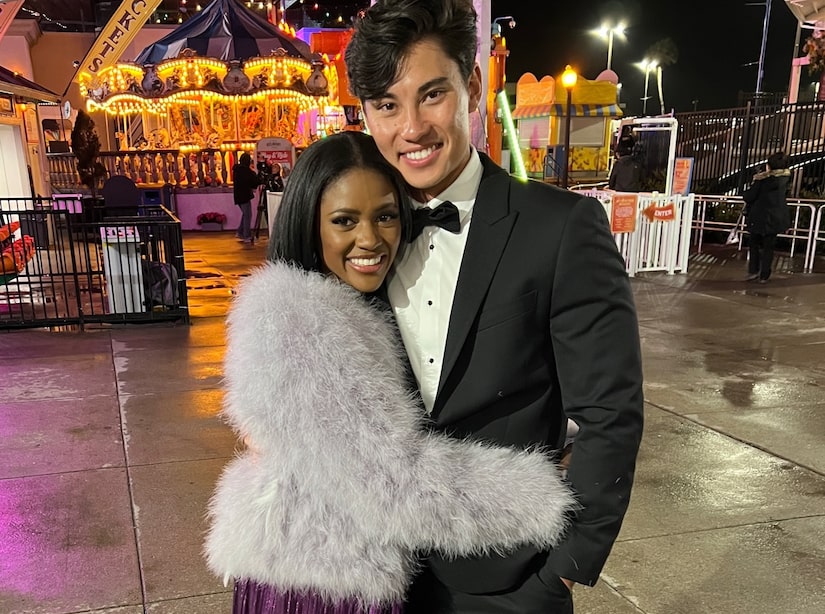 Bachelor Nation
On this week's episode of "The Bachelorette," Bachelor Nation fans saw Warwick receive a coveted one-on-one date with Charity.
The two got dressed to the nines and then got to enjoy theme park rides all to themselves for a romantic evening.
Unfortunately, though, the date didn't unfold how Charity and Warwick were hoping, and it ended up with more awkward silences than conversation.
Charity eventually listened to her gut and sent Warwick home. Now "Bachelor Happy Hour" co-hosts Serena Pitt and Joe Amabile are breaking down the cringeworthy date.
Joe started off by saying, "It was a rough, rough one-on-one date. If we're awkwardly silent on this podcast right now, that's because that's how the date was. And I'm an awkward person, but I watched that, and I was like, 'This is awkward.' I would say it's TV, so you never know how awkward it really was."
Serena added, "I feel like it was more awkward than what we got to see. Based on Charity's interviews, it was truly very uncomfortable and there was just nothing there."
Joe shared that he was glad at least that Warwick and Charity seemed to be on the same page about their lack of chemistry by the time he was leaving.
Bachelor Nation
Joe said, "You're probably right. You see it when he's going home. The producer was asking him questions and he was just falling asleep. He was like, 'Goodnight. I'm done!' I'm kind of glad, though, that's how he was, though, and at the end he wasn't like, 'Aww, I really liked her.' He knew it wouldn't have worked."
And Serena agreed, saying, "I liked that too. At least he owns who he is, but there was no chemistry. He's a beautiful-looking man and they would've made a gorgeous couple, but there was just nothing between them. I also couldn't believe that they made them wear black tie to the carnival. I would've been so mad walking around in a gown and heels."
Joe chimed in, saying, "Yeah, a tuxedo was rough. It should've been the opposite. He should've been in shorts and a tank top. There was zero connection there, though, and we all saw it. So I don't think either of them were upset about him going home. It is what it is."
The two discussed whether they think we could see Warwick on "Bachelor in Paradise," and they both said no.
Serena shared why, explaining, "He also said to Charity that he was hesitant to get into a relationship, so she was like, 'What are you doing here, then?' Like not even an engagement, just a relationship! I am actually curious how he got on the show."
To hear more of Joe and Serena's conversation, check out the full episode of "Bachelor Happy Hour" below.