See Why Faith from 'Golden Bachelor' Made Serena Pitt Cry When Talking About the Song She Sang for Gerry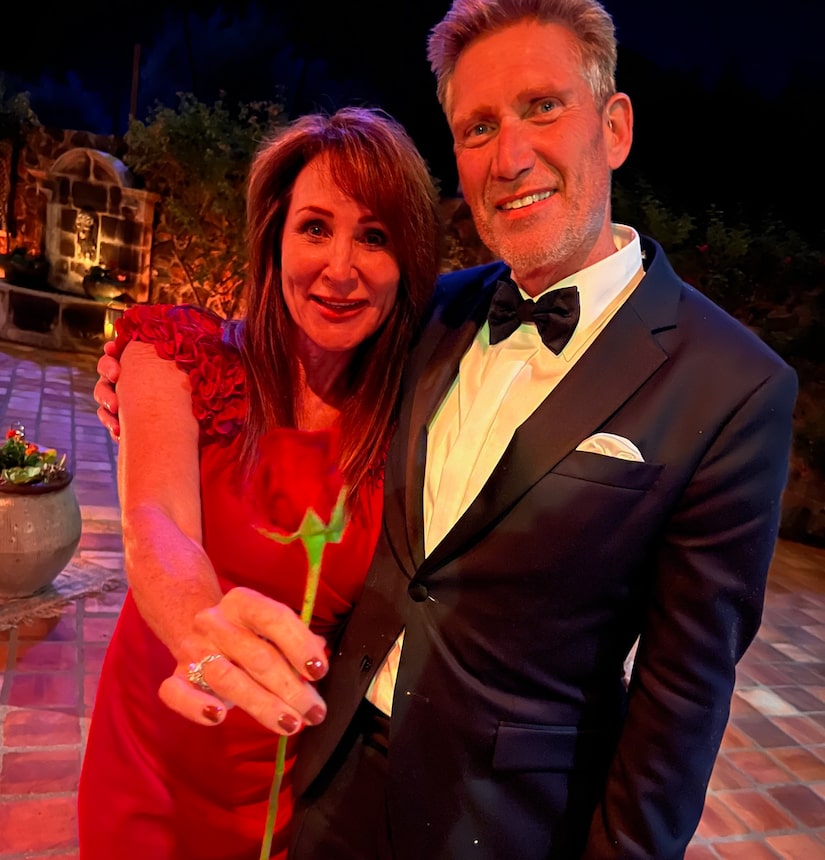 Bachelor Nation
Bachelor Nation fans are watching Faith look for love with Gerry Turner on "The Golden Bachelor" each week.
Last week, Faith received the coveted First Impression Rose after connecting with Gerry over a song she wrote during their one-on-one time.
Now Faith is stopping by the "Bachelor Happy Hour" podcast and opening up about her connection with Gerry and whether she knew the significance of the First Impression Rose when receiving it.
Faith opened up about her song she played for him and said, "He was so cute. Right from the get-go, I wanted to get at the core of what I was after and what I wanted to see if he had in him. I had recently written that song, called 'Something Beautiful.' It's the story of somebody that doesn't care that much about how they look and doesn't pay too much attention to anything like that, but when she meets that person she connects with and she really wants to be something beautiful because she wants to create something beautiful with someone."
Faith continued on, saying, "When I was singing that to him, I wanted him to understand that that's how I felt in that moment about him. Like truly, I was ready to go home if I looked at him and didn't feel anything. I would've been out. But what he had in his eyes in that moment was just what captured me right from the get-go. It felt like nothing else mattered."
The sentiment of the song brought "Happy Hour" co-host Serena Pitt to tears, as she said she's emotional about love ever since her and Joe Amabile's gorgeous wedding.
Faith gushed over how cute Joe and Serena are, then said, "I was terrified doing it. Here I was doing this and basically baring my soul in that moment wondering if it would be a great connection. Then I was cold, my fingers were stiff, there were cameras in my face, I was embarrassed. I'm sure I didn't sing well and play well. I hardly remember it now."
The Bachelor Nation star also opened up about her insecurities while on "The Golden Bachelor" and how despite receiving the First Impression Rose, she still wasn't confident in her connection.
Faith said, "I think that I was probably the most insecure person on that whole show. I never felt like that confidence, ever. I felt like there might be something because I felt that direct line of connection eye to eye, and that's really the only thing I could hold on to and I did hold on to that. There was something there. I didn't feel like I did a good job. I didn't feel like I looked good; nothing like that."
Joe and Serena asked Faith how she felt about getting the First Impression Rose at the moment and Faith revealed that she didn't understand the significance.
She said, "The funny thing is, I didn't know what the First Impression Rose was. I didn't know that it was a big deal. I didn't know that he was walking over to give it to me. All of that stuff was such a whirlwind. I didn't really get it. I remember the other gals were telling me that it was a really big deal."
Faith added, "I was just grateful and happy I got the First Impression Rose, but I didn't take it for granted. I knew he could change his mind when talking to other women. I know enough and I've lived a little bit. It's not my first rodeo, so I knew that his feelings could change at any minute. First impressions don't always last."
Hear more of Faith's conversation with Joe and Serena on the "Bachelor Happy Hour" podcast below.