See Hannah Ann Sluss' Stunning Engagement Photos with Fiancé Jake Funk and Hear Wedding Plans!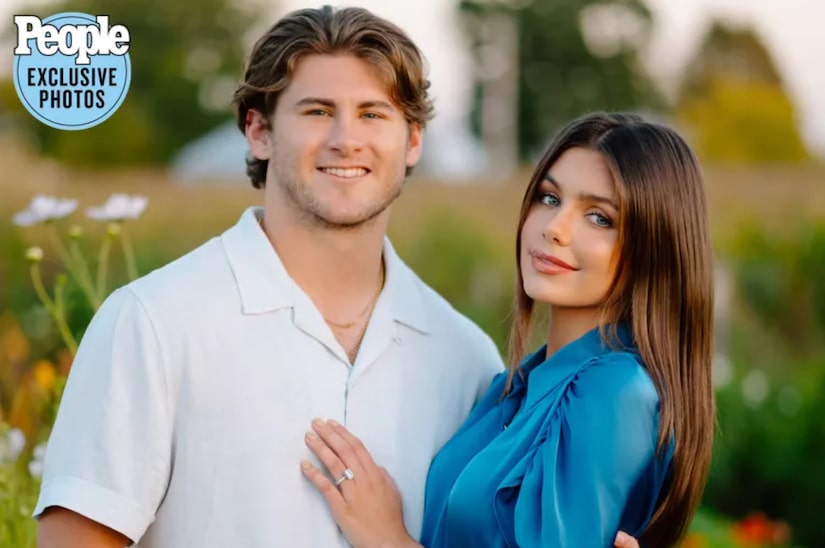 Photo: People / SHELBY DEMPSEY
Wedding bells are ringing!
Last February, Bachelor Nation star Hannah Ann Sluss revealed her relationship with Jake Funk, who plays running back for the Miami Dolphins.
And earlier this year, the two got engaged on the stunning beaches of Cabo San Lucas, Mexico.
Now, Hannah Ann and Jake took some stunning engagement photos with photographer Shelby Dempsey for People.
Photo: People / SHELBY DEMPSEY
In the gorgeous pics, Hannah Ann is rocking a blue silk button-down dress and light brown knee-high boots, while her fiancé Jake wore a white collared short-sleeved button-down shirt and khaki pants.
Their adorable dog Dash joined them for some of the pics and the family engagement photos couldn't be cuter!
Hannah Ann and Jake took their engagement photos in Indiana, where they were living, as Jake played for the Indianapolis Colts up until he was traded to the Dolphins last week.
The couple also discussed how Jake didn't watch Hannah Ann's season of "The Bachelor" before they first met.
Photo: People / SHELBY DEMPSEY
Jake shared with the outlet, "I really just wanted to get to know her as a person. I'm not trying to date you because you're on TV. I want to date Hannah, the girl from Knoxville, Tenn. This girl is everything I ever wanted. Our future is not our past."
And Hannah Ann shared that they are going to be tying the knot next year.
She said, "It's going to be next year, next off-season. All the main things are booked up and we're really excited. It's going to be a destination wedding, at a place that's really special to us."
We can't wait for Hannah Ann and Jake to get hitched, and we can't get enough of these gorgeous engagement photos!