Becca Tilley & Amanda Stanton React to Coincidentally Having the Same Halloween Costume 2 Years in a Row!
Instagram
Halloween is just around the corner, and Bachelor Nation stars are starting to share their 2023 Halloween looks.
This year, Becca Tilley and her girlfriend dressed up as Elphaba and Glinda from "Wicked," the prequel to "The Wizard of Oz."
Fellow Bachelor Nation star Amanda Stanton dressed up as Glinda from "The Wizard of Oz," with the rest of her adorable family as other characters from Oz.
And this wasn't the first time that Amanda and Becca had the same idea for a Halloween costume.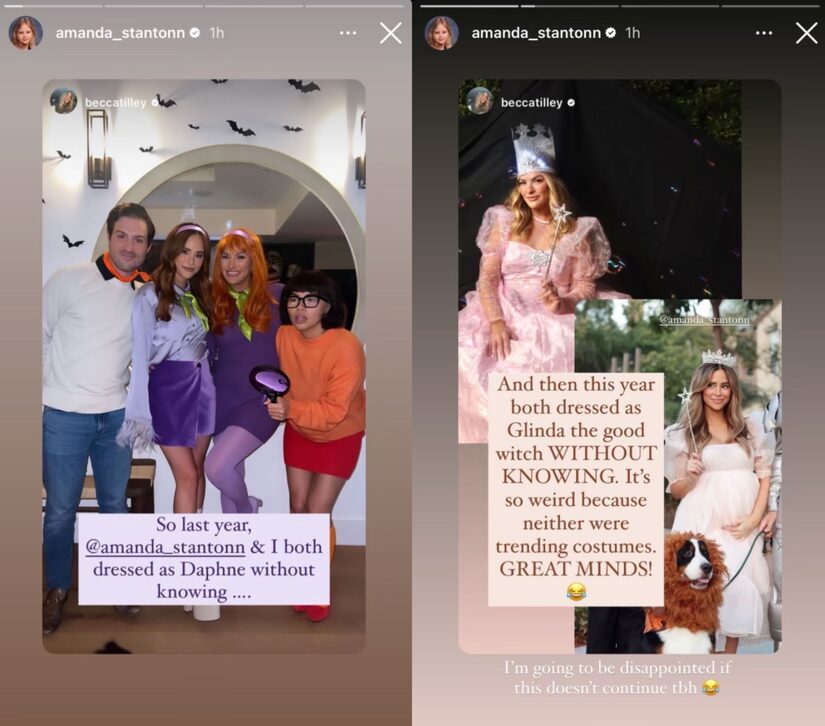 Instagram
Becca took to her Stories to share a photo of her and Amanda together at a Halloween party last year where they were both dressed as Daphne from Scooby Doo.
Becca wrote, "So last year, Amanda and I both dressed as Daphne without knowing…"
Then she shared pics from this year and said, "And then this year we both dressed as Glinda the good witch WITHOUT KNOWING. It's so weird because neither were trending costumes! Great minds!"
Amanda reshared the post to her Story, writing, "I'm going to be disappointed if this doesn't continue tbh!"
We love this coincidence and love both Amanda and Becca's costumes.
We can't wait to see what these two dress up as next year. Fingers crossed this tradition continues!