Sarah Herron Shares Disposable Camera Pics from Grand Canyon Elopement Ceremony: 'It Was Perfect'
Instagram
A day to remember forever.
Bachelor Nation first met Sarah Herron on Season 17 of "The Bachelor." Sarah also hit the beaches of "Bachelor in Paradise" on Seasons 1 and 3 in the hope of finding love.
Sarah ended up finding her forever person off-screen and got engaged to filmmaker and photographer Dylan Brown in May 2021.
After years of IVF treatments and losing their son Oliver, Sarah and Dylan had put wedding planning on the back burner to try to start a family.
Instagram
But in September she took to social media to share that she and Dylan officially tied the knot!
The two wed in an intimate surprise elopement ceremony at the Grand Canyon and Sarah just took to social media to share never-before-seen photos from their day.
Alongside the stunning pics, Sarah wrote, "Dylan and I had the idea (days before leaving for our rafting trip down the Grand Canyon) that it could be pretty epic to elope. What made it so cool to us was that it would be all low-tech with nothing more than a 'just married sign' and disposable cameras. I bought six disposable waterproof cameras and six rolls of Polaroid film. Turns out that trying to protect those cameras and film from the harsh elements of the desert ended up being a full-time job."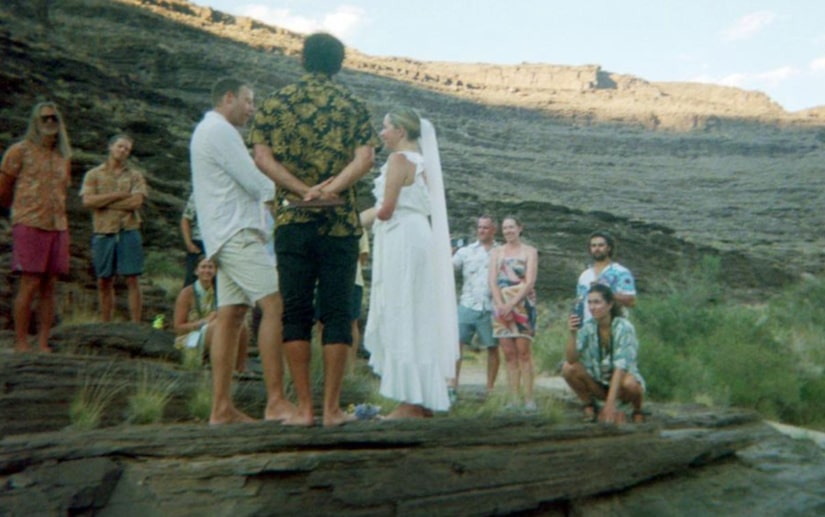 Instagram
She went on saying, "I was more concerned about losing the cameras should our boat flip in a rapid than any bodily harm. But dang — it was worth it. Here are some snapshots from our wedding day on the Grand. Getting glam in 110 degrees with no clean water to rinse the silt from my hair was… challenging."
The Bachelor Nation star concluded her post, "But my bachelorettes helped me comb out my hair and bottle fed me tequila shots from a Nalgene bottle. We lounged on the beach all day, and walked down the aisle to the song '26' by Caamp played by our friend Keegan. All of it was perfect."
Instagram
Sarah and Dylan are now planning a larger wedding celebration where they can celebrate their marriage alongside more family and friends.
But for now, we're going to be obsessing over the gorgeous photos for the rest of the week.
Congrats again, lovebirds!