EXCLUSIVE: Rudi Gutierrez Reveals New Romance and What Bachelor Nation's Support Meant During 'The Voice'
Instagram
Fans first met Rudi Gutierrez on "The Bachelor Presents: Listen to Your Heart" and she's returned to our screens for Season 24 of "The Voice."
For her blind audition, Rudi gave an emotional performance of Lesley Gore's song "You Don't Own Me."
Her impressive vocal talent got all four judges — John Legend, Niall Horan, Gwen Stefani, and Reba McEntire — to turn their chairs around.
Now, the vocal powerhouse just stopped by for an exclusive chat with BachelorNation.com and opened up about all things "The Voice," new love, and Bachelor Nation.
Check out our full interview with Rudi below!
Bachelor Nation: Rudi! We're so excited to catch up with you. First of all, congrats on all of your success on "The Voice." Can you walk us through how you picked your blind audition song and what it meant to get a four-chair turn?!
Rudi Gutierrez: Thank you so much for having me! I love Bachelor Nation, so I'm so excited to chat with you. First of all, I don't think a lot of people realize that the song choices aren't completely up to us on "The Voice." We are given a list of about 1,000 songs and we pick our top 10. We also can submit 10 songs we would want to sing that aren't on their list. The song I sang, "You Don't Own Me," was actually one that I submitted because I wanted to showcase my voice but also my abilities as a performer. I feel like that's what sets me apart from some other singers. This song hyped both me and the audience up, which was exactly what I was hoping for. I was really only hoping for one chair turn, so when Gwen turned around only seven seconds in, I immediately relaxed. That was the coach I wanted, so it gave me confidence to have fun with the rest of the performance. The rest of the coaches didn't turn around until a few seconds before the song ended, so I thought I only had one. I was shocked when they were all turned around that Niall even used his one block against John for me. It was an out-of-body experience!
BN: Sounds incredible and so well deserved! How has it been receiving support from Bachelor Nation while on "The Voice"?
RG: Oh my gosh, it's truly been SO cool! So many of my comments are like, "You were my favorite from 'LTYH' and I've been wanting you to audition for 'The Voice'!" A lot of them were sad I had to leave 'LTYH' and have been pushing me to audition for another show for years. When I announced that I was doing it, I got the most support from Bachelor Nation. I was literally crying because it was just the sweetest outpouring of love. Everyone from Bachelor Nation was so excited for me. It's been so awesome.
BN: Bachelor Nation definitely loves you! Do you feel like your time on "Listen to Your Heart" prepared you for your experience "The Voice"?
RG: Oh, absolutely, 100%. "Listen to Your Heart" was difficult in different ways. We didn't have as much time to rehearse and we were performing with someone else that you'd never sung with before. That was crazy! So if I was able to pull that off, I can do anything. We have more time to rehearse at "The Voice" and I was comfortable in high-pressure performance environments. I also wasn't thinking about dating/falling in love while also performing. If I didn't do "LTYH," I probably would feel way more nervous on "The Voice" and like I needed more time. I think "LTYH" showed me that I am able to do anything and pull it off, so that set me up for success here. I also got to meet fellow Bachelor Nation star Claire Heilig from Season 26 of "The Bachelor" here at "The Voice." We hung out a little bit; she's super sweet!
BN: Love that! Speaking of dating and falling in love, is there any update on love in your life?
RG: Yes! I'm happily in a relationship. I've been waiting to post about it, but I feel like Bachelor Nation is the perfect place to make this announcement. I've been in a relationship for the past year with the love of my life. He's an Italian boy and I'm really so happy.
BN: Oh my gosh! We're so excited to hear that. Thank you for sharing the news with us! How did you two meet?
RG: Me and my friend were on vacation in Italy and we met at the restaurant that he works at. I saw this really cute guy and we started talking and, well, the rest is history! It's literally a scene out of a movie. The whole thing was so cute. We met while I was on vacation and I wasn't thinking that he would be my boyfriend. I thought it was just a fun thing at first and we hung out for four days straight, but then we couldn't stop talking to each other. He came to visit me here in the U.S. and wound up staying with me for three months, even though he only planned on staying for two weeks. Then, I went back to Italy and met his family. Now he's here in the U.S. with me and we're figuring out our plans for our future together. The goal is that he will be moving here!
BN: That's amazing and truly sounds like a romance novel! As for new music, are you planning on releasing new songs or going on tour any time soon?

RG: Yes! I'm getting some shows together right now. We aren't allowed to perform quite yet after "The Voice." But I will be setting up shows soon and releasing new music very soon too, hopefully within the next month or two! My goal is to release music every other month.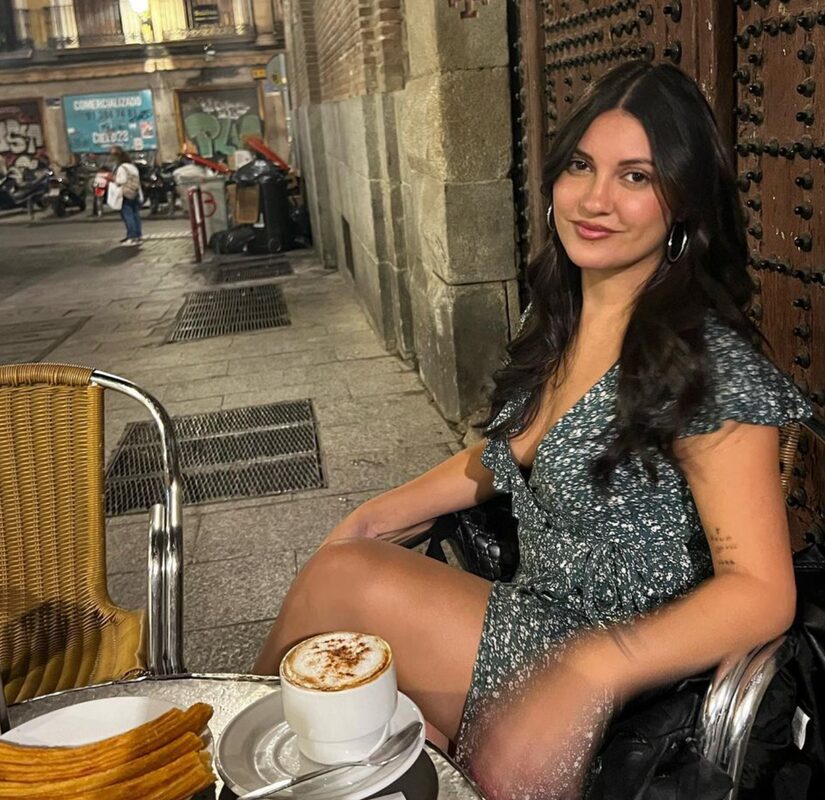 Instagram
BN: How exciting! Do you have any songs inspired by your new relationship?
RG: I have one song about it that I'm trying to get finished and out there. I also took a year off music and singing, so I moved back home to Texas and was working at my family's auto body shop. Then I got the call to do the show and I've been filming for the past six months, so I haven't really been working on music outside of "The Voice" for the past year and half. But I have a lot to write about now, which is so exciting!
BN: Last question for you: How was it working so closely with Gwen Stefani?!
RG: Oh, my gosh, it was even more lovely than what you've seen on the show. She is so down to earth, even when all the cameras are off. We've had so many moments where she just comes up to me to chat when we aren't filming. It was the coolest thing ever because it genuinely feels like we are becoming friends. I told her that I was nervous to work with her and she was like, "No, I just want to be your friend, you're so cool," and that I made her nervous too. It was so much more awesome than I ever could have imagined. It had been three years since I'd performed on a big stage and I was finding my confidence again. Gwen would constantly remind me "You are a star, you have everything you need, you are the full package. Don't ever doubt that." I hear that from my mom all the time, but hearing it from someone who really is the full package and knows what she's talking about, I will hold that with me forever to help me have that confidence even when I don't have it.
BN: That's incredible. We're so happy for you in all of your success in music and love and beyond! Congrats again, Rudi!