September 18, 2019
Nicole Lopez-Alvar Writes Powerful Post About Being 'Our Own Soulmates'
Nicole Lopez-Alvar is taking not-so-subtle digs at her ex-boyfriend Clay Harbor after a messy breakup on "Bachelor in Paradise."
The Miami native and the former NFL player had instant chemistry with each other on "Paradise," but they broke up when Clay told Nicole he wasn't in love with her yet. He was "getting there," but he hadn't reached the final destination. Nicole left Clay standing on the beach and refused to be with him because she said she knew she deserved more.
Clay and Nicole talked about their split on the "Paradise" season finale, though the conversation did not air. Nicole wrote a long caption on Instagram about their relationship, how she learned to do what's best for herself, and why she doesn't "regret a moment" of her time on the show.
Though her post deviated from her usual bubbly and hilarious persona, we saw similar sentiments during her discussion with Clay before the Fantasy Suites, which foreshadowed the end of their relationship.
The 26-year-old started off her post by congratulating the couples who left "Paradise" engaged. She wrote, "We put our lives on hold for the chance of finding someone who completes us. Yes, this show accelerates every relationship — but we all embark on this wild, vulnerable, and unconventional journey knowing it's worth it. True love always is."
Waiting for your permission to load the Instagram Media.
Nicole then sent a message to women about the importance of being in a fulfilling relationship. She wrote, "Ladies, we don't have to put up with anything less than wonderful. We are worthy of someone's complete and all-encompassing respect, time, love, honesty, and energy."
Her caption then referenced Clay's relationship with his ex-girlfriend Angela Amezcua, who also appeared on "Paradise" this season (Angela and Clay dated for eight months before splitting up). Nicole's note went on, "When a man's actions don't line up with his words, when a man's promises fall flat, and when a man dares to string you along (whether it's for 16 days or for 8 months) knowing very well he does not see a future with you — we are better off on our own than loving a man who doesn't know what he has when he has it. I know it's scary, but sometimes, the bravest thing we can ever do is love ourselves first. If that means to run, then run."
Nicole's mini-essay concluded, "We are ALL worthy of our own happy ending. Whether that be with a partner or not. 'Cause we're our own soulmates."
Clay wrote a note of his own to clarify that he was, in fact, at the "Paradise" Reunion, but his discussion with Nicole was left on the cutting-room floor. He wrote in a note on his Instagram Story, "Comparing relationships is not apples to apples. The truth is I was starting to fall in love but I did not want to lie and say I was all the way there until I was. I wanted to leave the beach with Nicole and see what real everyday life had in store for us."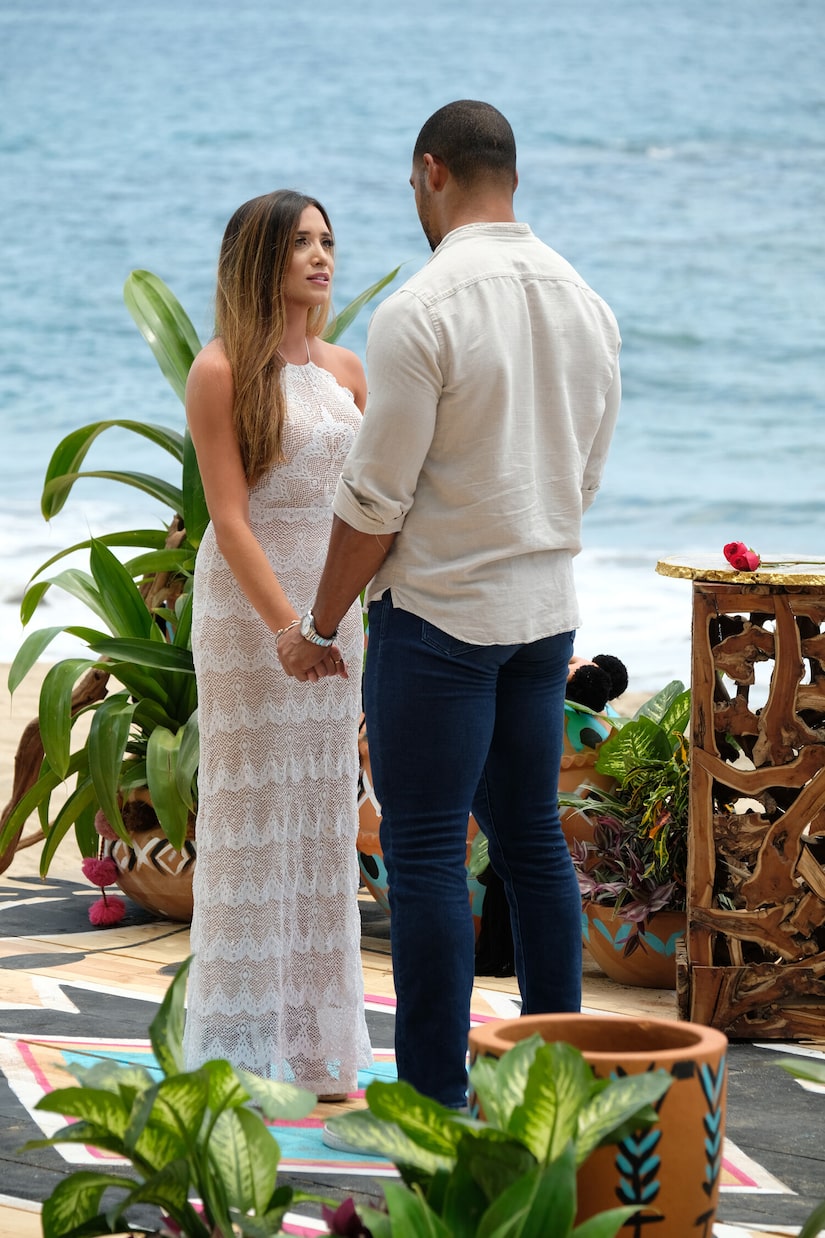 ABC
It continued, "I wanted to meet family and friends and grow and if and when we were ready to get engaged we would. Ive always told myself I am asking one person one time to marry me I just didn't think we made it far enough YET. I completely expected her to leave with me but she wanted something else."
Clay said he was not willing to "sacrifice who I am for anyone and especially not a tv show. I completely stand behind my decisions that last night on the beach and like I said before, I'm happy Nicole has moved on she deserves happiness."