This Week in Bachelor Nation History: Emily Maynard Begins Her Search for Mr. Right
Emily Mayard's season of "The Bachelorette" marked a few firsts for the franchise. She was the first single mom to be the Bachelorette and it was also the first (and only) season to be filmed in Charlotte, North Carolina.
Fans fell in love with Emily during Brad Womack's second go-around as the leading man on Season 15 of "The Bachelor." The couple left the show engaged but ended their relationship a few months later, putting her back at square one looking for love. She was then given the chance to do the choosing for herself, making her the eighth Bachelorette.
Emily sparkled her way into hearts as the Bachelorette when her season premiered on May 14, 2012, and the love for this Southern belle still permeates Bachelor Nation. Many fan favorites — and two Bachelors — came out of Emily's season, which was chock-full of unforgettable moments.
Warner Bros.
Before looking back at occasions such as Emily iconically yelling at Kalon to "get the f--k out" after he called her daughter Ricki "baggage," it's important to start from the beginning.
Emily's introduction focused mainly on her relationship with Ricki and raising her as a single mom. Emily's fiancé Ricky Hendrick tragically died in a plane crash days before Emily learned she was pregnant. She discussed at great length how she loves making pancakes with her daughter, driving her to school, and more. However, one large piece missing from her life was a husband, and that's what she hoped to find as the Bachelorette.
Once she arrived at the mansion, Emily chatted with Chris Harrison about why she opted to put her heart on the line. "I was scared because I've been through a lot and I've been in love twice and I've lost it twice," she said. "It's scary to put yourself back out there again. I fell in love hard with Brad. I really, genuinely thought that was it, that I didn't have to date anymore."
She added, Losing Ricky put a fear inside of my soul that I don't think I'll ever be able to shake. I don't want to talk about it anymore. I've moved past it. It's always going to be a part of my everyday life. We have a daughter together and she's always going to be a reminder of what I don't have, but it's a good reminder. She does things that remind me of her dad, and it's cool."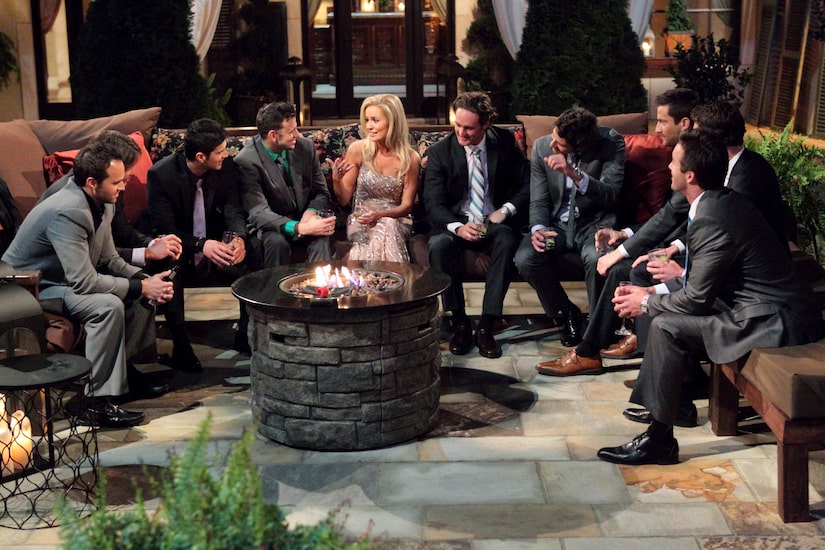 Warner Bros.
Emily also emphasized that five years down the road, she really hoped to have "a minivan full of babies!"
Finally, it was time for the men to arrive.
Sean Lowe exited the limos first, looking dapper in a purple and white shirt and striped tie. However, no "Bachelor" or "Bachelorette" season premiere is complete without a few over-the-top entrances. Aaron the teacher told her, "I'm a biology teacher, but I'm here to find chemistry with you."
Then came Jef, showing off his moves on his skateboard, which he then threw into the bushes. Stevie the Party MC blasted some tunes from his boombox and showed off his best dance moves as he strutted up the walkway. Randy arrived dressed as a grandma, and Travis introduced himself holding an ostrich egg.
"You're probably wondering why I have this egg," Travis said. "This egg is a symbol of two beautiful people — you and Ricki — and throughout this journey, I will take care of this egg like I will take care of you and Ricki."
Warner Bros.
Let us not forget Kalon's grand entrance in his helicopter, which henceforth made him known as "helicopter guy" among the other men.
Chris Bukowski made his first (of many) Bachelor Nation appearances on this season, and he quickly won Emily over with his toy bobbleheads resembling himself and Emily. She revealed to the camera later, "Chris is super hot and so thoughtful. I like him a lot."
Though Chris caught her attention early on, Emily handed the First Impression Rose to Doug, whose 11-year-old son wrote her a letter.
Emily's time as the Bachelorette included trips all over the world, from Bermuda to London to Curaçao, as well as some famous faces, like Luke Bryan and Dolly Parton.