This Week in Bachelor Nation History: Byron Velvick & Jay Overybye Vie to Become Bachelor
Byron Velvick and Jay Overbye laid the groundwork long before Kaitlyn Bristowe and Britt Nilsson vied for the top spot on "The Bachelorette."
On Season 6 of "The Bachelor," which premiered September 22, 2004, Jay and Byron arrived on the first day and put their fate in the hands of 25 women. Before the women arrived, Jay and Byron met each other for the first time at the "Ladies Villa" where they watched each other's introduction video.
Byron, the professional bass fisherman with long, flowy hair, said, "I'm sizing up Jay in every which way I can, like a poker player would. He's got gray hair, it's a shorter, tighter look. It's a city-looking guy. I realize the game was on and the competition was about to begin. This guy is not going to take my future wife away from me."
Warner Bros.
Jay, an entrepreneur from New York, said he was "impressed" when he saw Byron for the first time.
"He's an imposing, confident guy," Jay said. "There's no doubt the stakes are high here. But if I had to bet, I'd never bet against myself."
Jay and Byron had different upbringings and professional careers, which meant the decisions the ladies had to make later on in the evening boiled down to a "lifestyle choice," as Jay described it.
Byron grew up in Southern California and played the "role of the man in the house" after his parents got divorced when he was 10. He thought about going to law school after graduating from college, but opted to pursue his passion of bass fishing, and he has been wildly successful doing so.
The 40-year-old Byron, unlike Jay, was previously married. He said it was "the wrong girl at the wrong time" and explained his wife "chose the night life over the married life" due to living so close to Las Vegas.
Jay was born in New Jersey and attended prep school in New England, which he credits as a formative experience. Jay was one of seven siblings and his father passed away when he was 25. He said in his intro video, "He didn't take care of himself and that contributed to his early exit. I decided I was going to take care of myself and live a long, healthy life."
Jay sold his computer networking company in Chicago then moved to New York to work in real estate. He had professional success. Now all he needed now was a wife.
Later in the day, the ladies arrived at the villa where they got dressed and ready for a pool party. Chris Harrison revealed there was not one, but two Bachelors, and it would be up to the ladies to decide.
As Byron and Jay made the rounds, the women had their early favorites and explained what made each man attractive.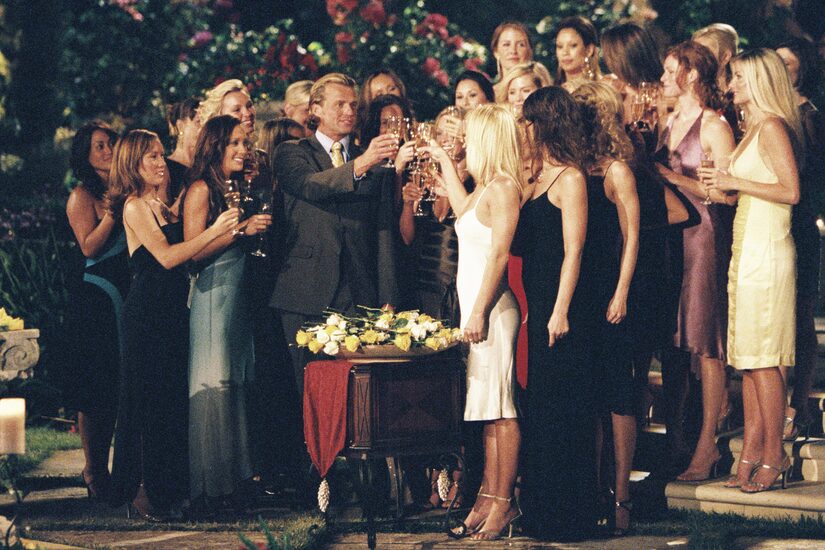 Warner Bros.
Krysta, 28, said, "I'm definitely leaning towards Jay. Unless Byron has some sort of family money, I don't know what a professional fisherman makes these days. I'm high maintenance and I require a lot of nice things."
Wende, on the other hand, said, "I'm glad Byron is here. He's this deep thinker who's got all this stuff going on in his head. I think that we were able to connect."
Later that evening, the women were in charge of picking the next Bachelor. Chris called them up one by one where they could pick either a yellow rose for Jay or white for Byron. Once they were through, Chris picked each rose out of the box and revealed the results. Byron received the most roses and Jay went home.
Then, cordiality between women in the house turned into competition. There was no reeling in the drama after this!