Clare & Dale Open Up About Their Instant Connection on 'The Bachelorette'
Thursday's episode of "The Bachelorette" packed a lot into a two-hour episode. There was a canceled cocktail party and Rose Ceremony, a proposal, and the introduction of Tayshia Adams as the new Bachelorette.
Clare Crawley found her happily ever after with Dale Moss after falling in love on the spot the first night. Dale stepped out of the limo, introduced himself, lifted her off the ground in a hug, and left Clare breathless.
"I definitely feel like I just met my husband," she said after he walked away.
That isn't far from the truth!
Dale proposed to Clare on the episode, and the couple's whirlwind romance continues to thrive. Dale and Clare spoke with Becca Kufrin and Rachel Lindsay on a new episode of "Bachelor Happy Hour," where they opened up about their relationship and instant connection.
The South Dakota native explained his mindset before going on "The Bachelorette" and how it shifted after he met Clare for the first time.
Dale shared, "When I decided to go on the show, a big thing was to give up control for once in my life and be fully present. When I saw that Clare was going to be the Bachelorette, that's what made me comfortable enough to do it. Even from her interviews and the little bit that I saw, I felt her excitement and that I could truly trust her. I was truly willing to say, 'Screw it. I'll be fully present. I'll give up all control.'"
He continued, "Mentally preparing for all those months, I was preparing for her. I was preparing and visualizing what this woman would be like. When I stepped out of the limo on Night 1, my mind and heart were dead-set and focused on being with her at the end. I wasn't going in it trying to figure it out. I was going to give everything I had and she was going to feel me and my presence."
It became clear that Clare only had eyes for Dale, and Becca asked Dale when he felt like he "had it in the bag."
Dale said, "I was so nervous the first night, but after I got the First Impression Rose, there was a little bit of time where we were walking and joking around. After that night, I was like, 'Damn, I don't know what happened, that s--t shook me to the core.'"
Their powerful connection continued into the first group date, which Dale was part of. They had some one-on-one time together, and Dale said they "were just speaking the same language" during their chat.
He elaborated, "After that time, that connection and spark was there but it was even more intense with how we were both feeling. After that moment, I was like, 'There's no way she's just saying this to say it. She's got to be feeling exactly what I'm feeling.' I've never had those feelings, or something happen that fast."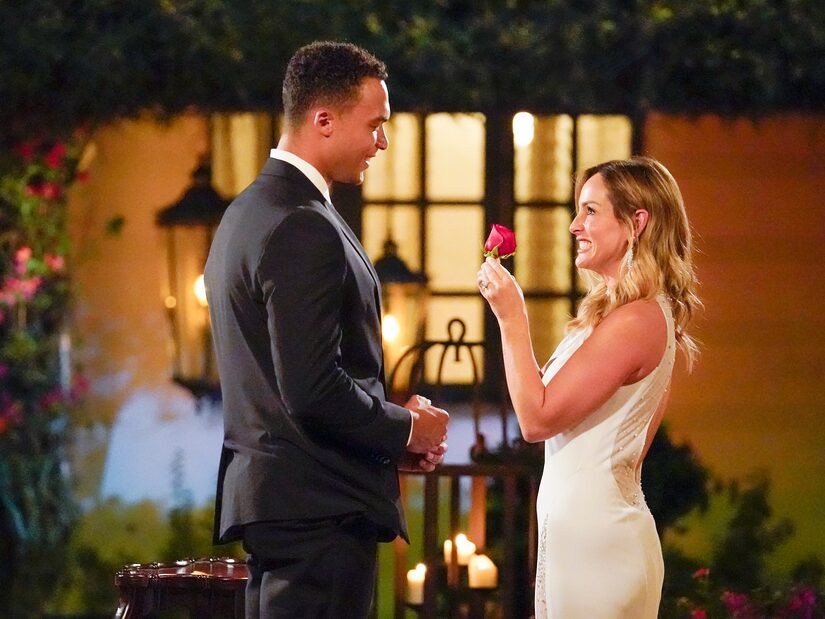 ABC
Clare chimed in and spoke about how she had "extensive, great conversations with the other guys." She said, however, that "by Night 1, we had inside jokes and serendipity things where in every conversation we would go, 'Oh, my God! No way, me too! Me too!'"
That didn't happen in every conversation with the other guys, but it did with Dale.
Dale shared one anecdote that perfectly illustrates the "serendipity" Clare mentioned. He echoed what Clare said throughout the "Bachelorette" episode that it felt as if "we knew each other for so long."
He told a story that occurred during the night portion of the group date where Dale and Clare went back to her suite.
Dale said, "Clare has a tattoo that says 'password.' We're in the suite and I'm asking her, 'What's the tattoo mean?' She said it was a sign for her and her friend when she was getting anxiety, they would have a password that would say, 'Get me out of here.' She told me the story and I go, 'Oh, pineapple?' She goes, 'What?! Who told you?' I guessed the password as a safety word!"
Dale joked they were both "freaking out" about that coincidence.
To hear more about where Dale and Clare are now and what their future holds, be sure to listen to the full "Bachelor Happy Hour" episode now!