Abigail Talks Queen Victoria, the Other 'MJ,' and Upcoming Drama on 'The Bachelor' Season 25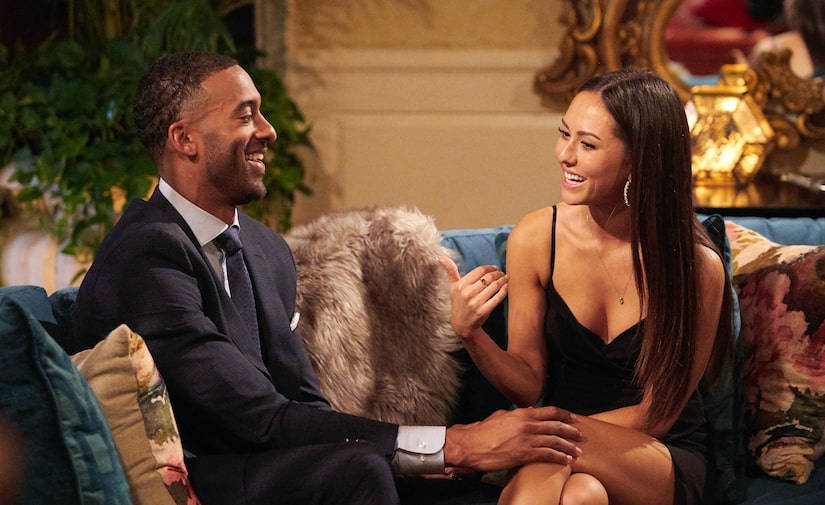 ABC/Craig Sjodin
She's letting it spill! Abigail Heringer stopped by "Bachelor Happy Hour" to chat with co-hosts Rachel Lindsay and Becca Kufrin about her time competing for Matt James' heart on "The Bachelor" Season 25.
"There was definitely a lot of drama. I think I experienced the most drama I ever had in my life during that span of time," the stunning Oregon native said of filming the show at Farmington, Pennsylvania's Nemacolin Woodlands Resort in the fall of 2020.
"The drama's definitely not going to end after the first night," she said, adding that it was crucial for Matt to ignore petty feuds between the ladies as he ventured forth in his search for love. "At the end of the day, Matt knows what he's looking for and hopefully he's able to see past that just because sometimes, they are important conversations to have — but other times, it is just noise that he just needs to tune out and focus on why he's there."
As one contestant explained in a recent preview, Matt's suitresses are "going to war" for the handsome real estate broker's final rose. "Everyone is ready to go for the kill," says one woman, while another teases the discord going on behind his back: "In this house, there are no secrets."
Asked for her thoughts on Victoria Larson — the polarizing cast member better known as Queen Victoria — Abigail admitted to Rachel and Becca, "She's definitely a character, for sure."
As viewers will recall, Victoria arrived night one on a Cleopatra-inspired litter, sporting a tiara and wielding a scepter. "So, my first impression of her — I arrived before she did and I was hanging out on the couches. She walks in, and goes, 'The queen has arrived!'" Abigail said. "And, of course, when I hear that, I'm just like, 'What is this girl doing? Who does she think she is?'"
After getting to know Victoria, though, Abigail said that she has nothing but respect for the outspoken Los Angeles, California, native: "She definitely knows what she wants. I definitely commend her for that. She's definitely a queen."
But what does she think about MJ Snyder? And, no, we don't mean the beautiful blonde hairstylist from Hudson, Ohio. We're talking about the other "MJ" — you know, the glittering purple vibrator that Katie Thurston named after her castmate and proudly flaunted throughout the entirety of the premiere episode.
"The dildo-vibrator was the first thing that I saw when I walked in after meeting Matt," Abigail said of the scene-stealing sex toy. "I just was like, 'What did I get myself into?' So, when he comes in, he starts off trying to give a speech and then he makes eye contact with the vibrator and totally loses it. But I think it just kind of lightened up the mood, definitely."
However, that is the last we'll be seeing of that MJ this season. "MJ, the purple sparkly one, she made a one-night appearance," Abigail said. "We won't be seeing anymore of her. She took a hint and stayed back."
Listen to the latest episode of "Bachelor Happy Hour" below.