January 08, 2021 • hometowns
Ashley Iaconetti & Jared Haibon Begin House Hunting in Rhode Island
Instagram
Home, sweet home? Ashley Iaconetti headed over to Instagram on Thursday to let fans know that she and husband Jared Haibon are house hunting in Rhode Island.
Ashley opened a series of Instagram Story videos with some seemingly positive news about their search for the perfect abode in Jared's native state.
"OK, so the reason that I haven't posted any of the houses that we've been looking at so far is because we didn't really love any of them," Ashely said with a wide smile as she stood in front of a house still under construction.
Instagram
"This one, guys, is customizable and in a great neighborhood and I'm feeling good about it," she continued. "Jared and I, we have no trigger. Like, we cannot pull it. But I'm feeling pretty good about this."
However, Ashley quickly clarified that she and Jared will not be moving into that particular house. "Hilariously, after I taped that, Jared told me in the car he was only meh about that house," she wrote on her next slide. "It was kind of like a glorified ranch and we both prefer two stories. On to the next one!"
Instagram
The next house in Ashley's Instagram Story was "significantly smaller," she said. However, it was also "more in the price range we planned for our first home." Another pro? It's located in East Greenwich, one of the beloved Bachelor Nation couple's "favorite towns" in Rhode Island.
Instagram
"We love how new and modern it is," Ashley wrote alongside clips that highlighted the home's sleek furnishings.
"Gorgeous bathroom. Would be sad not to have a tub though," she added, filming a stunning tiled shower with a glass door. "Is a tub a must for you? I don't think it's a must for me but…"
Instagram
Ashley was also enamored with the house's views of the water. "That's a bay of the Atlantic Ocean," she wrote alongside footage of a beautiful bedroom.
Instagram
"And finally, the basement, which is where we would put Jared's man cave," Ashley captioned a video showing the home's sprawling underground quarters.
Instagram
Ashley and Jared then checked out another house that was still being built. "This is very similar to what the inside of the first house I showed in this Story will look like when the build gets going more," she wrote, explaining that she and Jared loved the home's high ceilings.
"This was a ranch that has the appearance of a two-story on the outside," Ashley added in a subsequent slide. "That's apparently very hip these days."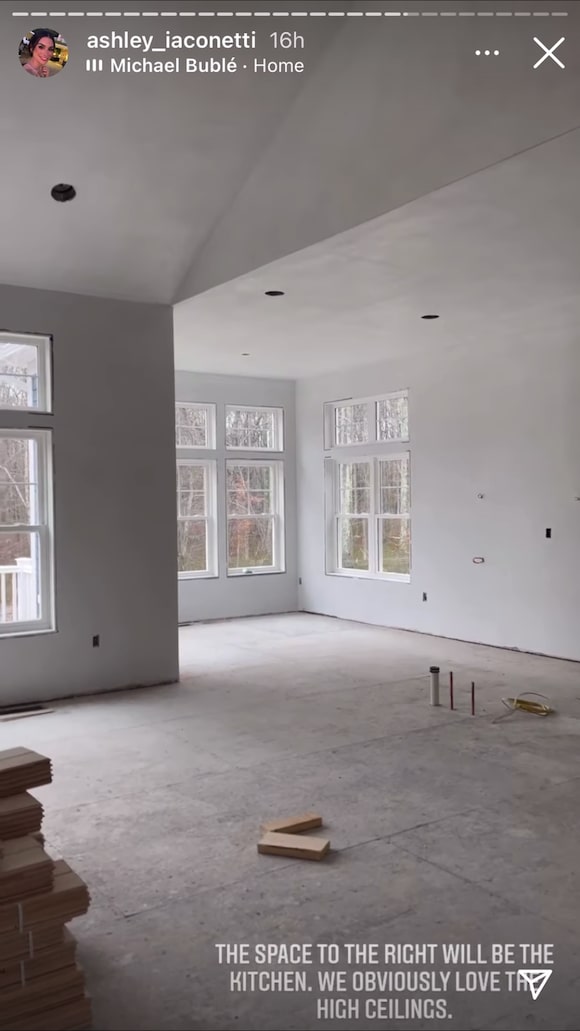 Instagram
Although they appreciated certain parts of the third house, Ashley revealed that it still didn't check all the boxes for her and Jared. "To be quite honest, this house was way more than we set to spend on a first house," she wrote. "And it was way overpriced for the size and location in our opinion."
Later, Ashley said that she and Jared's search will continue as the second home they looked at didn't fit all their needs either. "Straight up, we're not going with either of those houses," she wrote on her Story.
The "Bachelor in Paradise" stars' plan to purchase a home together comes less than two years after they tied the knot in a touching August 2019 wedding ceremony in Rhode Island, attended by notable "Bachelor" and "Bachelorette" alums such as Ben Higgins, Nick Viall, Evan Bass, Carly Waddell, and Kaitlyn Bristowe.