Talking It Out with Mike Johnson: 25 Things You Never Knew About the Bachelor Nation Podcast Host
Instagram
Mike Johnson and Bryan Abasolo's new Bachelor Nation podcast, "Talking It Out," is all about exploring unconventional viewpoints about life, love, family, relationships, and an array of taboo topics.
So, in the spirit of the beloved "Bachelorette" alums' exciting joint project — which officially launched Monday with guest Emmanuel Acho — Mike shared some fun (and surprising!) facts about himself exclusively with BachelorNation.com. Get to know the handsome U.S. Air Force veteran a little bit better below!
Waiting for your permission to load the Instagram Media.
1. My dream guests for "Talking It Out" are ­Kanye West and Jay-Z because their business acumen is incredibly motivating.
Warner Bros.
2. A time I pushed myself outside of my comfort zone was when I jumped and dived off of a huge cliff on the coast of Portugal's São Miguel Island — which made me feel like a dumbass that shouldn't be doing that! But it also made me want to live out adrenaline-rushing adventures and, of course, continue to travel.
3. I love talking about taboo topics, such as renting versus owning, and the way people are judged based off of our "Internet résumés."
4. My celebrity crushes are Meghan Markle, Sabrina Claudio — voice and music! — and Lori Harvey.
Warner Bros.
5. I don't have a New Year's resolution. All I do is, at the end of every year, write down all the things that made me feel like I had an "MVP" that year. I like doing it on Facebook because it comes up years later and it's pretty dope to be reminded of all those amazing moments.
6. My guilty pleasure is eating an adult brownie and watching adult cartoons after a long and strenuous day.
7. If I could be any fictional character, it would be Iron Man. He's a genius, billionaire, playboy, and philanthropist.
Warner Bros.
8. My biggest fear is not being respected and being taken advantage of when I become a senior citizen. I'm also scared of waking up from a real-life nightmare where I never amounted to what I thought I could reach. Also, another big fear is being in L.A. or Atlanta traffic on the highway and being in desperate need of a toilet. No lie, the last has come too close for me!
9. My biggest turn-on is when my woman is being celebrated for what she's worked so hard for.
10. My biggest turnoff is chipped nails. That is not for me. Either have your nails done or don't do them at all. Those are both perfect, but the chipping stage? Bae, just take off the polish before we meet up.
Warner Bros.
11. The first thing I do when I wake up in the morning is yell out, "Yeeeah!" I swear doing that has been one of the greatest secrets for my optimism.
12. The last thing I do before I go to bed is say a quick prayer, think of something that made me smile for the day, or get lost in TikTok space and pass out.
13. My last meal on earth would be a medium steak "Oscar" style, scallops with broccolini, and a bag of Doritos with Tapatío hot sauce. Followed up with cookies and cream ice cream! I mean, it's my last meal, so I don't care if I get sick.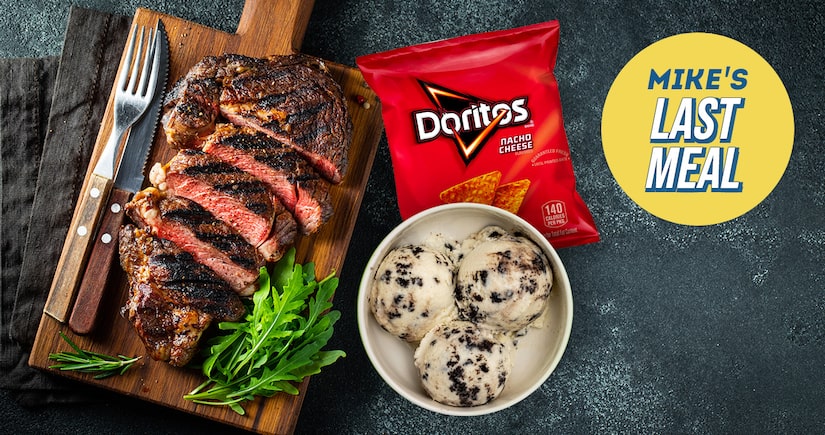 Warner Bros.
14. If any actor were to play me in a movie, it would be the kid who's hustling their butt off right now to become the best actor ever, the kid who never allowed circumstances to dictate their outcome.
15. If my life was a movie, it would be called "Damn, Mike!"
16. My go-to breakfast is six egg whites and one cup of spinach if I'm being healthy. But if I'm living my best life, it's Southern French toast with sprinkles and side of cut-up strawberries.
17. My first job was working at McDonald's. To this day, it's the most fun job I've ever had!
Warner Bros.
18. If I could only listen to one artist for the rest of my life, it would be J. Cole.
19. My favorite book of all time is "The Power of Your Subconscious Mind" by Joseph Murphy. It changed my life.
20. My favorite TV show of all time is "Breaking Bad."
Warner Bros.
21. My favorite part of being on "The Bachelorette" was having a pretty amazing and unique clique of homies. Also, when we were in the Netherlands, this really "wise" lady came over and danced with the cast and crew. It was always great traveling and mingling with the locals, laughing, and living.
22. The last thing I Googled was places in Argentina or Mexico. I've been wondering how I could live there for three to four months and take Spanish and Latin dance classes while still trying to be the best in my work life.
Warner Bros.
23. I can't stand it when people talk themselves out of something that is beautiful and will be great for their life.
24. If I could only hang out with just three people from Bachelor Nation for the rest of my life, it would be Rachel Lindsay, Bryan Abasolo, and my roommate, Connor Saeli.
Warner Bros.
25. When "Bachelor" fans approach me, the first question they ask is, "Why weren't you ever the Bachelor?" or, "Is it real?"
Listen to the premiere episode of "Talking It Out with Mike & Bryan" below.