Talking It Out with Bryan Abasolo: 25 Things You Never Knew About the Bachelor Nation Podcast Host
Instagram
Mike Johnson and Bryan Abasolo's new Bachelor Nation podcast, "Talking It Out," is all about exploring unconventional viewpoints about life, love, family, relationships, and an array of taboo topics.
So, in the spirit of the beloved "Bachelorette" alums' exciting joint project — which officially launched Monday with guest Emmanuel Acho — Bryan shared some fun (and surprising!) facts about himself exclusively with BachelorNation.com. Get to know the hunky Miami-based chiropractor, aka "Dr. Abs" — who also happens to be Rachel Lindsay's husband — a little bit better below!
Waiting for your permission to load the Instagram Media.
1. My dream guest for "Talking It Out" is ­Dave Chappelle, because he is not only one of the funniest people on the planet and my favorite comedian but I also think he's one of the more intriguing and interesting celebrities out there.
Warner Bros.
2. A time I was pushed outside my comfort zone was when I danced shirtless in a swimsuit in front of a huge crowd on "Lip Sync Battle," which made me feel like a rhythmless piece of meat.
3. My biggest fear is being buried alive.
4. If I could only listen to one artist for the rest of my life, it would be Bob Marley or Drake.
Warner Bros.
5. If I could have any superpower, it would be to teleport wherever I want at any given moment — past or present — with the ability to take family and loved ones with me.
6. If I could be any fictional character, I would be Batman.
Warner Bros.
7. My biggest turn-on is a woman's attention to detail in every aspect: her appearance, how she carries herself, and how she treats her man.
8. My biggest turnoff is a woman with no substance.
9. My favorite part of being on "The Bachelorette" was finding my wife — duh!
10. If I could only hang out with just three people from Bachelor Nation for the rest of my life, it would be Mike Johnson, Rachel Lindsay, and Cary Fetman.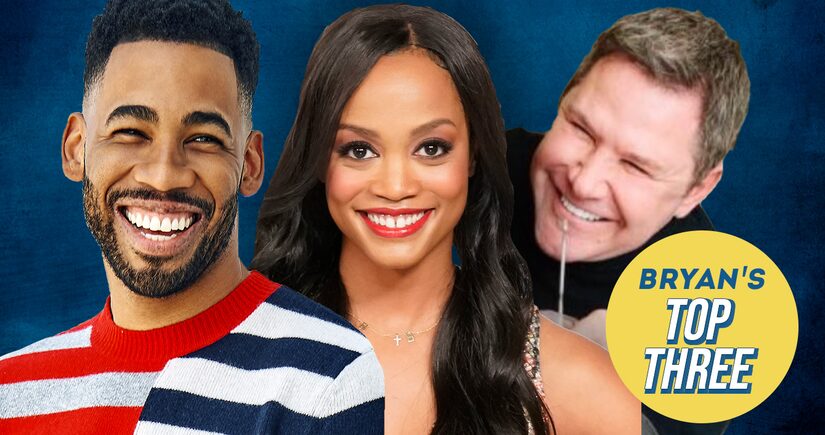 Warner Bros.
11. The funniest thing I've read about myself online is a social media troll saying I had "cheek implants."
12. One thing that really grosses me out is the smell of vomit.
13. A taboo topic I love talking about is whether aliens exist.
Warner Bros.
14. My guilty pleasures include going down deep dark holes on Instagram, sleeping in, and binge-watching scripted TV series and reality shows.
15. I have too many favorite TV shows, but some of my all-time favorites include "Power," "Homeland," "Breaking Bad," and "Curb Your Enthusiasm."
16. My favorite book of all time is "The Power of Positive Thinking" by Norman Vincent Peale. It's an old-school book that my dad handed down to me and his dad passed down to him. The audio version was on repeat before I went on "The Bachelorette." It helped me out tremendously.
Warner Bros.
17. The first thing I do when I wake up is give thanks for another day, "turn my swag on," and go drink some coffee.
18. The last thing I do before I go to bed is go over a list of the things I need to do the next day, talk to my wife, and scroll through Instagram.
19. I have a few celebrity crushes, but if I had to pick just one, I'd go with Eva Mendes.
Warner Bros.
20. My first job was as a filing clerk at 15 years old at a company my mom used to work for.
21. The last thing I Googled is info on the keto diet.
22. If any actor were to play me in a movie, it would be Eddie Cibrian.
Warner Bros.
23. If my life was a movie, it would be called "What a Ride!"
24. The most famous person in my phone contact list is my wife.
25. When "Bachelor" fans approach me, the first question they ask is, "Is it real?" or, "Where's Rachel?"
Warner Bros.
Listen to the premiere episode of "Talking It Out with Mike & Bryan" below.