Sydney Lotuaco Reveals When She Knew Zac Clark Was 'The One' for Bestie Tayshia Adams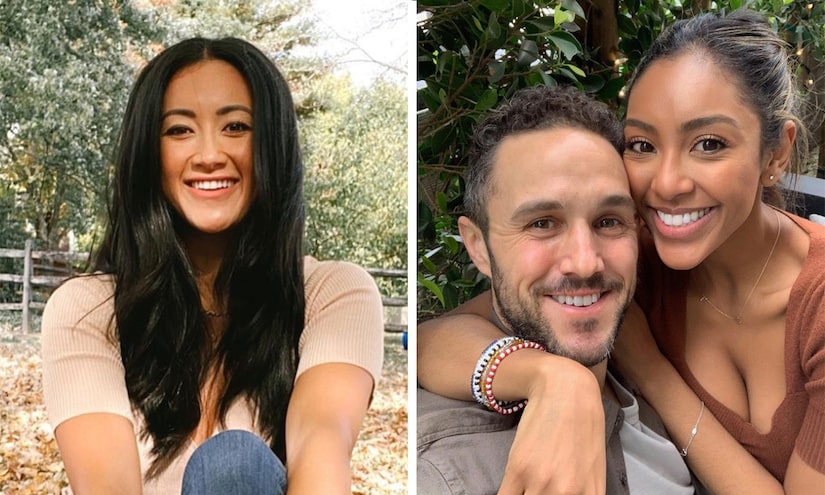 Instagram
She had a feeling! In a new interview with BachelorNation.com, Sydney Lotuaco shared her thoughts on Tayshia Adams' engagement to Zac Clark — and revealed the moment she knew the handsome addiction specialist was "The One" for her bestie.
"I love seeing them together. I've seen Tayshia in different relationships and it makes me so happy that she found Zac, who is so grounded and supportive," said Sydney, who recently chatted with the pair on her "Something to Share" podcast. "That's what she's been looking for this whole time."
Sydney — who starred alongside Tayshia on "The Bachelor" Season 23 and "Bachelor in Paradise" Season 6 — said that she was thrilled to see her friend lead "The Bachelorette," especially under unusual circumstances. (Tayshia took over after Season 16's first Bachelorette, Clare Crawley, entered into an early engagement with Dale Moss.)
"I was so happy for her to get that opportunity and see her shine and find her man. I thought that whole experience was perfect for her even though it happened in a weird way with Clare leaving and then her being the Bachelorette eventually," Sydney explained. "I thought that was almost the best way for her because it led to all the guys rallying around her, all of Bachelor Nation rallying around her, and I think that's what she deserved. She and Zac are great together."
As viewers will recall, Sydney and Season 14 Bachelorette Becca Kufrin assisted Tayshia during a fun-filled group date on "The Bachelorette," which saw several men — including Zac — participate in outrageous antics at Palm Springs, California's La Quinta Resort and Club.
"That group date was hilarious because we got to make them do ridiculous things like eat bugs in a smoothie and propose after eating a hot pepper and do orgasm sounds on the intercom," Sydney recounted. "I didn't get to see Zac's serious side, but any guy that's going to be able to roll with something like that is a good one."
ABC
"I remember Tayshia saying, 'I want you to meet Zac. I really like him.' So just knowing that it was pretty early on that she had that in the back of her mind was pretty cool to see," Sydney said, noting that she knew Zac would receive Tayshia's final rose when he charmed her father, Desmond, in a touching discussion about the couple's future.
"It wasn't until Zac had that conversation with Tayshia's dad that I was like, 'Oh, he is The One. He must be The One,'" Sydney added. "That's when he really got it for me."
Revisit Zac's discussion with Desmond in the video below.