Caelynn Miller-Keyes Gives Bachelor Nation a Closer Look Inside Her New Las Vegas Home with Dean Unglert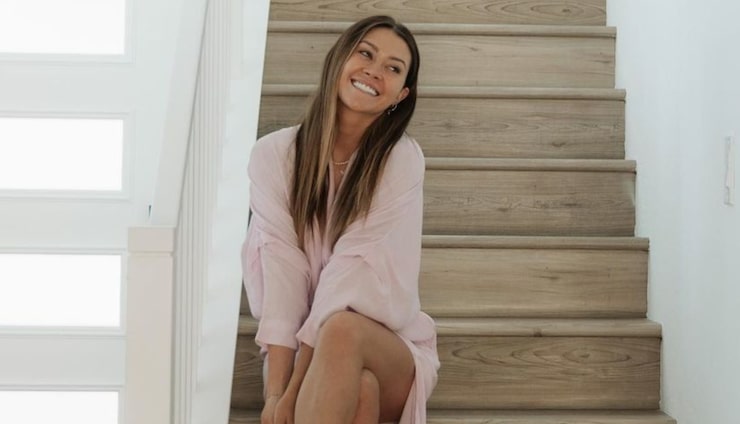 Instagram
Not long after announcing that she and boyfriend Dean Unglert are officially homeowners, Caelynn Miller-Keyes gave Bachelor Nation a closer look inside the couple's new house in Las Vegas.
"I have been waiting to share this vlog with you all for so long," Caelynn said in a recent YouTube video. "I can't believe it's here! I can't believe I'm in my house right now. The house that Dean and I own together, it's crazy. I'm so excited."
Before giving fans a tour of their gorgeous abode in Sin City's Summerlin Falls neighborhood, Caelynn detailed the challenges she and Dean faced in the process of making their big purchase. (The pair previously lived together in Southern California prior to settling down in Nevada.)
"The week leading up to getting the keys, it's just like everything went wrong," she said. "And I was like, 'Are we even going to get the keys to our house? Are we going to be able to move in?' It hasn't been that easy."
The franchise star — who fell in love with Dean on "Bachelor in Paradise" Season 6 in 2019 — elaborated, "There were a lot of times where we were threatened that they were going to sell the house and give it to someone else because we just ran into different issues with, like, lenders."
Now that she and Dean have moved in, Caelynn is understandably relieved. "The toughest of it all came last week [where] I'm about to have a mental breakdown and there's just too much on my mind. But we made it," she said. "We're in our house. Our house looks great. I'm so excited to show it to you guys!"
Caelynn's jaunt through the house included peeks at a beautiful kitchen, ample storage space, modern appliances, sizable bedrooms, and an expansive outdoor patio. At the end of the clip, the Virginia native noted that her adorable dog Pappy has given his seal of approval.
"Pappy, by the way, loves the house. He is so happy here," she gushed. "We have carpet upstairs, and we've never had him in a carpeted home. So, he loves the carpet and just digs his little face into it. He gets so excited."
Check out Caelynn and Dean's digs below.