Katie Thurston Reflects on Her 'Bachelorette' Journey and the 'Overwhelming Joy' She Felt Having Kaitlyn & Tayshia by Her Side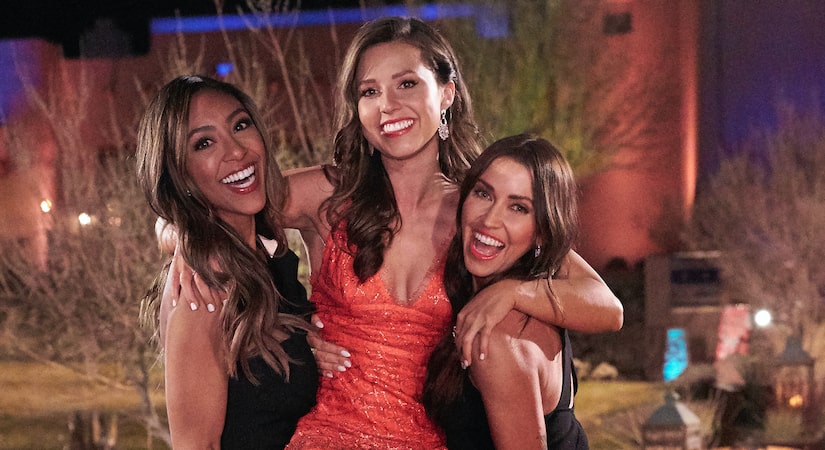 ABC
When Katie Thurston began her journey as the Bachelorette, she was unsettled by one fear.
"I thought I was going to be doing this alone for the most part," the reigning franchise lead tells BachelorNation.com in an exclusive interview. "And that thought was so scary."
But Katie's anxiety was quickly extirpated by the sight of Kaitlyn Bristowe and Tayshia Adams. As Bachelor Nation witnessed on Monday night's Season 17 premiere, the former Bachelorettes surprised Katie before limo entrances commenced at New Mexico's Hyatt Regency Tamaya Resort & Spa, announcing their roles as mentors.
The touching moment, Katie says, stoked immense relief and a quiet stream of happy tears.
"Reliving that moment right now even makes me a bit emotional," she elaborates. "I had no idea they were coming. So, when I saw not only one previous Bachelorette but two — and it was Kaitlyn and Tayshia — it was the best gift. It gave me comfort and this overwhelming joy, knowing that I'm going to have these two women helping me. It's all I could ask for in this."
According to Katie, it was Kaitlyn and Tayshia who encouraged her to push forward in her search for love when she felt like throwing in the towel. As multiple previews have teased, the "Bachelor" Season 25 alum threatened to quit the show at one point when the drama felt too difficult to navigate.
"If it wasn't for that sisterhood that I built with Kaitlyn and Tayshia, I don't know if I really could've done it," she says. "They kept my spirits up and made me believe it was all worth it."
ABC
Below, Katie chats more with BachelorNation.com about the ups and downs of her ride as the Bachelorette, her hope to empower women with candid conversations about sex, and the sides of herself she can't wait to share with fans.
Take me back to the moment you got the call to be the Bachelorette. What went through your head?
My first reaction was complete shock because I had so many great women on my season with me that they could choose from. To be given the opportunity, I am forever grateful for it. It's a once-in-a-lifetime thing that not a lot of people will ever get to experience.
Now that you're on the other side of it, how do you process your journey as the Bachelorette? Did you learn anything about yourself throughout the process?
I'll say this. It felt like a dream. Like, I can't believe it's already over. I think watching it back is when I will learn the most. In the moment of emotions and men and relationships, you're thinking one way. But when you get to watch it back and reflect, I think that's where the growth really starts to happen.
How do you feel about watching your "Bachelorette" experience play back? Are you nervous? Excited?
I'm a little bit of everything. Watching the first episode, there are these gut-wrenching feelings of like, "Ooh, that relationship's not going to work out." And here's Katie so excited on night one! (Laughs) Overall, though, I'm ready. I'm excited. The guys are great, and I think it's going to be a really fun season.
On the premiere, you asked Kaitlyn and Tayshia to tell you two things they wish they'd known before they began their respective "Bachelorette" journeys. Now that you've completed your own run leading the franchise, what are two things you wish you could've told yourself prior?
I think the first piece of advice I'd give myself is to just remember what I came here for, which is figuring out who is my No. 1 and only. I think I get really invested in my relationships and stop thinking about the bigger picture in certain moments. In the moment, I'm like, "Yes, I love this person. Yes, he's a great man. But he's not the No. 1 and only for me." So, that would be the first thing I wish I knew and understood. And then the second thing would be to just go with the flow a little bit more. Initially, I thought I could do what I wanted and control the things I wanted and that's not really how life happens. So, I would tell myself to kind of let myself go a little bit more and have more fun with it. Once I let my guard down and stopped trying to have control is when I really started to have fun.
ABC
Before filming began, did you have any rules for yourself or a premeditated approach set in place?
I don't know that I had any rules that I gave myself. But I did know that I don't have a type when it comes to physical appearance. As far as my approach goes, I was open to anything. I was really excited to get to know these guys for who they actually are, and really make them feel like they do have a chance. I think, in other seasons, you see people kind of fall quickly because the lead has a type. And I don't. Because of that, not only did I really get to know these guys — but Bachelor Nation is also going to really get to know these guys.
You've said that you feel "protective" of your suitors and urged Bachelor Nation to have empathy as their stories play out on TV. How would you describe the group of men who came out to compete for your final rose?
They guys were great. And then not only that, we all bonded on multiple levels — whether it was our relationship, our friendship, or their friendship amongst each other. It was just such a powerful group that was very close. That's why, even after the fact, I do want the best for them and I don't want them to go through any cyberbullying.
You said on the premiere that you're confident you will meet your "soul mate" on "The Bachelorette." What made you so confident that you would find him in the deserts of New Mexico?
It was this intuition, this feeling that this is the right place at the right time. I just knew in my heart that this is where I'm going to meet my man. I had that mentality going into it, even before meeting the men. And then once I got to know the guys, I was like, "Oh, yeah. This just solidifies everything I believe."
On "The Bachelor," you proved yourself to be someone who lifts people up when they're down. As the lead of the franchise, tears and drama are inevitable. How did you lift yourself up and find the strength to push forward when things got tough?
Honestly, it's hard to even give myself any credit. Like I said, it really was a beautiful sisterhood that I built with Kaitlyn and Tayshia. You see in the previews that I'm wanting to go home. And I did. I really wanted to leave at that moment and if it wasn't for Kaitlyn and Tayshia and the feeling of women supporting women — because there's someone else that you'll see when that comes up — I wouldn't have been able to keep going.
ABC
Fans fell in love with you on "The Bachelor" for your sense of humor. But on the premiere, you mentioned that there is a serious side to you as well. Can you elaborate on the sides of yourself that viewers have yet to discover? What parts of yourself are you looking forward to sharing with Bachelor Nation?
I think they're going to see a serious side to me and some serious conversations. I think people are going to be shocked to learn that I am a sensitive person. People think, "Oh, she's so outspoken and loud." That's true. But I'm also very soft and sensitive. You'll see all my emotions. I wear them on my sleeve. And, also, the romantic side of me. They didn't get to see that with Matt [James] — at all. (Laughs) So far, they've seen promo after promo of me just making out with all of these men, so I think that part will be really fun. I'm excited for them to watch me fall in love.
You're unapologetically sex-positive, you stand up for others, and now you're fearlessly pursuing love on "The Bachelorette." Subsequently, you have likely become a role model for many fans. As you navigated your time as the lead, did you consider what kind of impact you may have on viewers and how you'd like to empower them?
For me, I just stayed true to myself. I never thought of a goal for other people necessarily. But what I am learning through these conversations about sex and being comfortable talking about it, it is inspiring other people. Even after Matt's season, when I came out with a vibrator, so many people reached out saying, "Hey, because of you, I bought my first sex toy." And I think that's actually so exciting. I didn't even know I had that kind of impact. I do hope to continue to inspire women to own their sexuality going forward. I want women to be comfortable talking about sex.
A bit ago, you tweeted about how your mom dreamed she would become a meme because of her experience on the show. While we wait in anticipation to see what that's all about, how would you describe your relationship with your mom? She must be so proud to see you as the Bachelorette.
She is very excited. She and I are a lot alike in that we're very open and we don't have a filter — which makes for a very interesting Hometown. (Laughs) That's all I'll say about that.
You spoke about losing your father in 2012 during a moving conversation on "The Bachelor." I'm sure you felt him every step of the way during your "Bachelorette" journey. What would he think of this chapter in your life?
I think he would definitely be proud and excited for me to have this impact in the world right now, having these conversations, and having people be excited to see me as the Bachelorette. It's something that we never experienced in our family, so this is just as much their journey as it is mine and I just know he would be very supportive of everything up to this moment.
As Season 17 kicks off, the love and support from fans must feel incredible. What message do you have for Bachelor Nation as they prepare to see the rest of your story unfold?
The fact that Bachelor Nation supports me already is super exciting. And I'm excited for them to get to know me because there are so many layers to me that they haven't even seen yet. This is only the beginning and I think it's all going to be really exciting.
"The Bachelorette" airs Mondays on ABC at 8 p.m. ET.