Pregnant Astrid Loch Shares Bumpdate and Reveals 'Baby Wendt' Is the Size of an Ice Cream Cone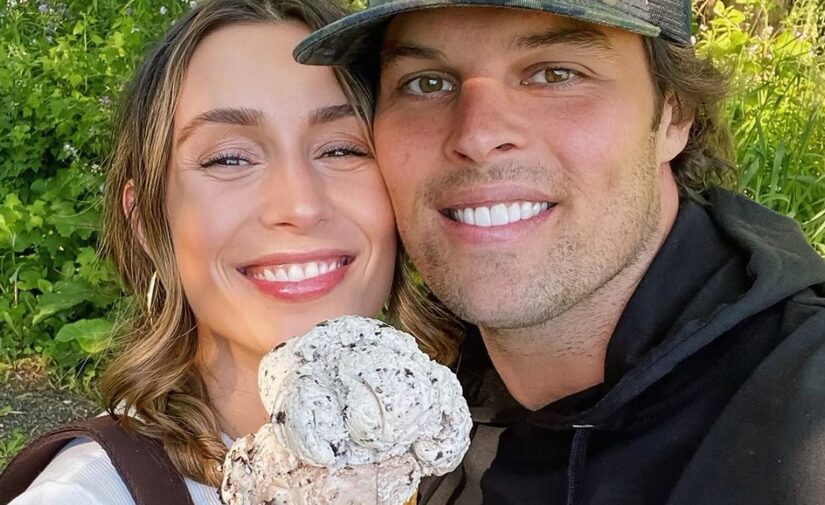 Instagram
After spending some time away from social media, Astrid Loch — who is expecting her first child with fiancé Kevin Wendt — returned on Wednesday with a pregnancy update.
"Sorry I've been a little MIA lately," the Bachelor Nation star captioned photos of herself and Kevin indulging in ice cream while spending time outdoors. "Just busy growing a tiny human and trying to stay present, soaking in every single moment."
Astrid went on to note that her bundle of joy — aka "Baby Wendt" — is "officially the size of an ice cream cone." She added, "And my belly decided to pop last week. Baby daddy is very happy about my sweet cravings."
Waiting for your permission to load the Instagram Media.
Astrid and Kevin — who met and fell in love on "Bachelor in Paradise" Season 5 in 2018 — got engaged in August 2019. In May, the Toronto-based couple announced their pregnancy, which came as the result of in vitro fertilization (IVF) following a series of fertility challenges.
"Trying to conceive was hard for us and once our little frozen embryo implanted, things didn't immediately get much easier," Astrid recalled of the arduous process in an Instagram post shared earlier this month. "Along with the typical nausea, exhaustion and weird food aversions/cravings, I was on a strict protocol of injections, suppositories and drugs to keep baby Wendt growing in the best environment possible."
The mom-to-be explained that she decided to tell her story so that others who may be experiencing similar fertility struggles will "feel less alone."
She elaborated, "Since announcing our pregnancy, I've been flooded with messages from all of you sharing your own infertility ups and downs and it just didn't feel right not to share more of our story. Our community is SO MUCH LARGER than I could have ever imagined."