Kevin Wendt on 'Staying Strong' for Astrid Loch Throughout Her IVF Journey and Fulfilling Their Family Dream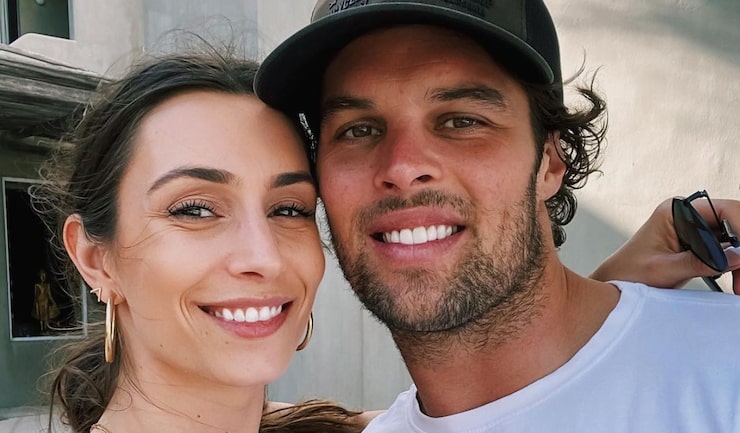 Instagram
When Kevin Wendt and Astrid Loch met three years ago on the beaches of "Bachelor in Paradise" Season 5, they immediately bonded over a common goal: to one day become parents.
"No matter what experiences we'd been through in life, we were both most excited to be parents and have a family," Kevin tells BachelorNation.com in an exclusive interview. "When I went to 'Paradise,' I was in my 30s, so I had friends who were already taking their kids to hockey practice or going to ballet lessons. I always thought to myself, 'That's the part of life I'm most looking forward to.'"
Now, Kevin and Astrid's dream of starting a family is coming true. After struggling to conceive, the Toronto-based couple turned to in vitro fertilization (IVF) and announced their long-awaited pregnancy news in May.
"We both knew that we're going to make great parents. We're going to make great teammates," Kevin says of the partnership he shares with his fiancée. "And I think having that solid foundation first made IVF a lot easier to go through."
Still, there were trying times. "When we got bad news, like when she had an ectopic pregnancy or got her period after a month of trying, I was staying strong for her even though I was sad and disappointed inside," the handsome firefighter recounts. "I had to be strong for Astrid because I know she was the one putting 10 times more weight on her shoulders. I was just trying to let her vent, let her be hopeful for the next month, and we just kept plugging through."
The pair's optimism paid off — and, as Kevin explains, they are already looking forward to expanding their brood after their firstborn arrives this fall. "We want to have two or three kids, and this is just the start of how we both see our forever, as a family," he says. "Astrid and I can't wait to start this exciting new chapter as parents."
Below, Kevin chats more with BachelorNation.com about becoming a dad, supporting Astrid, and his remarkable journey within Bachelor Nation — including his new role as bartender on "Bachelor in Paradise Canada."
Waiting for your permission to load the Instagram Media.
After going through your IVF journey together, how would you describe the relief you and Astrid felt when you found out she was pregnant?
We just had this moment where we could take this big sigh of relief. We were finally pregnant, but we wanted to make sure that all of those women who are maybe not so lucky — like we were — were heard when we made our announcement. Infertility is a tough thing.
Can you elaborate on why it's important for you and Astrid to shed light on your fertility issues and IVF journey?
What we've learned is that infertility is so common. Astrid shared our story on Instagram and thousands of people have reached out to say, "It took me two years," or, "I had two miscarriages," or, "We're 100 percent adopting because we can't have kids." And here's the thing about infertility: You don't sit around at work and talk about it. I don't go to the firehall and talk about it at the table. We need to bring more awareness to it. For example, when you see somebody off of "The Bachelor" finish the season, the first comment you hear is, "When are you guys going to have babies? Oh my God, I'm going to love your babies, blah, blah, blah." It's really tough to see comment after comment and people ask you on the street, "When are you guys going to start a family?" — when we've been trying for a long time. So, I think the No. 1 thing that Astrid wanted to do was not have people open their Instagram page and say, "Oh, another person's pregnant," when maybe somebody's going through it like we did. You feel kind of sh--ty when you're not as happy for someone as you want to be.
As Astrid's teammate in wanting to start a family, how did you support her throughout the IVF experience?
The trickiest part was, during the whole COVID year, I couldn't go to any appointments. I couldn't even go in the building. And this fertility clinic stuff, it's not in and out. She was in there for two to three hours, with a mask on, sitting in the lobby, waiting for results, waiting for bloodwork, waiting to see the doctor, and all that stuff. And I'm just sitting at home. By the third or fourth appointment, I felt helpless because I'm used to being there for her in person, and now I'm just texting or on speakerphone when she's with the doctor. Like I said, I did my best to stay optimistic and not let my sadness or disappointment take over. We just had to keep going.
As you did your best to be there for Astrid by hiding your own sadness and disappointment, how did you support yourself as someone who was equally eager to become a parent?
That's a good question. You're probably a little more positive and confident on the outside than you are on the inside. You cry for a minute, you get angry for a minute, but then you try to say, "OK, well, what are we doing next month to change it?" I always said, "OK, let's be sad today. But tomorrow, let's reassess what we can do to make next month work." I try not to dwell too long and instead think of a game plan.
As Astrid's explained, you administered her IVF shots. What was it like being her nurse?
I definitely didn't enjoy anything about it because she was in so much pain. The oil that I'm injecting into the top of her butt cheeks, it doesn't really disperse well. You have to really massage it into the muscle for it to get around. So, a lot of times, she would be trying to find a spot somewhere by her hip that has a little bit of softness. But it felt like golf balls running through her skin. For me to grab the needle and say, "Take a deep breath — one, two, three," I was dreading it every single morning because I knew there would possibly be blood or a little bit of tears or lightheadedness. But we started looking at the shots as a countdown to when this all was going to be over. And, luckily, we did our final shot in May.
Waiting for your permission to load the Instagram Media.
I would imagine that this entire experience brought you and Astrid closer. How would you say your IVF journey has strengthened your relationship?
We wanted to have a baby before the pandemic even hit, so I think this was just another curveball that we had to endure. The year that we had was a bit hectic. We sold our first home, we bought our next home, we adopted our puppy [Ace], and we went through a year of IVF. So, I feel like after this year, next year — besides having a newborn — we should relax a bit. We always saw the end game of having this eventually work itself out. We're definitely a lot closer now than we were when we started. But before you can really try and go through the medical way to assist yourself getting pregnant, you have to be very close to start with.
How do you envision yourselves as parents?
I think I'll probably be a bit of the pushover dad. (Laughs) I don't want to be! But I can already kind of feel like I'll be the dad who stops for ice cream and says, "Don't tell your mother." But I know Astrid comes from a family who had a stricter mom who kept her family in line, which is the way it should be and that's why she was raised so well. I feel like maybe she'll be the more enforcing parent but then I'll probably be the one who does a lot of the heavy punishment. I feel like it's going to be the "you don't wanna make Daddy mad" kind of thing. Day to day, Astrid will be the one hounding them about the clothes on the ground or cleaning their room and brushing their teeth, that kind of stuff.
How has Astrid's pregnancy impacted your wedding plans?
The wedding is completely planned. Astrid did all of that. We're getting married in Sarasota, Florida, in October 2022. We were supposed to get married last November. We had it planned out probably two months before COVID hit. So, we pushed it again a full year. Now that we're expecting, we're pushing the wedding again. We'll have an 11-month-old baby and hopefully ready to go for baby No. 2 by then.
Astrid has said that it was you who encouraged the idea of reaching out to a fertility specialist. The IVF process is known to be long and arduous at times and might seem intimidating to some. For those who are experiencing fertility issues and have yet to make that call, what would you tell them? Is there a message of hope to share for someone who is scared to start this journey?
I'm not the most patient when it comes to something not working. I read everywhere online to try for a year first. Then, at about the eight-month mark, after we tried every little trick in the book — when to have sex, when to do this, how to do that — I was like, "OK, something's not clicking." It's important to just go and see if there is something wrong. If you go into a clinic, they're always so nice and welcoming because they know it's a rough time. If something is wrong, maybe there's a fix or a medication, maybe there's something that can help you. Once we got out of our testing phase, they said, "All of your levels are OK." Thirty percent of infertility is undetermined. Us knowing that we're in that 30 percent took a bit of weight off our shoulders. Astrid knew she had a good amount of eggs. I knew my sperm count was fine. I can encourage people that if you try for a few months, you don't have to wait a full year. You can go in and say, "I would like to see what my levels are." And maybe that's the stress relief you need for it to work naturally next month.
Astrid revealed the news to you early in the morning — and then you fixed yourself a whiskey and Diet Coke to take the edge off. Take me back to that moment when she told you she was pregnant. I'm sure it was beyond emotional.
She woke up in the middle of the night and had to pee. I woke up in a quick worry because she was shaking me! I was like, "S--t, what's wrong?" And she was teary and she said, "Oh my God, I'm pregnant." Then I got up and she took another test and then we were just so happy in the moment. I was trying to bring us down just a little bit because it was so early on. I was like, "OK, it's been a long road. This is a huge relief. But, also, let's take a breath because a lot can happen between now and next week." But it did show that Astrid's body is able to be pregnant. I think that was just enough of a relief that day I felt like I had to reward myself. Obviously, Astrid just had an orange juice. Officially no more drinking for her, but I went down and made a nice Canadian Club and Diet Coke. A 4:30 in the morning drink to kind of take the edge off and cheers myself to SportsCenter. (Laughs)
Waiting for your permission to load the Instagram Media.
Speaking of drinking, you're getting ready to serve as the bartender on "Bachelor in Paradise Canada." How did that role come to you?
I always liked the Wells Adams role. I think being able to hang out behind the bar will be a lot of fun. Wells was like our big brother in "Paradise." He gave us lots of advice. He knew Astrid before the show, so I was able to kind of pick his brain about her. She asked him for lots of advice, so I think we had a good rapport with that whole bartender-castmate relationship. And then the production team from "Paradise Canada" reached out to me. They were huge fans of me going on the U.S. version and they were actually the ones who connected me on the American side after I went on "The Bachelorette Canada."
And, in Canada — besides maybe Kaitlyn Bristowe and a few others — I'm one of the rare ones that broke into the American side. So, that little bit of notoriety probably helps the show as well. I just thought it's a great fit and I was able to get the time off work, so I was like, "Yeah, let's make it happen."
How will the Canadian version of "Paradise" be different than the American show?
They told me that it's not going to be anything like the American version. This show is going to be full-out Canada. You should think about maple syrup, plaid, and all that stuff. We're going for the Canadian take on "Paradise." We're going to be doing a lot more stuff that has a Canadian lakefront feel. It's not going to be the beach scene that we're used to in America. It's going to be more Canadian.
How would you describe your bartending skills?
Well, I'm really good at ordering drinks, but I don't have that much experience making drinks. The one good thing is that Wells didn't have to make us complicated drinks. It's usually a vodka soda or a shot of tequila or a glass of wine or a beer. And I feel like that will be the heavy menu this summer in Canada as well. Astrid was a bartender in college, so she's been giving me good courses at home. Since she's pregnant, she can't drink, so I've just been mixing my own and drinking my own drinks and practicing.
Has Wells given you any advice beforehand?
I was texting with him a little bit after the announcement. He said I've got to work on my puppet game. (Laughs) Because he was a big puppet guy in "Paradise." But he just said, "Good luck," and he told me to embrace it because it's a fun place to be. When filming's over, I can just go crack a beer on my own and relax. You're not thinking about the show, you're not in that bubble. I can check my phone and I can call my family. You get to kind of enjoy both sides of it.
Because you've been on so many different shows within the franchise — "The Bachelorette Canada," "The Bachelor Winter Games," and "Bachelor in Paradise" — you can probably offer a wealth of knowledge to contestants. What excites you most about taking on the bartender role?
Astrid and I were just talking about this last night. The excitement of having no stress. Being on any kind of reality TV comes with a certain amount of stress. This is the first show I'm going on where I feel zero stress and just pure excitement. I can really do no wrong as long as I make stiff drinks and ask good questions at the bar. That's really my only job. And if I need to steer somebody in the right direction based on my experience or maybe stop somebody from maybe saying or doing what I've seen other people do, based on my experience, then I can lend that hand because, like I said, Wells was a big help for us, so I'm just going to try and do the same thing for the new cast.
How would you sum up your experience within the franchise?
I'm a firm believer in everything happens for a reason. When I went on "The Bachelorette Canada," I was just plucked out. I didn't even apply. They actually found me, and they wanted me to be part of the next season. I told them I wouldn't be interested in waiting — it's either now or never. The season was filming in about two weeks, so they gave me two weeks to get six weeks off work and set my life up for it. I just happened to really connect with the showrunner and the producer. I decided, "OK, this sounds like an opportunity that was meant to happen." So, I made it happen and one thing led to another. When my ex [Jasmine Lorimer] and I split up, it was at the perfect time. If we would have dragged that relationship out any longer, then I wouldn't have had the opportunity to go on "Winter Games." Coming over and having fun with the American show opened up the door to go on "Paradise."
Waiting for your permission to load the Instagram Media.
Did you ever expect to meet the love of your life on "Paradise"?
Honestly, it's kind of surreal. Astrid and I joke about it all the time that we were the two unpopular kids in "Paradise" — but we're the only two that are still in a relationship from our season. Now, we're planning a wedding and having a baby. So, I feel like slow and steady wins the race. We spent a lot of time on that beach talking about Colton [Underwood] and Tia [Booth] and talking about Joe [Amabile] and Kendall [Long], but at the end of the day, we're two normal people who happened to connect on the right day and the rest is history.