This Week in Bachelor Nation History: Michelle Money & Cody Sattler Pose for a Tense Wedding Photo Shoot
ABC
This week marks seven years since Michelle Money and Cody Sattler posed for a tense wedding photo shoot on the inaugural season of "Bachelor in Paradise."
As viewers will recall, fast-moving Cody told Michelle about his intense feelings for her. But in order to determine if he was being genuine, Michelle invited him on a date. After the pair traveled to the beautiful Dreams Tulum Resort and Spa for their first one-on-one, Michelle found out that Cody was indeed for real — in fact, maybe even a little too for real.
"I really appreciated just how all-in he is with me — but I do still feel a little bit guarded and I want to make sure that we're really doing this the right way and allowing the right amount of time to happen before we get really close," Michelle said in a confessional. "I don't want to move too fast."
Unfortunately for Michelle, she and Cody were immediately asked to participate in a faux engagement photo shoot.
"This is our first date together and we're taking these engagement photos, but you never know where this leads," Cody told the camera with a wide smile. "What if she ends up being my future wife?"
Michelle had yet to tell Cody that she wanted to "take things slow." She noted, "It's like, 'OK, you're serious. This is real. So, let's just kind of slow it down and see if I can catch up with you.'"
ABC
While posing for the photographer, Cody launched into a passionate oration about his future with Michelle — which made her visibly uneasy, though he seemed unaware.
"I hope these pictures are up on our wall someday. You never know and that's what's so crazy about it. This is our first date. I'm nervous and I'm supposed to be nervous. I'm supposed to be excited," he enthused. "And yeah, it's moving fast, but I've been waiting three and a half years for this, three and a half years to finally feel like I'm open to somebody where I want to get to know someone. Honestly, when I look at you, I'm so lucky!"
In response, Michelle simply told Cody he was "sweet." In an ensuing confessional, however, she admitted, "This is all happening in like two or three days. I'm overwhelmed. I'm really overwhelmed. I'm fighting this so hard and I'm so resistant to how fast this is happening and I want to slow things down."
Things took a dramatic turn when Michelle found out that her pretend engagement shoot with Cody was transitioning into a wedding shoot.
"It's too real. This is all just blowing my mind and I don't think I'm ready to do this. I'm kind of freaking out," she said while gazing at a wedding dress hanging in her dressing room. "I've gotten married before and this brings back a lot of emotions because my marriage didn't work out. In the back of my mind I'm thinking, 'This is a little too soon.'"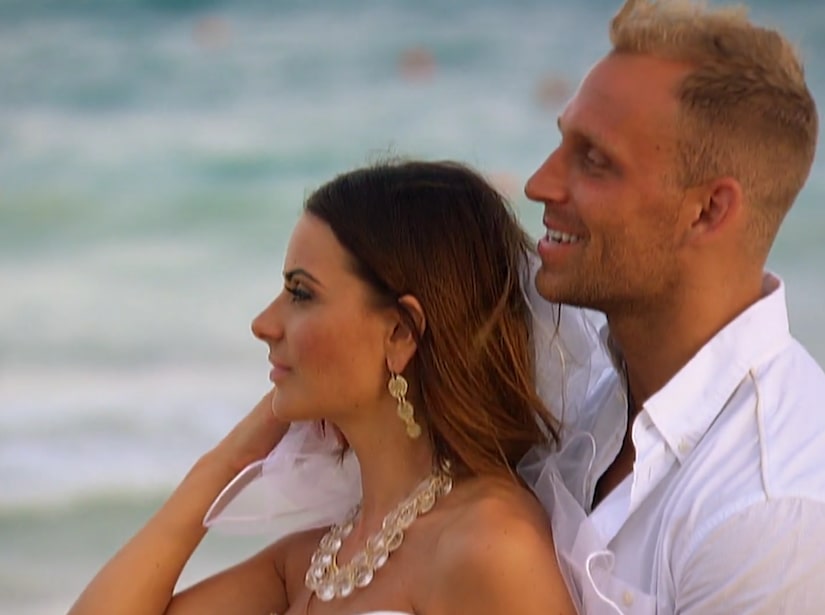 ABC
Meanwhile, an enthusiastic Cody remarked, "It does feel like my special day. It's awesome."
When the two finally met on the beach in their wedding gear, Michelle joked to Cody, "This is fake. This is not real. Did you actually know it's Halloween and I decided to be a bride?"
Later, she described her hidden agony to the camera. "Cody and I are at a different level. He really sees a future for us," Michelle lamented. "I think I'd feel more comfortable if Cody held back just a little. For now, I'm feeling just a little overwhelmed and I'm feeling like this is all happening so fast. He just wants to run away together right now and I'm kind of like, 'Hold on a minute.'"
Michelle and Cody ultimately left "Paradise" as a couple in 2014. Months later, they announced their split in a joint statement but eventually got back together. Their on-and-off romance ended for good in 2016.