This Week in Bachelor Nation History: Two History-Making Late Arrivals Shock Bachelor Byron Velvick & the Season 4 Women
Professional fisherman and ESPN analyst Byron Velvick was Season 4's Bachelor, and 17 years ago this week, history was made on his season.
For the first time in the show's history, two women from previous seasons of "The Bachelor" returned for a second chance at love. Nowadays, we've seen that happen more frequently with cast members like Becca Tilley, Amber James, Nick Viall, Blake Moynes, and others.
But Heather (aka Heather from Texas) and Mary from Seasons 2 and 4 respectively came back to the Bachelor Mansion to look for love again.
During the third episode of Byron's season, he was presented with a mystery date card and said he was just as clueless as his bachelorettes about what was going on.
The women in the house started to speculate who the "mystery date" could be, with some wondering whether it was someone who was already eliminated or someone from Byron's past.
Warner Bros.
Regardless, the women were all in agreement that the date was "a threat to everyone vying for Bryon's heart."
As Byron headed out on his mystery date, the women at the mansion receive a tape with a "clue" about his dates' identities. It revealed that Heather and Mary would be returning to the show and joining the rest of the cast members in the house on their journey to receive the final rose.
Needless to say, the drama quickly heated up, with the women saying things like, "Game on! I didn't like them when their show was on and I don't like them now."

Meanwhile, Bryon met Heather and Mary on his date, but as someone who hadn't watched the show before joining "The Bachelor," Bryon had no idea who they were.
As diehard Bachelor Nation fans know, though, Mary went on to receive Bryon's final rose and the two got engaged at the end of the season. They ended up splitting up a few years later.
Warner Bros.
Regardless, Mary and Heather made history and paved the way for many more Bachelor Nation fan favorites to come back to the show for another chance at love.
To celebrate the 17 years since this iconic "Bachelor" moment, take a scroll down memory lane with photos from Byron's season.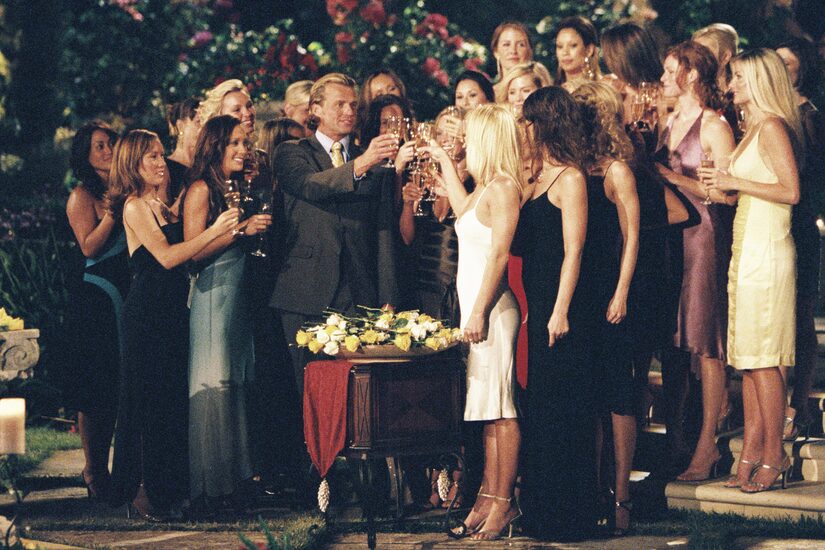 Warner Bros.
Warner Bros.