'Bachelor Happy Hour': Joe Amabile & Serena Pitt Discuss Future Plans, Plus: What If Joe Hadn't Proposed? Serena Weighs In
ABC
Congrats are in order because Joe Amabile and Serena Pitt are officially engaged!
Joe got down on one knee and asked Serena to marry him on the last day of "Bachelor in Paradise" and Bachelor Nation fans couldn't be more excited for these two.
Now, the newly engaged couple is stopping by the "Bachelor Happy Hour" podcast to discuss their future plans and reveal whether they would've been okay leaving as just boyfriend and girlfriend rather than fiancés.
When it came to whether or not the couple would leave engaged, Serena explained that she actually wasn't expecting a proposal from Joe.
"From the conversations we had, my expectation was that we were gonna go down and give each other final roses and say we love each other and say, 'Let's get out of here,'" she said. "And that's what we had agreed upon leaving each other after Fantasy Suites."
Serena revealed that she didn't initially anticipate getting engaged at all while in "Paradise," saying, "The logical thing to do was think: 'This is crazy, this is so fast. Let's just do the step-by-step thing and get engaged down the line.' So he definitely caught me off guard."
ABC
She shared that that one of her closest friends was glad she got engaged on the beach because it forced her to throw logical thinking out the window for once.
Serena explained, "One of my best friends was like, 'It's actually so beautiful because you are so driven by logic in every part of your life, and you clearly wanted to say yes to this proposal, because if you didn't want to get engaged, you wouldn't have said yes.' I have absolutely no regrets to this day. I'm glad we're engaged. I'm glad I said yes."
But despite leaving the beach as an engaged couple, both Joe and Serena agreed that they would've been okay leaving as just boyfriend and girlfriend.
"Bachelor Happy Hour" host Becca Kufrin asked the couple what's next for them now that they're engaged, and the two discussed both short- and long-term plans.
Joe revealed that the next big step is for them to move in together, and they do have some plans in the works.
"We have to figure out where we're going to live together right away. I have a lease that's up in April and we had talked about it, so we are either going to possibly try New York together or split time between Chicago and Toronto for the time being," Joe explained.
Serena added they're going to do what makes sense for them personally and professionally. Since they both love New York, they are excited to try spending some time there.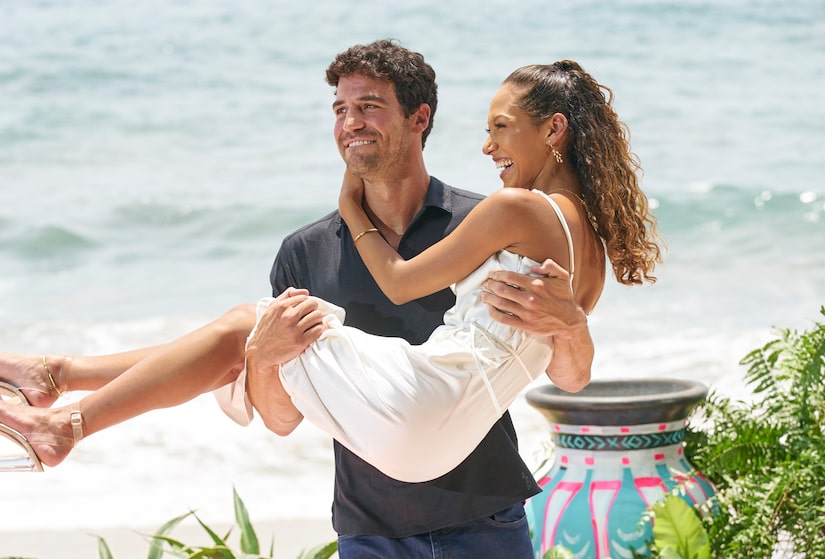 ABC
As for marriage plans, they said they're excited to live together and start that chapter of their lives, but they don't plan to have a super long engagement.
Joe said they are thinking a "mid-range length" for their engagement, and Serena chimed in to clarify, "We're not rushing down the aisle, but we definitely feel confident in the fact that we want to be together."
We can't wait for the moment when these two officially tie the knot, but for now, we're just happy that they get to celebrate their engagement publicly!

Congrats to Serena and Joe on your engagement and this exciting next chapter!
To hear more of Serena and Joe's conversation on "Bachelor Happy Hour" check out the latest episode below.