Joe Amabile & Serena Pitt Discuss How Joe's Ex in 'Paradise' Impacted Their Relationship, Plus: Joe Opens Up on Kendall's Proposal Day Return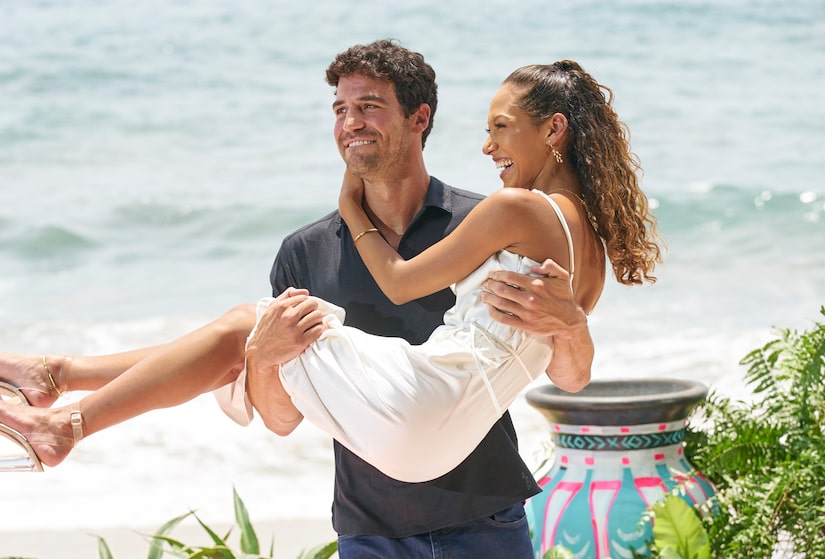 ABC
Fans saw Bachelor Nation stars Joe Amabile and Serena Pitt fall in love and get engaged on the beaches of "Bachelor in Paradise" Season 7.
The two hit it off early on and were inseparable by the end of the summer. But despite being one of the strongest couples on the beach, Joe and Serena faced their fair share of ups and downs in "Paradise."

Joe's ex Kendall Long, who he met on Season 5 of "BIP," came down to the beach once Joe and Serena had already developed a relationship.
Kendall said she was looking for closure from her nearly two-year relationship with Joe, despite being broken up for a year and a half.
Kendall ended up leaving "Paradise" because it was too difficult for her to watch her ex fall in love with someone else, but she returned to share some final thoughts with Joe just before he proposed to Serena.
Joe and Serena stopped by the "Bachelor Happy Hour" podcast and discussed how Kendall being in "Paradise" impacted their relationship, plus Joe shared how he felt when Kendall returned on proposal day.
ABC
Joe started off by saying, "I really meant what I said: I wouldn't have gone to 'Paradise' if I wasn't over her. When she first got there, just because everything is so heightened in 'Paradise,' it just seemed so intense. We also didn't sleep as much, so that first moment, I was like 'This is going to be a little difficult.'"
But despite the difficult situation, Joe said he was sure by the next day that his relationship with Serena was the right one for him.
"Truly, the next morning when I had breakfast with Serena, I was like, 'This isn't gonna faze me at all. This is my relationship and that's all I care about right now,'" the Bachelor Nation star noted.
Joe added that he wanted to be there for Kendall if she was struggling, but that her arrival didn't get in the way of his feelings for Serena.
Serena agreed that it was "uncomfortable at times" and there was an "awareness of Kendall's feelings," but if anything, Joe's ex being there "sped up the progression" of their relationship because it was an intense situation that forced them to communicate through.
The Toronto native said, "Not only did it test our relationship and our commitment to each other but it tested our strength as a team, and I know he said the way I handled it made him more attracted to me, and for me, the way he handled it made me more attracted to him. I just felt like I could trust him and feel more comfortable in the relationship."
Serena also added that getting through that situation showed them that they had the skills as a couple to handle real-life situations in the outside world.
Host Becca Kufrin commended their ability as a couple to always be honest with each other and put each other's feelings first rather than focusing on themselves or any drama, but she had to ask about Kendall returning on the very last day of "Paradise," just before Joe proposed to Serena.
ABC
Serena said it didn't worry her when Joe told her Kendall was back, because "I felt confident in our relationship and I didn't think anything was going to come between us at that time, and obviously he was the one who had the relationship with Kendall, it wasn't me. So I felt like my role in all of that was to support him in any way I could."
Joe chimed in and revealed how he really felt in that moment when Kendall returned to the beach, saying, "Her coming down at the end, at that point I was like, 'I don't really care what you have to say' in the nicest way possible. It was just not the time."
These two proved they could stand the test of all "Paradise" threw at them, from extreme heat to sleepless nights to ex-girlfriends and everything in between.
Congrats to Joe and Serena on your engagement! We are so happy for you both.
To hear more of Serena and Joe's conversation on "Bachelor Happy Hour" check out the latest episode below.