Maurissa Gunn & Riley Christian Celebrate Making History as the First Black Couple to Get Engaged in the 'Bachelor' Franchise
But what some people might not have realized was that the two were making history as the first Black couple to get engaged in Bachelor Nation.
Neither Riley nor Maurissa knew they were making history with their engagement until they learned about it on social media, but now, the two are discussing this major moment on the "Click Bait with Bachelor Nation" podcast.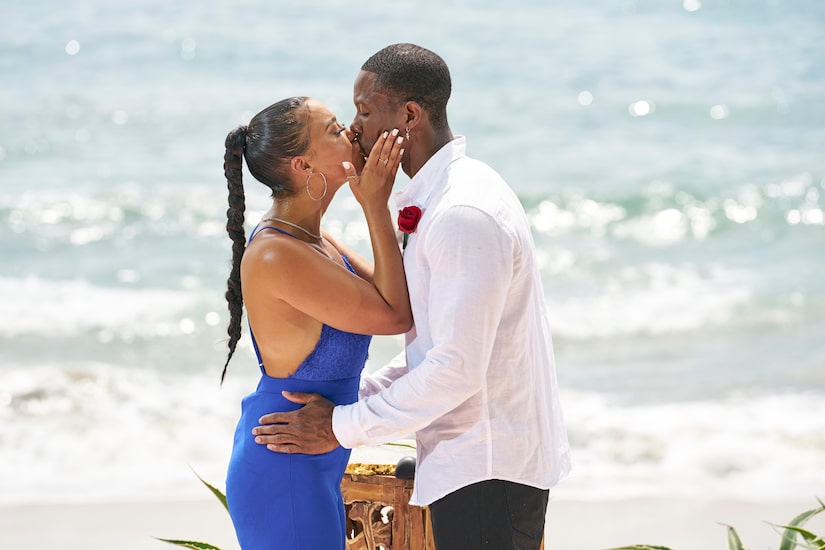 ABC
Co-host Natasha Parker asked Riley and Maurissa what it meant to them, noting that while Black love is everywhere, their engagement was a "Bachelor" history-making moment.
Riley said, "It's great. It's good for the culture to be able to represent Black love on TV. When we came into 'Paradise,' we just did what everyone else wants to do. We wanted to be in a relationship, we wanted to find love, and that's what we did. The fact that we look like each other is just a bonus."
The couple said they hope everyone who goes on a "Bachelor" show is able to experience the kind of love that they have found.
Maurissa also shared a tweet on Instagram that says, "History (that was overdue) has been made in Bachelor history. Riley and Maurissa are the first Black couple to be engaged in Bachelor Nation. Finally."
Alongside the tweet, Maurissa put three raised fist emojis.
Instagram
And now that they're happily engaged, they're looking forward to what's next for their relationship.
Maurissa is currently in New York with Riley visiting the city for the first time, as he's hoping Maurissa will relocate to NYC from Atlanta.
They also have plans to meet each other's families, with Maurissa saying they'll likely visit Riley's family first and then her family will fly to New York to meet her fiancé.
On the "Click Bait" podcast, Riley and Maurissa were asked to share their favorite things about each other now that they've been engaged for a few months.
Maurissa said her fiancé is "so sweet, and polite, and respectful especially when it comes to me."
Riley chimed in, saying he loves that Maurissa has "always been 100 percent authentic and real and genuine from the start and I love that. She's always herself and she's amazing."
Big congrats to Riley and Maurissa on their engagement! We can't wait to see what the future holds for these two.
To hear more of their conversation on "Click Bait," check out the latest episode below.