EXCLUSIVE: Michelle Young Reveals What She Learned About Herself as the Bachelorette, Plus: How She Made Sure Her Suitors Were There for the Right Reasons
ABC
Michelle Young's season of "The Bachelorette" premieres tomorrow, and to kick off her exciting premiere week, Michelle held a Bachelorette Brunch for her fellow Bachelor Nation stars and educators.
As fans know, Michelle is a fifth-grade teacher, so it was extremely important for her to surprise her fellow educators with bags of school supplies and books to bring back to their classrooms.
At the event, the Bachelorette spoke directly to the teachers, saying, "I want to take a moment to say thank you, because you all are truly the unsung heroes. These past two years have been unreal during a pandemic with navigating planning lessons, being flexible, and just making sure your students are okay at home. So I want to say thank you because people don't truly understand what you do, but I want you to know that I see you and I'm here with you."
At the special brunch, Michelle also talked exclusively with BachelorNation.com about her season of "The Bachelorette."
Michelle shared what she learned about herself throughout her time as the Bachelorette and how she actually surprised herself.
ABC
The Season 18 star said, "In past relationships, I've been told that I'm incapable of being vulnerable and even when it felt like I was being vulnerable, it wasn't to the level that I needed to be in order to find a relationship like my parents have. So I really challenged myself to be vulnerable and I think I really surprised myself with just how vulnerable and open I could be."
And being so open isn't always easy!
Michelle revealed what she's most nervous about when watching her journey back, saying, "The people who are in my life, I love them very deeply, so when I'm hurting, I also hurt deeply. It's going to be very hard to watch those painful pieces back. But it's also a way to learn to navigate those feelings and it's therapeutic in a way. People like me who aren't always good at being vulnerable, we don't want to feel those feelings, we avoid it, and I now get to watch it all back and learn from it. That's not a bad thing."
The fifth-grade teacher also spilled on how, as the Bachelorette, she would sniff it out immediately if the guys were there for the wrong reasons.
"I asked the tough questions right off the bat because you don't have a lot of time. This isn't a situation where you get to sit and hang out all day. You have to jump right in if this is going to work," she explained.
"For me, I wanted to see depth and a really good way to figure that out is to have deep conversations, intellectual conversations, conversations about race, and everything early on. It wasn't necessarily a strategy, but just things I would ask on 'The Bachelorette' or not," Michelle said.
She added that with her background as a teacher, she "has no time for the BS" and is able to call it out when she sees it.
And since her season is kicking off tomorrow, Michelle shared some of her favorite night one entrances.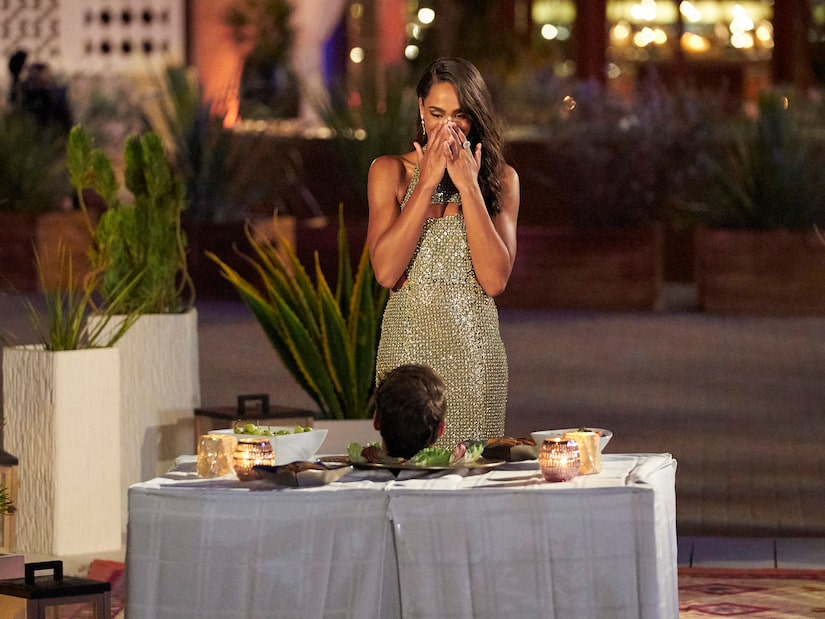 ABC
The Bachelorette said, "The creativity is unreal! The fact that Rick came in on a service cart where he was on a silver platter, and that man stayed in that service cart for hours. That's dedication! It shows his goofy side. LT walking in with no pants with this Speedo tuxedo — that's a bold mood and shows confidence. I had fire trucks, I had buses. I was just excited to meet everybody and feel their first impression however they brought it!"
We can't wait to see all of that and more tomorrow night on Michelle's season premiere!
Be sure to tune in to "The Bachelorette" starting on Tuesday, October 19, on ABC at 8 p.m. ET.