'The Bachelorette's' Rick Reveals Why He Chose His 'Silver Platter' Entrance and Whether It Was Worth It
ABC
Bachelor Nation met Rick on night one of Michelle Young's season of "The Bachelorette" and his unique entrance left fans shook.
Rick arrived to meet Michelle on a silver platter, literally, and was rolled in on a food service cart.
Rick remained in the cart for the majority of the night, and despite scaring Michelle at first, she ended up finding his entrance fun and silly.
Rick stopped by the "Click Bait with Bachelor Nation" podcast to discuss his famous night one entrance, how long he actually spent in the service cart, and whether it was worth it in the end.
Co-hosts Joe Amabile, Natasha Parker, and Tia Booth asked Rick the burning question that's been on all of Bachelor Nation's minds: Why did he decide to come in on a service cart in the first place?

Rick said that his goal was to make a memorable first impression, explaining, "I'm someone who is very lighthearted. I like to enjoy life even during the serious moments, and I like to make people laugh. I know that you're not guaranteed one-on-one time with Michelle, and a big concern of mine was going home that first night if I don't make an impression."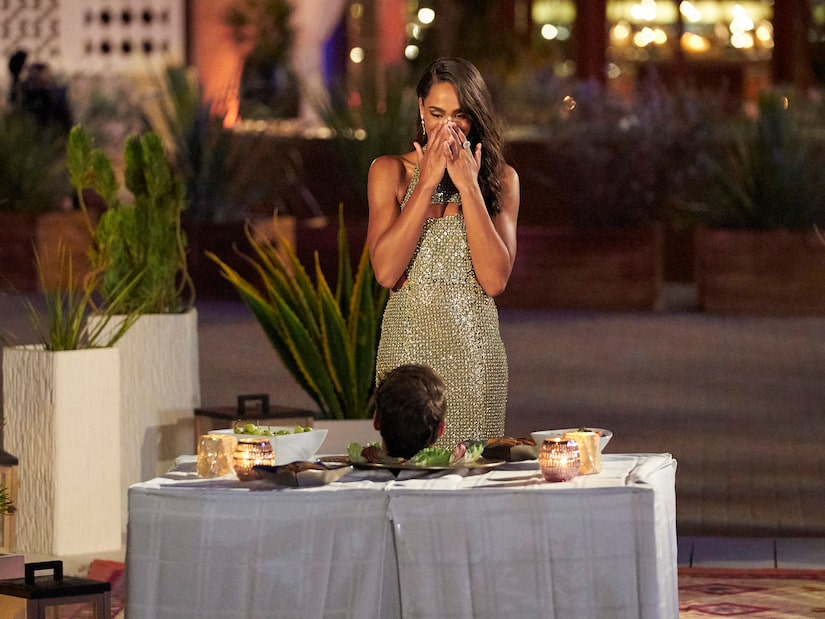 ABC
Rick continued, "Everyone that's there sacrifices a lot to be there, so I didn't want to go home that first night. So I wanted to do something different. I wanted to make an impression, and I wanted to make her laugh. I also wanted to show her that I was dedicated and I don't mind making a fool of myself or joking around."
Joe, who famously went home on night one of Becca Kufrin's season, said making a good first impression was a smart idea. He remembered his first impression limo entrance not going well and having a gut feeling he wasn't going to get a chance to stick around and see if he and Becca had a real connection.
Rick also added that the service cart idea wasn't out of nowhere — he wanted to use it to tell Michelle a little about himself.
"The story behind the table itself is I love food and I know she's kind of a foodie herself. And in my past, I worked in restaurants for a long period of time, so I thought it was a good way to introduce a few details about me," the new Bachelor Nation star revealed.
Waiting for your permission to load the Instagram Media.
And Joe, Natasha, and Tia had to ask Rick how he stayed in that cart for so long and whether it was worth it in the end.
Rick said, "There wasn't enough room for me to sit on my knees. The amount of space between the table and the wood I was sitting on was not enough room. So I was sitting cross-legged for a very, very long time and I wasn't expecting that. But in retrospect it was worth it. Looking back, it was definitely worth it. I achieved my goal."
Rick's goal was achieved! He received a rose on night one and his journey to find love with Michelle continues.
We're excited to continue to learn more about Rick and watch his love story with Michelle unfold.
In the meantime, if you want to hear more of his conversation on "Click Bait with Bachelor Nation," check out this week's episode below.