Michelle Young Discusses Finding Her Footing as the Bachelorette, Plus: How She Felt About Her Conversation with Jamie at the Rose Ceremony
It's Michelle Young's second week as our Bachelorette, and she's getting real about finding her footing in this new role and what she got better at throughout her season.
The Bachelorette stopped by the "Bachelor Happy Hour" podcast, where she talked to former fellow Bachelorettes Becca Kufrin and Tayshia Adams about her experience so far.
During their conversation, Michelle got candid about what parts of being the Bachelorette were challenging for her at first.
Michelle noted that she felt really good during cocktail parties, after parties, and one-on-ones, but she struggled with group dates.
"It was the group dates that were the real stinger for me. Just past experiences and other emotions that come from that kinda started to bubble to the surface a little bit with how group dates were going. It took me a minute to find my footing. I don't know if it was my footing to find. Going into that first week on group dates, the guys really struggled to make connections during group dates," Michelle explained.
ABC
Michelle continued, "I was wanting the guys to go out of their way to have a conversation with me. I felt like I was seeking the men out and having conversations to get to know them, but when I didn't go over to them to start the conversation, they were hanging out with each other and wouldn't come talk to me. They may have been nervous."
And Tayshia and Becca agreed that this can be challenging, but they added that the time you have together is so limited, so the guys needed to be taking better advantage of every moment with Michelle.
Michelle added, "I think that was the hardest thing because I needed to see that you want to continue to get to know me during these group dates. You can't just lean on the after party time. That's not how this works because you spend a lot of time on group dates and that's precious time. I had asked for that over and over and it wasn't being reciprocated and there's a moment where it kind of hits me. It's tough!"
And speaking of tough, Michelle also discussed how she navigated her conversation with Jamie during the Rose Ceremony.
Obviously, Michelle and Jamie had formed a strong connection during their one-on-one date and Jamie opened up about some of the heavy challenges he and his family have faced.
So when Jamie approached Michelle at the cocktail party about an alleged relationship with fellow contestant Joe prior to the show, Michelle was caught off guard.
She said she didn't want to call Jamie out in front of the entire group, explaining, "It's so hard when you're in the seat where someone is confiding in you and telling you a piece of information. It's like, yes, we are all adults and we should be able to talk about it, but at the moment when it was brought to my attention, it came off very tasteful. I guess I wanted to keep that confidentiality on my part."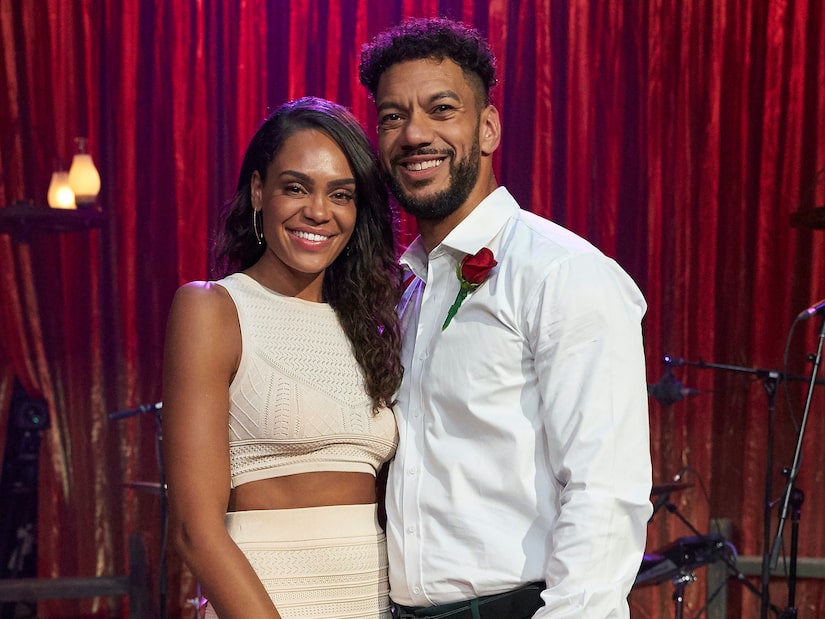 ABC
Michelle said that she was trying to navigate the first person bringing information like that to her attention and she didn't want to break that trust on her end right away.
But as time passed, she admits that she got better at handling those situations.
"As the season goes on, I get better at doing that and being very honest. I was definitely trying to figure that part of being the Bachelorette out still at that point," Michelle said.
Tayshia chimed in and voiced her frustrations about how Jamie handled that situation, saying that he made his way into Michelle's heart, so it was unfair that he lied and made it seem like it was an issue with all the men.
Michelle agreed, saying, "You're completely right. We had this connection and the types of conversations we had were really vulnerable and intense conversations. He was so honest and open about everything he's been through, and he's been through a lot."
To see how things continue to unfold between Michelle, Jamie, and the rest of the men, make sure to tune in to "The Bachelorette" next Tuesday at 8 p.m. ET.
Until then, if you want to hear more of Michelle's conversation with Becca and Tayshia, check out the latest "Bachelor Happy Hour" episode below.
And in regards to the conversation on Michelle and Jamie's one-on-one date, if you or someone you know is struggling with a mental health crisis, call (800) 604-5841 or visit the websites for BEAM and National Suicide Prevention Lifeline.