Alana Milne & Chris Conran Share Their Favorite Things About Each Other, Plus: How They Reconnected After 'Paradise'
Instagram
Chris Conran and Alana Milne's relationship might have stirred up drama during Season 7 of "Bachelor in Paradise," but the Bachelor Nation couple has been going strong since after they left the beach.
The two moved in together in Salt Lake City last fall and have been sharing their love with Bachelor Nation fans on social media.
Now, Chris and Alana are answering fan questions about everything from their time in "Paradise" to what they love about each other now.
The two started off by sharing how they got back together after their time in "Paradise" and leaving the beach separately.
Chris answered, saying, "After 'Paradise,' I was completely mind f'ed. I have this great connection with someone and watched it slip away in the same day."
He continued, "I downplay it all the time, but it ate away at my heart. What we have is real real, and I've never felt anything stronger. I had to talk to her and see her, but right after the show I felt like she didn't want to talk to me."
Instagram
But that didn't stop Chris. He said that the second they were back in contact, he "sent her flowers and booked a flight" to visit her and the "rest is history."
And despite how things ended for these two in "Paradise," they said they have no regrets about going on the show.
Alana said, "Things have a way of working themselves out. Had I never gone on the show, Chris and I never would have had that first date. Had we stayed on the show, something or someone may have come between us. It all happened the way it was supposed to. The show brought us together and then we were able to create a relationship on our own."
They said that looking back on it from where they are today, "it would be silly to regret anything."
And these two are in a great place today and couldn't be more in love.
They answered a fan's question on what their favorite thing is about each other and their responses were adorable.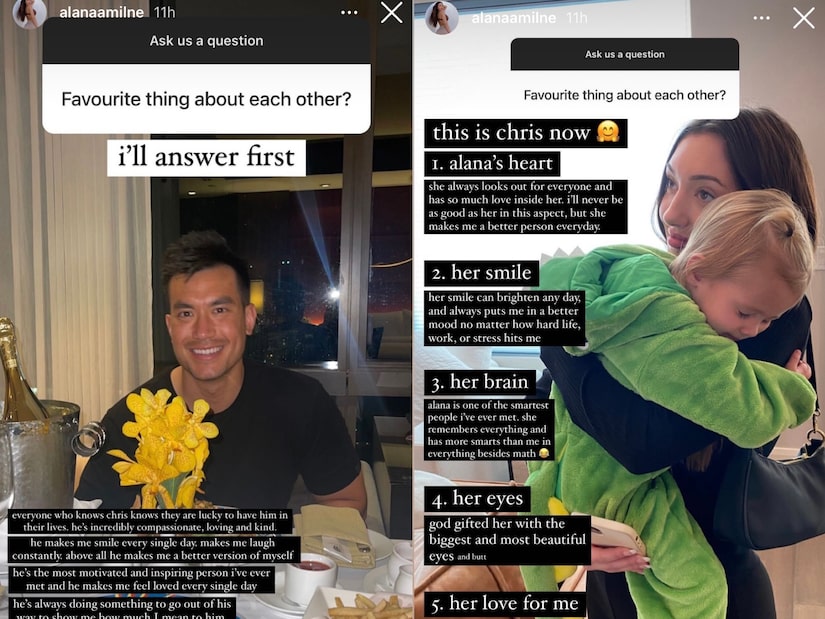 Instagram
Alana said, "Everyone who knows Chris knows they are lucky to have him in their lives. He's incredibly compassionate, loving, and kind. He makes me smile every single day, makes me laugh constantly, and above all, makes me a better version of myself."
The Bachelor Nation star went on, saying, "He's the most motivated and inspiring person I've ever met and makes me feel loved every single day. He's always doing something to go out of his way to show me how much I mean to him. Plus, the dimple!"
And for his answer, Chris listed five incredibly sweet things he loves about Alana.
He said, "1. Alana's heart. She always looked out for everyone and has so much love inside her. I'll never be as good as her in this aspect, but she makes me a better person every day. 2. Her smile. Her smile can brighten any day and always puts me in a better mood no matter how hard life, work, or stress hits me."
The Bachelor Nation star continued his list, writing, "3. Her brain. Alana is one of the smartest people I've ever met. She remembers everything and has more smarts than me in everything besides math. 4. Her eyes. God gifted her with the biggest and most beautiful eyes (and butt). 5. Her love for me. Alana gives 110% in everything she does and this includes loving me. I love you baby."
How sweet! We love how in love these two are and can't wait to continue to follow along their journey.