Lauren & Arie Luyendyk Debunk Rumors About Themselves in New Q&A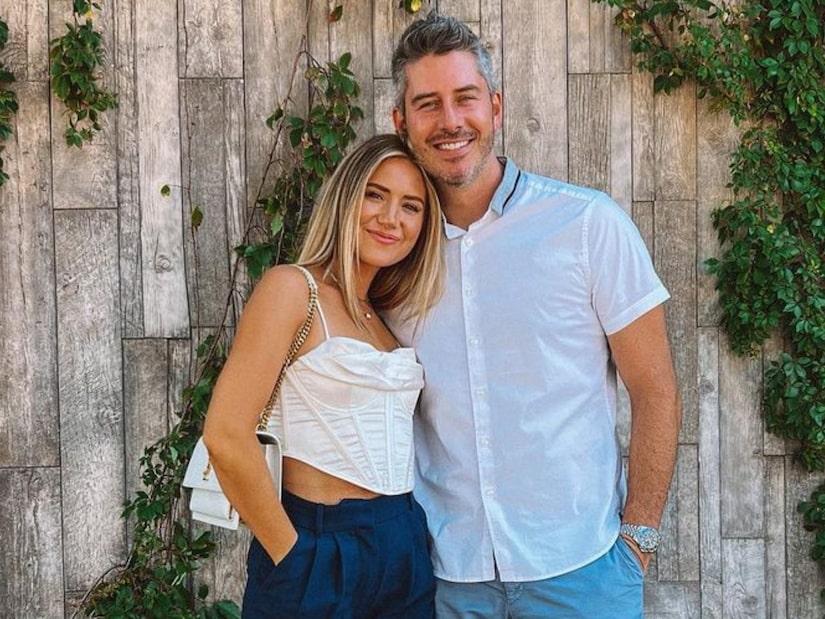 Instagram
Setting the record straight!
Arie Luyendyk Jr. and Lauren Burnham Luyendyk got engaged on Season 22 of "The Bachelor," and the two later tied the knot in 2019.
Since then, they've welcomed three children: Alessi, 3, and fraternal twins Senna and Lux, 1.
Now, the former Bachelor is taking to their YouTube channel to answer fan questions and debunk rumors about themselves.
First, the couple debunked the rumor that a fan submitted saying they never fight.
Arie started off, saying, "It is absolutely not so easy. We get this a lot, but I think it's because we highlight the easy days. We went to the beach the other day and things were so smooth when the babies were playing in the sand. But when we went to the beach another day, it was not so smooth. They were screaming."
Waiting for your permission to load the Instagram Media.
He detailed specifics, saying, "Alessi was trying to pee in a bush, Lux was screaming because he saw Lauren in the ocean, Senna was eating sand, and it was fine! Here's the thing: What you guys see is the good days and easier days. Those are the times when we're able to pick up our camera and film. The days when we're radio silent it was probably a tough day."
Lauren agreed, chiming in, "I wouldn't say we really fight a lot. We bicker sometimes, though. Every couple fights. I wouldn't consider most of our fights to be real fights. I would say we are just bickering."
And Arie added, "I would say it's when we're frustrated in a moment like if a day isn't running smoothly and we can take it out on each other. Then afterwards we apologize and say that was dumb."
Lauren also acknowledged that Arie is always the first to apologize if they do bicker and said, "We really don't fight that much. We both recognize that we're in a very chaotic phase of our lives together. All of the attention is not on our relationship. It is in three different directions at all times. So we're very understanding when it comes to that."
They two also debunked the rumor that parenting is "easy" for them, reiterating that social media is a highlight reel of the best moments.
Another fan submitted an assumption about them simply writing, "Y'all filthy rich."
Waiting for your permission to load the Instagram Media.
Arie replied, "We got a lot of these! I think it's all about perspective. We're both very goal-driven and we are successful in our own right. We are both the income earners for the family and I think that's really cool."
And Lauren agreed, saying, "We're both equal and we compete every year."
Arie noted that he's grateful he and Lauren both find joy in their work and said, "When it comes to finances, that can be something couples struggle with and can be a point of contention, but I love the fact that we do a lot of things together."
Lastly, the couple discussed the rumor about whether they hate Bachelor Nation.
The two said no, of course not, and added that while they're far removed from the show now, they're proud to be one of the successful couples from the franchise.
They did add that they are hoping this next season with Zach focuses more on the love story and less on the drama.
Check out their full video here!